The position of Nathan and Bertha Müller among the grandparents of Themar's Jewish community is somewhat complex. Nathan, b. 1851 in Marisfeld, was the second son of Salomon & Karolina Müller. When his father and then his eldest brother Mayer, b. 1849, moved to Themar in the 1860s, Nathan remained in Marisfeld where he lived until his death.
Nathan and Bertha were therefore both parents and grandparents of the family of Max Müller II, his wife Clara and their three sons, Herbert, Meinhold and Willi. The family — who became known as Max Müller II family to distinguish it from that of his cousin Max, Mayer Müller's son — moved to Themar.
The family of Nathan and Bertha Schwed Müller — pictured above in a photograph taken sometime between 1923, the date of Nathan's death and before 1931, the date of Bertha's death — was a mainstay of Jewish life in Marisfeld for 50 years. Nathan was the one with the deepest roots in Marisfeld, having been born there in 1851. Bertha Schwed, born in 1855, came from Reckendorf/Bavaria, about 110 km. to the south.
The exact details of the history of the Müller Manufakturwaren/Dry Goods Store in Marisfeld are fuzzy but this seems the most plausible story: the business was established in 1851, probably by Nathan's father, Solomon. Solomon moved to Themar in the late 1860s, where he established the S.M. Warenhaus/Department Store in 1872. Nathan was was a teenager when his father moved so who ran the store in Marisfeld is a mystery. Possibly his older brother, Mayer, b. 1849, did; then, when Mayer also moved to Themar, Nathan, twenty-one years old in 1872 may have taken on responsibility for the business.
When Nathan and Bertha married in the mid-1870s, the Jewish community of Marisfeld was a shadow of its former self from the days of Nathan's boyhood. In the 1850s, about 200 Jews had lived in Marisfeld. In the mid-1860s, however, a major fire swept through Marisfeld and about 150 Jews left Marisfeld either for Meiningen, 17 km to the northwest, or for Themar, 12 km to the south. Nathan and Bertha were one of the seven families remaining in Marisfeld.

Their first child, Hermann, was born in 1878 and, between then and 1892, they had five more children. One son, Emil, born in 1889, died in 1915 of a kidney ailment, age 26. Four of the children moved away from Marisfeld in the late 1800s or early 1900s to the larger towns and cities of Eschwege, Fulda, Bad Hersfeld, and Nürnberg. Max, the second eldest son (b. 1884), remained in Marisfeld, continuing to run the family business after Nathan's death in 1923. The business celebrated its 75th Jubilee in 1926.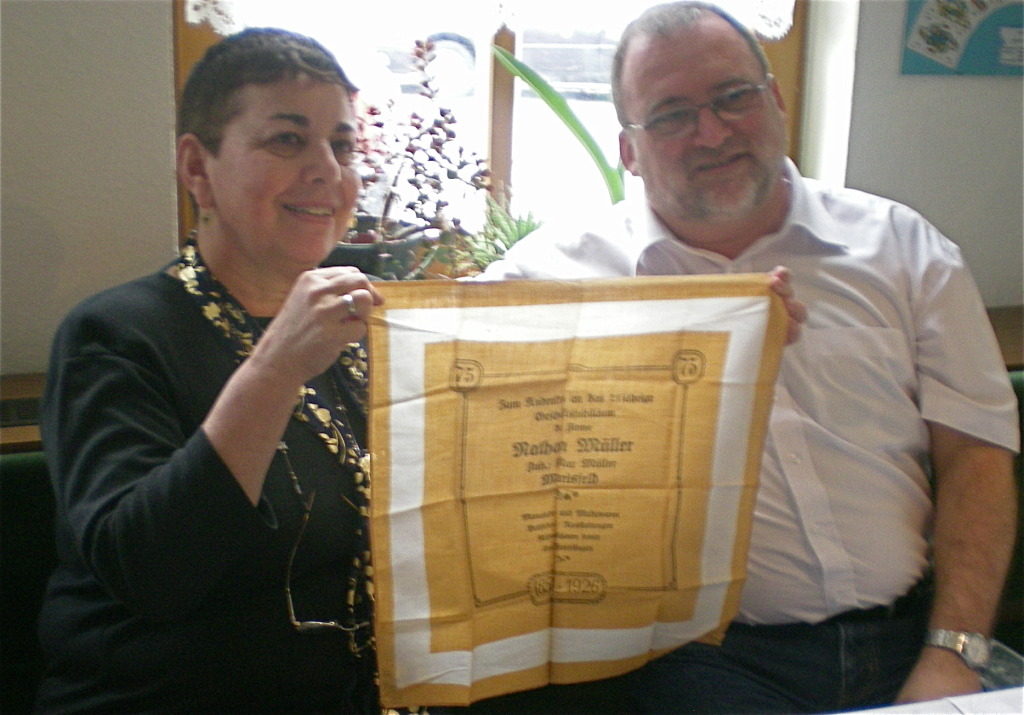 Three years later, Max and his wife, Klara, moved to Themar. Bertha Müller died in 1931, before the NSDAP formed the government. Twelve years later, there were no members of the family anywhere in Germany or Europe.
The immediate families of Hermann, Karoline, Max, Else (who was widowed in 1923), and Sebald numbered twenty-four (24) in January 1933, and three children were born between fall 1933 and August 1939.  Of these, fourteen (14) were murdered in the Holocaust. Thirteen (13) family members — at least one from each family of Nathan's and Bertha's children — were able to escape to various countries such as Palestine, England, Sweden, and the United States. There they succeeded in building new lives and new families. 
The story of the family of Nathan & Bertha Müller (née Schwed) during the years between the Kristallnachtpogrom of 9/10 November 1938 and the eve of the deportation of Max Müller II and his wife from Themar to Belzyce Ghetto on 9 May 1942 is told in the letters and postcards the couple sent to their son Willi in Palestine. They tell us of the important role played by the Schwed relatives (who changed their name to Sweed in the United States) of Bertha Müller (née Schwed) in securing immigration papers for some of the Nathan's and Bertha's children. The letters have been transcribed and are available in German here ,,Innige Küsse: die Briefe und Postkarten von Clara und Max Müller 1938-1942." The translation into English has begun and the first letter is available here: 1938: Letter #1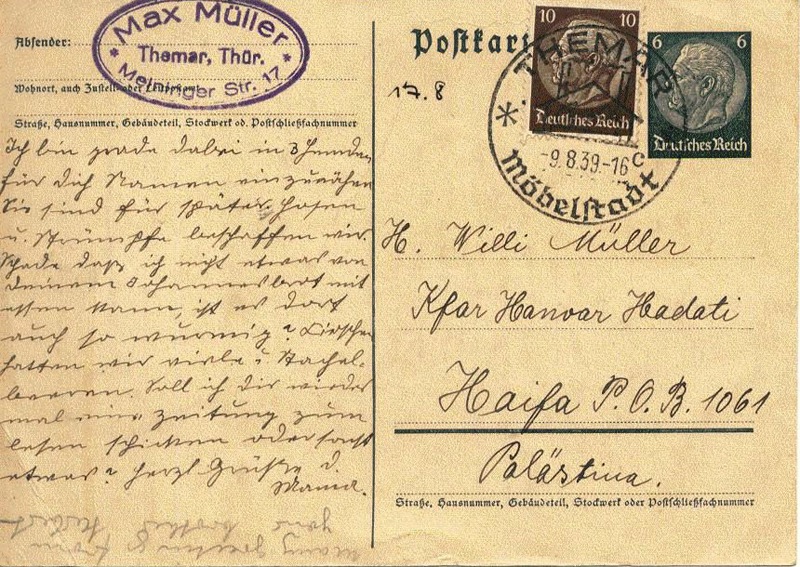 As well, please read the story written by Fred Amram, b. 1933, the son of Sitta (née Nussbaum) and Meinhardt Amram, to honour the memory of Cousin Aaltje, b. 1939, the daughter of Käthe (née Nussbaum) and Isaak Wurms.
The Nackommenliste/Descendants List below identifies the members of the Nathan and Bertha Müller family born in Germany or Europe before 1945. It is based in part on the pages of the Prayer Book/Gebetbuch, shown below, of Bertha Müller (née Schwed).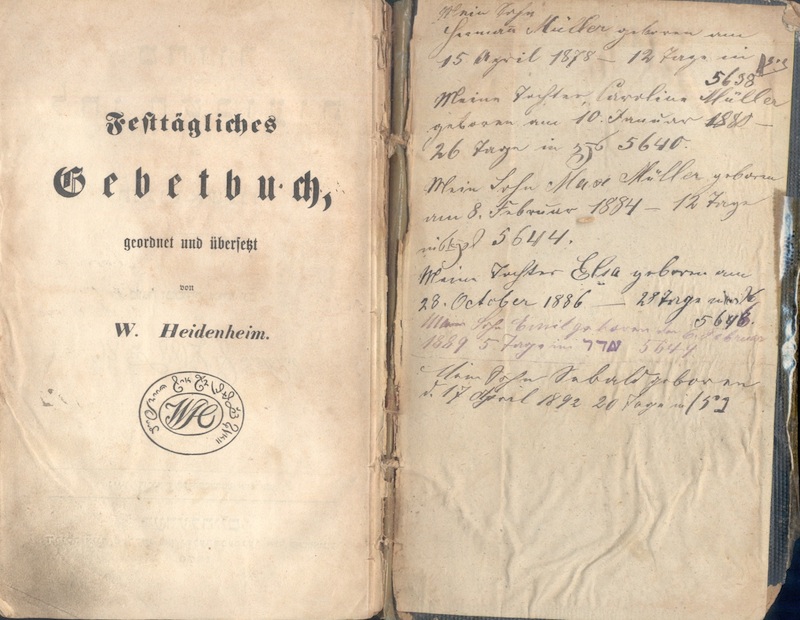 [Abbreviations: B=Bavaria • BW = Baden-Württemburg • H=Hessen • NWR = Northwest-Rheinwestfalen • SH = Schleswig-Holstein • SM=Sachsen-Meiningen, the name of Thüringen (Thür) until 1920]
Nathan MÜLLER, b. 02 Aug 1851 Marisfeld/SM, d. 01 Sept 1923 Marisfeld/SM
∞ Bertha SCHWED, b. 20 Apr 1855 Reckendorf/B, d. 07 May 1931 Marisfeld/SM
1. Hermann MÜLLER, b. 15 Apr 1878 Marisfeld/SM, murdered 03 June 1942 Sobibor
∞ Bella MEYBERG, b. 02 Nov 1877 Eschwege/H, murdered. 03 June 1942 Sobibor
     2. Werner MÜLLER, b. Germany, d. 1948 Israel
1. Karoline MÜLLER, b. 10 Jan 1880 Marisfeld/SM, m. 1906, murdered. 03 Jun 1942 Sobibor
∞ Louis GOLDMEIER b. 03 Aug 1874 Uttrichshausen/H, murdered 03 June 1942 Sobibor
     2. Bella GOLDMEIER, b. 31 July 1907 Fulda/H, d. 06 Jan. 1992 USA
     ∞ Moritz GOLDMEIER, b.19 May 1897 Niederaula/H, d. Dec 1952 Connecticut
          3. E. GOLDMEIER, b. 1938 Fulda/H
1. Max MÜLLER, b. 08 Feb 1884 Marisfeld, 10 May 1942 deported to Ghetto Bełżyce, 20 Oct 1942 murdered Majdanek KZ/Occupied Poland
∞ Clara NUSSBAUM b. 14 Nov 1890 Bad Hersfeld/H, murdered 1942 Belzyce Ghetto
     2. Herbert MÜLLER, b. 24 Nov 1913 Marisfeld/SM, m. 10 Aug 1938, d. 10 Oct 1994 NewYork/NY
     ∞ Flora WOLF, b. 30 Dec 1909 Sulzburg/B, d. 01 Oct 2000 New York/NY
     2. Meinhold MÜLLER, b. 19 Nov 1919 Marisfeld/SM, 1936 to Italy/Oct 1938 to Sweden, d. 27 Jun 1993 Göteborg/Sweden
     2. Willi MÜLLER, b. 29 Dec 1922 Marisfeld/SM, d. 2013 Israel
1. Else MÜLLER, b. 28 Oct 1886 Marisfeld/SM, m. 15 Oct 1909, d. 01 Oct 1980 Miami/Fla.
∞ Moritz NUSSBAUM b. 20 Sept 1881 Bad Hersfeld/H, d. 20 Mar 1923 Bad Hersfeld/H
     2. Sitta NUSSBAUM, b. 29 Jul 1910 Bad Hersfeld/H, d. 01 Jun 2003 Minn/USA
     ∞ Meinhard AMRAM b. 22 Dec 1901 Osterrode/Niedersachsen, d. Aug 1968 New Jersey
          3. M. AMRAM, b. 19 Sept 1933 Hannover
2. Carola NUSSBAUM, b. 05 Sep 1911 Bad Hersfeld/H, m. 10 Jun 1934, murdered. 06 Jan 1945 Riga
∞ Jacob STERN, b. 08 Dec 1891 Rodheim v. d. Höhe/Hn, murdered. 1941/2 Riga Ghetto
     2. Käthe NUSSBAUM, b. 22 May 1913, Bad Hersfeld/H, murdered. 19 Feb 1943 Auschwitz
     ∞ Isaak WURMS b. 05 May 1912 Amsterdam, murdered 30 April 1943 Auschwitz
          3. Aaltje WURMS, b. 21 Aug 1939 Amsterdam, murdered 19 Feb 1943 Auschwitz
1. Emil MÜLLER, b. 1889 Marisfeld/SM, d. 02 Dec 1915 Marisfeld/SM
1. Sebald MÜLLER, b. 17 Apr 1892 Marisfeld/SM, murdered. 26 Mar 1942 Riga
∞ Laura JÜNGSTER, b. 17 Oct 1898 Tann/H, murdered 26 March 1942 Riga
     2. Norbert MÜLLER, b. 02 June 1924 Tann/H
     2. Susanne MÜLLER, b. 11 Oct 1925 Tann, murdered. 26 Mar 1942 Riga
Photo Identifications:
1= Bertha Schwed Müller 2=Karoline Müller Goldmeier 3=Louis Goldmeier 4=Bella Goldmeier 5= ?? 6=Max Müller 7=Else Müller Nussbaum
See also
The Family of Solomon & Karoline (née Friedmann) Müller
The Family of Hermann & Babette (née Sichel) Schwed
The Family of Max & Clara Nussbaum Müller
Sources: We would like to thank members of the Müller family for their contributions to the building of these family webpages in particular, and to the building of the website in general. The photo on this page and the Gebetbuch, which was recently found in a Müller collection housed in Israel, illustrate how valuable these sources are to our understanding of the family.
Additional sources are:
1. Das Bundesarchiv, Memorial Book, updated May 2011.
2. Jewish Friedhof Marisfeld, Inventory, 2000.
3. Ancestry.com. New York Passenger Lists, 1820-1957 [database on-line]. Provo, UT, USA: Ancestry.com Operations, Inc., 2010.
4. S. Wolf, Juden in Sudthuringen 1933-1945: Biographischen Daten, 2002.
5. Yad Vashem. The Central Database of Shoah Victims' Names