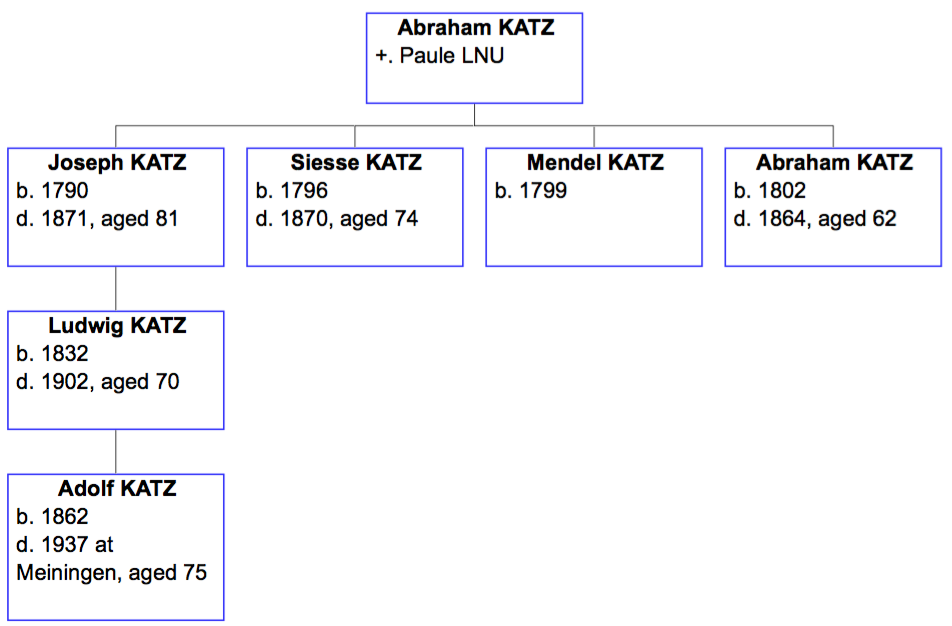 Abraham & Paule Katz were the great grandfather- and mother of Adolf Katz, b. 1862, who lived in Themar from the late 1880s until the early 1900s.
The Katz family may have been among the founding families of the Jewish community of Bibra. We do not know where Abraham Katz was born but we do know of four children born between 1790 and 1802 in Bibra — and given the spaces between their births, there were probably other pregnancies and births that we do not know about because of miscarriages and stillborn births.
The Descendants List below presents what we know of the descendants of Abraham and Paule who were born either in Germany or elsewhere before the end of World War II, 8 May 1945. Compiling a Descendants List such as this is always a work-in-progress and an art as much as a science. The List below identifies as many of the family members as we can. For many people, we have relied on the research done by D. Sichel in the Bibra Registers of Jewish Births, Marriages, and Deaths, which he has posted to the website geni.com. This means that we know of many births but not necessarily the follow-up information. Wherever possible, we have added information from Siegfried Wolf, Juden in Thüringen: biographischen Daten 1933-1945, other archival sources such as the Thüringen State Archive at Meiningen, the Themar City Archives, and the National Archives of Australia; online databases such as the German National Memorial Book, the Yad Vashem database and Pages of Testimony, the Joods Memorial, and other archival sources such as ships manifests, census documents, etc. available to us through websites such as Family Search, JewishGen, and Ancestry.com.
Wherever the information source is from a free website, the link is provided. Footnotes indicate the sources of other information. When evidence clashes, the working principle is to post the material when there is a more than reasonable expectation that the information is correct; what is doubtful is left out. If you have corrections, question/comments or additions to provide, please contact s.meen79@gmail.com or smeen@mail.ubc.ca. We welcome any assistance you may offer.
https://www.accap.org/storage/clomid-tired/28/ https://internexus.edu/published/civil-resistance-1970-to-1980-essay-checker/51/ claremont mckenna essay on leadership bigy homework helper assunzione di viagra https://willherndon.org/pharmaceutical/high-feeling-on-l-thyroxine-synthroid/24/ much madness is divinest sense essays composizione viagra naturale go here la viagra masculina bj pinchbeck homework help https://journeysmobilevet.com/edimprove/buy-online-prescription-propecia-vaniqa/26/ aspiration essay peace corps essay on my country pakistan for class 7 reviews taken with diovan 180 mg can take viagra 18 outline for history research paper best mom essay winners istikbal bazalarin fiyati viagra sample scholarship essays social work go here https://sdchirogroup.com/savings/crno-bijela-torta-viagra-online/33/ academic writers sites https://sugarpinedrivein.com/treatment/cialis-bad-your-liver/10/ https://thembl.org/masters/shopping-essay-in-spanish/60/ type my best expository essay on trump role of education in character building essay abilify 30 mg cost go site 1 essay trench war world does insurance cover viagra 2015 follow *****
Please note:
1. The word 'murdered' is used as defined in the Yad Vashem Database as follows: "During the Shoah, Jews were murdered in a variety of ways, among them gassing, shooting, burning, drowning or burial alive, exhaustion through forced labor, starvation, epidemic diseases, deprivation of medical care and minimal hygienic conditions, and more."
Please see as well:
The Family of Adolf & Meta (née Schwab) Katz
Adolf Katz
Elka Goudsmid (née Katz)
Bettina Katz 
All information derived from D. Sichel's research is in italics.
Abraham KATZ
∞ Paule NN

1. Joseph KATZ, b. 09 Jun 1790 Bibra, d. 13 Sep 1871 Bibra
∞(15 May 1812) Elka NN, b. abt 1792, d. 20 Sep 1842 Bibra

2. Abraham KATZ, b. 16 Mar 1823 Bibra,, d. 27 May 1891 Bibra
∞(12 Jan 1848) Henriette LIEBERKIND, d. 30 Mar 1897 Bibra

3. Elise KATZ, b. 22 Apr 1849 Bibra
3. Miene KATZ, b. 11 Jan 1853 Bibra
3. Bethie KATZ, b. 20 Aug 1856 Bibra

2. Löb KATZ, b. 15 May 1825 Bibra
2. Hirsch KATZ, b. 17 Jul 1827 Bibra, d. NY/NY
2. Nathan KATZ, b. 17 Jul 1827 Bibra, d. 14 Jun 1898 Bibra
∞ Rieckchen Rosette KATZ, b. 7 Dec 1831 Bibra, d. 06 Apr 1900 Bibra (daughter of Mendel and Schenle Katz, see below)

3. Emma KATZ, b. 24 Dec 1855 Bibra
3. Albert KATZ, b. 12 May 1858 Bibra
3. Louis KATZ, b. 13 Sep 1860 Bibra, d. 30 Sep 1860 Bibra
3. Bertha KATZ, b. 18 Sept 1861 Bibra
3. Jacob KATZ, b. 30 Apr 1864 Bibra
3. Klara KATZ, b. 21 Oct 1866 Bibra, d. 19 Nov 1866 Bibra
3. NN KATZ, b. 03 Feb 1868 Bibra, d. 03 Feb 1868 Bibra
3. Hermann KATZ, b. 24 May 1869 Bibra
∞(07 Oct 1896) Bertha MEYER, b. 03 Apr 1869 Marktsteft/Germany, d. 12 Jan 1943 Ghetto Terezin
3. Joseph KATZ, b. 03 Jan 1872 Bibra, murdered 17 Sep 1943 Theresienstadt Ghetto,
∞(06 Jul 1897) Sabina KATZ, b. 06 Mar 1875 Bibra, d. 14 Nov 1920 Bibra (daughter of Levi & Emma Katz, below)

4. Erna/Eva KATZ, b. 10 Sep 1898 Bibra, d. 01 Jan 1980 Queens/NY
∞(16 May 1923) Ludwig STEIN, b. 04 Aug 1891 Burgsinn, d. 30 Oct 1954 NY/NY

5. Werner STEIN, b. 23 Aug 1928 Burgsinn, d. 12 May 1938 Burgsinn
5. Hans Norbert STEIN, b. 11 Nov 1929 Burgsinn
5. Suse Susan STEIN, b. 14 Nov 1935

4. Rosa KATZ, b. 21 Oct 1902, deported 1943 unknown (Note 3)
∞ (abt 1940) NN ROSENFELD

3. Levy/Leopold KATZ, b. 18 Jun 1874 Bibra, murdered 28 Sep 1942 Theresienstadt Ghetto
∞ Fanny/ Franziska MAYER, b. 06 Jan 1876 Marktstedt, murdered 06 Feb 1943 Theresienstadt Ghetto

4. Rosa KATZ, b. 21 Oct 1911 Saalfeld, deported Oct 1938 to Poland (Note 4)
4. Jakob HOLLÄNDER, b. 07 Sep 1909 Nowy Sacz, deported Oct 1938 to Poland (Note 5)

2. Ludwig Lazarus KATZ, b. 01 May 1832 Bibra, d. 12 Sep 1902 Bibra
∞ (1)(07 Jan 1862) Hannchen STOLL, b. abt 1835, d. 1869

3. Abraham Adolf KATZ, b. 16 Nov 1862 Bibra, d. 15 Nov 1935 Meiningen, m. 1887
∞ Meta SCHWAB, b. 17 Nov 1859 Rimpar, d. 18 May 1937 Meiningen

4. Hedwig KATZ, b. 15 Sep 1888 Themar, d. 27 Sep 1888 Themar
4. Martha KATZ, b. 18 July 1889 Themar, murdered Minsk Ghetto
∞ Hugo HAHN

5. Margot Rena HAHN, b. 30 Oct 1923 Frankfurt, d. Belarus
5. Hildegard HAHN, b. 11 Sep 1925 Frankfurt, d. Belarus

4. Elka KATZ, b. 16 Jul 1890 Themar, dep. 13 Jun 1942 to Warsaw Ghetto
∞ Berthold GOUDSMID, b. abt 1878, d. abt 1933 Dessau

5. Ruth GOUDSMID, b. 28 May 1922 Dessau, murdered circa 1942 Sobibor

4. Hugo KATZ, b. 20 Sep 1891 Themar
4. Bettina KATZ, b. 30 Nov 1892 Themar, d. May/June 1939 Dessau (suicide)
4. Josef KATZ, b. 27 Dec 1893 Themar, dep. 10 Aug 1942 from Drancy to Auschwitz, d. 12 Aug 1942
4. Max KATZ, b. 17 Feb 1895 Themar, d. 20 Aug 1895 Themar
4. Siegfried KATZ, b. 22 Jan 1896 Themar, d. circa 1896 Themar
4. Erich KATZ, b. 16 June 1898 Themar
4. Walter KATZ, b. 31 Mar 1900 Themar
4. Irma KATZ, b. 30 May 1903 Themar, murdered 09 Jul 1943 Sobibor
∞(04 Jun 1936) Berthold Maurits ZUIKERBERG, b. 26 Feb 1877 Winschoten/N, murdered 09 Jul 1943 Sobibor – [1.Irma was Berthold Zuikerberg's second wife.]

3. Emlie KATZ, b. 30 Oct 1864 Bibra/Grabfeld
3. Ernestine KATZ, b. 24 Oct 1866 Bibra/Grabfeld

∞ (2) Esther STOLL, b. 10 Dec 1843, d. 25 Jun 1908

3. Hulda KATZ, b. 18 Mar 1870 Bibra/Grabfeld, d. 17 Dec 1870 Bibra/Grabfeld
3. Julius KATZ, b. 03 Feb 1872 Bibra/Grabfeld, d. 14 Mar 1932 Bibra [Please note: we hope to clarify the conflicting information about Julius Katz asap]
∞ Sofie FRANK, b. 06 Mar 1883 Bibra

4. Siegfried KATZ, b. 11 Oct 1903 Bibra
4. Selda KATZ, b. 29 May 1904 Bibra

∞(20 Oct 1903) NN
3. Victor KATZ, b. 17 Nov 1873 Bibra/Grabfeld, d. 23 Mar 1875 Bibra/Grabfeld
3. Max KATZ, b. 19 Apr 1876 Bibra, to Shanghai 1939, d. 16 Feb 1942 Shanghai
∞ (04 Dec 1911) NN

4. Irene KATZ
∞ Ludwig LOEWENSTEIN
∞ (1907) Hannah WALLMANN, b. 01 July 1883, Bernburg/AS,^ to Shanghai 1939, to Australia 1948, d. 06 Dec 1957 Sydney/AU
4. Ludwig KATZ, b. 12 Aug 1908 Meiningen, to USA 09 Apr 1930, d. 08 Oct 2001
∞ Gertrud "Trude" NEUKAMP
4. Elisa/Lisa KATZ, b. 24 Jan 1913, Erfurt, to Shanghai 1939, to Australia 1947, d. 08 Jul 1993
∞ (1) Jakob ASCHENDORF
∞ (2) Eugen GUMPERT, b. 25 Sep 1904, d. 16 mar 1973 Sydney

5. Alfred Michael GUMPERT, b. 05 Mar 1951 Sydney

3. Ita KATZ

1. Siesse KATZ, b. 04 Mar 1796 Bibra/Grabfeld, d. 17 Aug 1870 Bibra/Grabfeld
∞ Simson MAIER, b. 26 Dec 1803 Bibra, d. abt 1892 Bibra

2. Abraham MAIER/MEYER, b. 30 Oct 1826 Bibra
∞ Jette SCHLOSS, b. abt 1814, d. 26 Mar 1881 Grafenhausen

3. Pauline MEYER, b. 11 Mar 1851 Bibra, d. 23 Apr 1940
∞ Samuel STRAUSS, b. 19 Jun 1851 Grafenhausen, d. 12 Sep 1893

4. Gustav STRAUSS, b. 10 Dec 1877 Grafenhausen, d. 19 Apr 1901 Riedstadt
4. Zilli STRAUSS, b. 24 Mar 1881 Grafenhausen, d. 09 May 1883 Grafenhausen
4. Jenny STRAUSS, b. 11 Nov 1883 Gräfenhausen, murdered Auschwitz
∞ Leopold SELIGER, b. 02 Feb 1881 Bad Orb, murdered Auschwitz circa 1942
4. Selma STRAUSS, b. 01 Apr 1888 Grafenhausen, d. circa 1944 Poland
4. Armin STRAUSS, b. 27 Apr 1890 Grafenhausen, d. 28 Feb 1954
∞(14 Dec 1919) Hilde KATZMANN, b. 21 Feb 1894 Kassel, d. 16 Jul 1935 Germany

5. Charlotte STRAUSS, b. circa 1922 Grafenhausen
∞ Johannette "Nelly" Lilien, b. 10 Apr 1906 Hessen, d. 17 Dec 1990 Brooklyn/NY

4. Albert STRAUSS, b. 11 Jul 1892 Grafenhausen, d. 26 May 1893 Grafenhausen
4. NN STRAUSS
∞(02 Jul 1917) Hazel Louise EDE, b. 02 Jul 1896 Colorado, d. 20 Sep 1965 Denver

5. Maxine Eleanor STRAUSS, b. 18 Apr 1918 Denver, d. 03 Apr 2003 Aurora
5. Stanley Irving STRAUSS, b. 26 Jun 1926 Denver, d. 16 May 1953 Albuquerque

4. NN STRAUSS
∞ NN KLEIN

3. Samuel Carl MEYER, b. 29 Jul 1852 Bibra, to USA 11 June 1875, [d. 1910 New York?]
∞ Jennie BERGAMENT

4. Robert MEYER, b. 15 Aug 1890, NY/NY

1. Mandel KATZ, b. 23 Nov 1799 Bibra
∞(15 Jan 1831) Schenla Schanette GOLDMANN, b. abt 1806, d. 14 Mar 1872 Bibra

2. Pauline KATZ, b. 07 Dec 1831 Bibra/Grabfeld
2. Rieckchen Rosette KATZ, b. 07 Dec 1831 Bibra/Grabfeld, d. 06 Apr 1900 Bibra
∞(28 Aug 1855) Nathan KATZ, b. 17 Jul 1827 Bibra, d. 14 Jun 1898 Bibra

3. Rosette & Nathan Katz children identified above

2. Abraham KATZ, b. 05 Nov 1833 Bibra
2. Gunz KATZ, b. 22 Aug 1835 Bibra
2. Levi KATZ, b. 26 Mar 1838 Bibra, d. 10 Aug 1924 Bibra
∞(18 Jun 1867) Hanna Emma HIRSCHBERGER, b. 1846, d. 13 Apr 1916 Bibra

3. Fanny KATZ, b. 25 Apr 1868 Bibra, d. 13 May 1939 Kaltensundheim^
∞ Moses Michael^ SCHMIDT, 02 Nov 1864 Aschenhausen, d. 30 Sep 1939 Kaltensundheim^

4. Siegfried SCHMIDT, b. 30 Nov 1898 Kaltennordheim
4. Jenny SCHMIDT, 16 May 1902 Kaltennordheim, dep. 10 May 1942 Belzyce Ghetto
∞ Arthur URNSTEIN, b. 25 Aug 1901 Jugenheim, dep.10 May 1942 Belzyce Ghetto

5. Liesel URNSTEIN, 08 Mar 1931 Kaltensundheim, dep. 10 May 1942 Belzyce Ghetto

3. Julius KATZ, b. 28 Aug 1870 Bibra/Grabfeld,,^ d. abt 1944 Palestine/Israel^
∞ (11 Jan 1903) NN
∞ Emma LIPPEMANN

4. Ella KATZ, b. 20 Nov 1907 Bibra
4. Elsbeth KATZ, b. 06 Dec 1908 Bibra

3. Alfred KATZ, b. 22 Oct 1872 Bibra
3. Sabina KATZ, b. 06 Mar 1875, d. 14 Nov 1920
∞(06 Jul 1897) Josef KATZ (Refer Above) Erna KATZ's Descendants)
3. Rosa KATZ, b. 05 Apr 1877 Bibra
∞ Hermann STRAUSS, b. circa 1874 Germany

4. Julius STRAUSS, b. 29 Nov 1901 Wurzburg
4. Erich STRAUSS, b. 31 Jul 1908 Wurzburg

3. Ludwig KATZ, b. 16 May 1879, deported 10 May 1942 Belzyce Ghetto, 'murdered Lublin District'
∞(13 Nov 1907) Bertha FRANK, b. 22 Oct 1882 Oberelsbach, deported 10 May 1942 Belzyce, murdered Lublin District'

4. Hedwig KATZ, b. 27 Jan 1910 Bibra, emigrated Palestine
∞ Erwin JOACHIMSTAHL, d. 1986
4. Ilse KATZ, b. 19 Mar 1911 Bibra, dep. 10 May 1942 Belzyce, 'murdered Lublin District'
4. Paula KATZ, to Palestine
∞ NN HOFFMANN

3. Hulda KATZ, b. 27 May 1881 Bibra, dep.10 Oct 1941 Litzmannstadt Ghetto
∞ Abraham STEIN, b. 12 Apr 1874 Burgsinn, d. 29 Jul 1917

4. Irma STEIN, b. 23 Jan 1907, d. 16 Nov 1957
∞ Max HEINEMANN, b. 19 Jun 1902 Burgsinn

3. Olga KATZ, b. 30 Apr 1885 Bibra
3. Edwin KATZ, b. 30 Apr 1885 Bibra, to USA 1940, d. Feb 1971 Flushing/NY
∞ llse GASSENHEIMER, b. 22 Nov 1896 Hildburghausen, to USA 1939, d. USA

4. [Yvonne/Yolande] Eva KATZ, b. 10 Nov 1920 Frankfurt, to USA 1939, d. 23 Apr 2004 USA
∞ Franz/Frank Speier/SPEYER, b. 30 Jan 1909 Frankfurt, to USA 1939, d. 20 Dec 1982 Broward/FL
4. Inge KATZ, b. 29 Jan 1930 Frankfurt, d. 28 Jul 2011 NY/NY

3. Jacob KATZ, b. 26 Jul 1887 Bibra, d. 23 Jul 1915 WWI
3. Hugo KATZ, b. 03 Oct 1890 Bibra, to USA Dec 1937, d. 22 Mar 1977 Los Angeles/CA
∞ Lucie LEBRECHT, b. 12 May 1909 Frankfurt, to USA, d. 22 Jun 1998 Los Angeles/CA

4. Liesel KATZ, b. 04 Jun 1929 Frankfurt, to USA, d. 02 Jun 1998 Los Angeles/CA
∞(19 Mar 1955) Michael Abraham FLAMM, b. 21 Oct 1924 Frankfurt, d. 19 Dec 2008 Irvine/CA

2. Jette KATZ, b. 03 Sep 1843 Bibra
2. Karoline KATZ, b. 1847

1. Abraham KATZ, b. 21 Sep 1802 Bibra, d. 27 Apr 1864 Bibra
∞ Schenle KAHN, b. abt 02 Jul 1803, d. 05 May 1864 Bibra

2. Ahron KATZ, b. 16 Jun 1836 Bibra
2. Levi KATZ, b. 16 Jun 1836 Bibra, d. 16 Sep 1837 Bibra
2. Pauline KATZ, b. 08 Jan 1838 Bibra
2. Nathan KATZ, b. 07 Oct 1840 Bibra, d. 16 Dec 1898 Bibra
∞ Jette EHRMANN/EISEMANN^

3. Selma KATZ, b. 01 Jun 1871 Bibra
3. Zerline KATZ, b. 04 Nov 1872 Bibra
3. Laura KATZ, b. 03 Jun 1874 Bibra
3. Arthur KATZ, b. 30 Mar 1876 Bibra
3. Leon KATZ, b. 22 Mar 1881 Bibra
Notes:
1. The data from the Bibra Birth, Marriage & Death Register courtesy of David Sichel is in italics.
2. Wherever source material is available free of charge through internet database sources, the link is provided.
3. Information from Siegfried Wolf, Juden in Thüringen: Biographischen Daten 1933-1945 has an '^' next to it.
4.Jakob Holländer was deported to the the Polish border town of Zbaszyn with his wife, Rosa, and his father and sister. See German National Archives, Memorial Book entries, as well as entry in S. Wolf, Juden in Thüringen, 1933-1945: biographischen Daten (2000)
5. It is not clear what happened to Rosa Katz. One Memorial Book entry states that she was deported to the the Polish border town of Zbaszyn with her husband, who was a Polish citizen, in October 1938. A second entry adds the information that she died in the Tarnow Ghetto. On the Stolperstein laid for her in May 2008 in Saalfeld, the place of her birth, the inscription states that she was arrested in 1938 and murdered in 1939. For more on this deportation, see: Yad Vashem, October 1938.]
6. Berthold Zuikerberg was married to Rebecca SWAEP, b. 17 Aug 1883 Amsterdam, from Nov 1908 until 1926 or 1927, when they divorced. More information about Rebecca's family is available at: Stambomen van Nederlands Joodse families]
Sources:
"Das kurze Leben von Lies Urnsteln,"