For update of this post based on new research, see: 1945: Liberation of Auschwitz.
On Saturday 27 January 1945, Soviet forces liberated Auschwitz. Of the 7,000 remaining prisoners, one man had a direct connection to Themar. His story — although we know little of it — gives us a glimpse into the life of one of those who survived Auschwitz.
Otto Baer was born in Themar on 12 July 1895. His father was Samuel Baer, b. 28 January 1865; his mother, Karoline/Lina, née Müller, was born 28 January 1867 in Würzburg, Bavaria. When, from where, and why, Samuel and Karoline/Lina had moved to Themar, we do not know. Of Otto's early years, we also know nothing. Did the family stay several years in Themar? Where did they live? These are questions still to be answered.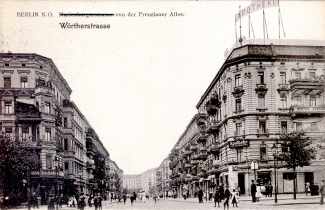 We have hints — entries in the Berlin Address Books — that the family moved to Berlin and that by 1915, Samuel, Lina, and Otto were living at Jablonskistr. 26 in the Prenzlauer Berg area (in the image from the 1920s above). If these hints are correct, then they tell us that Samuel died about 1917, and that Lina, his widow, and presumably Otto, continued to live in the same apartment at Jablonskistr. 26.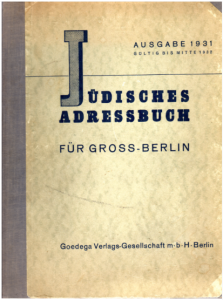 The first concrete evidence of this is in the 1931 Address Book for the Jewish Community of Great-Berlin, which includes a listing for both Lina and Otto Baer at Jablonskistr. 26.
From then through to the end of 1935, there is an entry for Frau L. Baer at this address; from 1936 until 1939, the entry is for O. Baer, suggesting that his mother may have either have died or moved into a home for the elderly.
The 1925 Berlin Address Book identifies O. Baer as a Kfm/Kaufmann/businessman, the 1928 book lists him as a Vertreter or sales representative or agent. In 1936, under the Nazi regime, he is listed as a 

Handlungsgefhilfe or clerk.
We do not know if Otto Baer retained any connections to Themar during the years; the only trace of him in the official records is his letter to the Themar Registrar of 27 January 1939, when he confirmed that he was adding "Israel' to his given names as required by the law of August 1938.
Otto was 46 years of age when the deportations from Berlin began on 18 October 1941, and his age and ability to work may spared him from these first deportations. But a year later, when the Nazi Regime accelerated the deportation of Jews from Berlin, he was among those targetted. In early December 1942, he was rounded up from Jablonskistr. 26. On 9 December 1942 he and 993 other Jews were loaded into cattle cars and transported east to Auschwitz. The entry for Otto Baer in the Transportliste for Osttransporte 24 below indicates that he is ledig/single and arbeitsfähig/able to work (click image to enlarge).

Upon arrival in Auschwitz on 10 December 1942, the SS carried out a selection process. One hundred and thirty-seven men and women — including Otto Baer — were selected for labour and given numbers 26621-26645. For just over two years, Otto Baer managed to stay alive in the brutal conditions of the camp. Only he and one other person on the transport of 9 December 1942 were alive on 27 January 1945. Otto Baer was just short of his 50th birthday.
Sometime after the liberation, the American army found Otto Baer in Zeitz, south of Leipzig. He returned to Berlin and to the area in East Berlin where he had lived earlier. Aufbau, the New York newspaper that provided the Jewish community with names of victims and survivors, included Otto's name and address in its issue of 9 November 1945  — Otto was living at Hussitenstrasse 43, a 40-minute walk from his former address. Two years later, the listing in the Mitgleidverzeichnis der Judischen Gemeinde zu Berlin/Members of the Jewish Community of Berlin, was the same. After that all trace of him in formal records is lost, possibly because the area he lived in fell under Soviet rule and access to records is challenging.

Between August 1942 and October 1944, forty-eight (48) members of Themar's Jewish families were deported to Auschwitz. Otto Baer, b. 1895 in Themar, was the only one of them to survive. How he survived close to 2 ½ years we may never know. Perhaps someone reading this page can tell us more.
On this 70th anniversary of the liberation of Auschwitz, we remember and honour Otto Baer!
See also:
Memorial and Museum Auschwitz-Birkenau, 70 Years Auschwitz
USHMM, Seventieth Anniversary of the Liberation of Auschwitz
Sources:
'Neue Liste von Juden in Berlin,' AUFBAU 9 Nov 1945, vol. 11, Issue 45, p.28
Themar City Archives
Yad Vashem, The International Institute for Holocaust Research, "Transport 24 from Berlin, Berlin, Berlin, Germany to Auschwitz Birkenau, Extermination Camp, Poland on 09/12/1942
Wolf, Siegfried. Juden in Thüringen: Biographischen Daten 1933-1945. vol. . 2001
Zentral- und
Landesbibliothek Berlin, Berliner Adressbücher Der Jahre 1799 Bis 1943