See as well Descendants List: Mendel and Sara (née Gutmann) Wertheimer
Mendel Wertheimer and his wife Sara, née Gutmann, married in 1849 and had eight (8) children, starting with the birth of Selig in 1850 and ending with the birth of twins, Albert and Leopold, in 1866. Only one of the children was female, Minnie, b. 1862.
The family probably moved to Themar in the mid-1860s as a strategy to provide the family with greater economic opportunities. As well, their move coincided with that of other Jewish families who moved from Marisfeld in the wake of the disastrous fire in the village.
The whole family lived together in Themar through the 1870s. But, starting in the mid-1870s, — possibly just after Mendel's death in 1873 — the children started to leave home, either for other, larger, centres within Germany, or for the United States.
The "strategies of migration" of the Wertheimer family were, in many aspects, similar to those of other Jewish families of Themar such as the Gassenheimer family — and of German-Jewish rural families generally. As with other Themar families, one son — in this case, Louis, b. 1855 — remained in Themar, where he married Emma Frankenberg, daughter of another Themar family. Other children moved from smaller to larger centres to find socio-economic opportunity. Abraham and Julius both moved to the city of Magdeburg sometime in the late 1870s/early 1880s. Finally, some children left Germany and Europe altogether: In 1880, age 18, Minna was the first to leave Germany altogether; sixteen-year-old twins Albert and Leopold followed her in 1882. By 1885, the adult children of Mendel and Sarah were all living elsewhere: two — Abraham and Julius — in Magdeburg and three — Minna, Albert and Leopold — in New York City.
In October 1887, the twins, Albert and Leopold returned to Germany, both American citizens.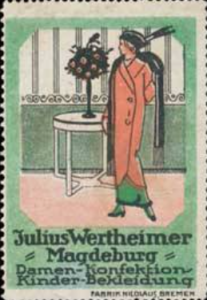 As of the late 1880s, the four Wertheimer brothers had established successful women's clothing shops in several centres in Saxony: Julius remained in Magdeburg while Adolf, according to Nitsche and Röcher, moved to Chemnitz in 1888. Albert, who had joined Adolf in Chemnitz in June 1888, left Chemnitz for Plauen shortly thereafter; Leopold remained in Chemnitz until 1906 but them moved to Zwickau to set up his own business. Leopold married Helene Lamm of Erfurt and they had two daughters, Hannah, b. 1911, and Käte, b. 1912.
Minna remained in Brooklyn, New York for the rest of her life. In 1886, she married Lewis Marks and, by 1901, they had a family of five children (two died in infancy). Lewis Marks died in 1908; several sons were drafted into the American army in World War I; and eldest daughter, Beatrice, died in 1916, leaving husband Gustave Marx to care for their infant son Lloyd, born July 1915.
When Minnie visited Germany, only three of her four brothers were alive: Abraham had died in Chemnitz in 1912. Her siblings were all engaged in the same type of business in three centers: Albert in Plauen, Leopold in Zwickau, and Julius in Magdeburg. All were married with children.
Minnie and Lloyd left on their adventure on the Noordam on 11 June 1921 and returned on 10 September. We hope they had a wonderful time. We're glad they went.