What We Know:
Family Name: WERTHEIMER
First Name: Milton
Date/Place of Birth: 17 March 1886/Themar
Marriage Date & Place: 16 Mar1921/Coburg
Spouse: Bella Wertheimer
Date/Place/Destination of Deportation:
21 April 1943: Westerbork Transit Camp to Theresienstadt Ghetto
09 October 1944 Theresienstadt Ghetto to Auschwitz Killing Centre
Date/Place of Death: 09 October 1944 Auschwitz Killing Centre
Age at Death: 58 years.
Milton Wertheimer was born in Themar on March 17, 1886. He was the second child of Louis Wertheimer and his wife Emma, ​​née Frankenberg. He had an older sister, Bella (who is frequently confused with Milton's wife), and a younger brother, Nathan.
Milton served his country in World War I and apparently survived unscathed. He was already living in Coburg as his place of residence and there are references to his addresses in Oberen Bürglass and Spitalgasse.
On 17 March 1921, Milton married his cousin Bella, also born a Wertheimer. She too had been born in Themar but had moved with her family to Coburg in the 1890s. Because of the close connections between the families in Themar and Coburg, a marriage announcement appeared in the local Themar newspaper, Zeitung für Themar.
The Wartime File Care (in the Arolsen Archives) provides us with information about the couple during the 1920s and early/mid 1930s. Their first address as a married couple was Löwenstraße 9. In the Coburg address books, Milton identified himself as a 'Kaufmann'/businessman. He was constantly on the move; in the 1920s, he shuttled between Coburg and Bremen, possibly as a travelling salesman or seeking employment in various other places. In the late 1920s, he narrowly averted having to declare bankruptcy.
The last entry on the card finds Milton in Dessau, perhaps in someway connected to his sister- and brother-in-law, Rosa Edelmuth (née Wertheimer) and her husband Jacob, who lived there. Whether he stayed there until his departure to the Netherlands in 1936 is not known.
*****
In 1932 Milton and Bella seem to have separated but not formally divorced. In the first days of January 1936, Milton travelled alone to the Netherlands; he was registered as legally living in Amsterdam and obtained an identity card (image below). Bella is identified as his wife on this card. His first address was 25 Muider Street in Amsterdam where he lived from 14 January 1936 until 23 July 1937; between late summer 1937 and 1941, he lived at various addresses in Amsterdam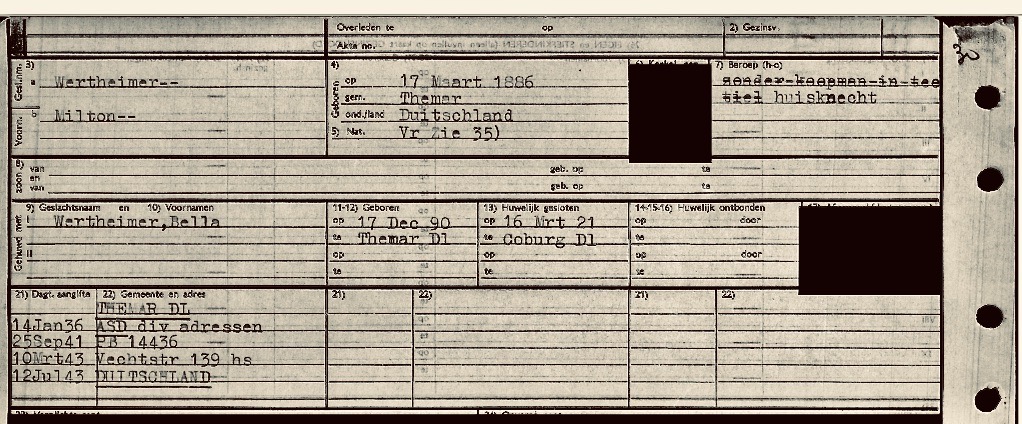 After the German army marched into Holland in 1940, the situation for Jews became more and more threatening. Milton changed apartments within Amsterdam several more times. His last address was Eerste van Swindenstraat 16 I. 
On 13 March 1943, he was taken to the Westerbork Transit Camp; just over a month later, on 21 April 1943, he was deported to the Theresienstadt ghetto. Milton's sister-in-law, Rosa Edelmuth, née Wertheimer, and her husband Jacob Edelmuth, were on the same transport.
This was the first transport from Amsterdam to Theresienstadt Ghetto. According to the deportation chronology on the Gedenkbuch site, this transport "consisted exclusively of German Jews, of whom 195 were taken from Westerbork." Among them were World War I soldiers, such as Milton, who had been decorated or wounded; they were told that the ghetto in Theresienstadt was a retirement home for privileged Jews. The transport also carried older Jews, who were also told the 'retirement home lie' about the Theresienstadt Ghetto. Milton was in both these categories. Whether or not Milton knew that his wife, Bella, had been deported from Thüringen on 10 May 1942 to Belzyce Ghetto, is unknown.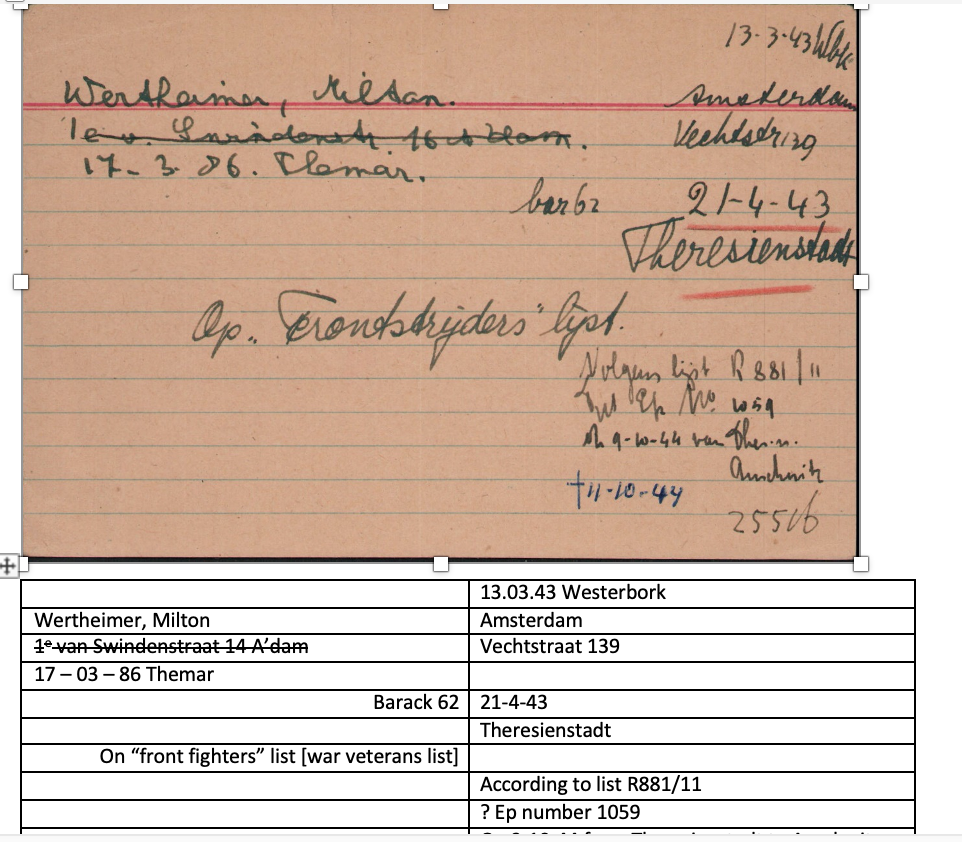 A year later, on 09 October 1944, Milton was transported further "east"—this time to Auschwitz; the intent was to murder the Jews upon arrival. On 11 October 1944, Milton Wertheimer was murdered; he was 58 years old.
*****
Two memorials remember Milton's name in Coburg. The first is on a grave stone in the Jewish cemetery in Coburg. The gravestone identifies three people: Malwine Wertheimer (née Frankenberg), Bella's mother; Milton Wertheimer, her son-in-law, and at the bottom, Bella, her daughter. Several errors in the information on the gravestone may reflect the state of knowledge at the time the grave was installed: The birth date for Milton is wrong, as are the places of death for both Milton and Bella. But perplexing is the absence of the names of Malwine's other children, Julius and Rosa (née Wertheimer) Edelmuth. Who sponsored the gravestone, and when, is unknown. Family members in 2021 have no knowledge of its history.
The second memorial is the Stolperstein which was laid on 21  August 2021, in front of Viktoriastraße 1.
NOTES:
With many thanks to:
• Lisa van de Beek who provided critical information about the life of Milton Wertheimer, which allowed us to fully develop the story of him, his wife, and other members of the Wertheimer family.
• Gaby Schuller of Coburg, who researched the lives of the Wertheimer family in Coburg. She was responsible for the laying of Stolpersteine on 21 August 2021 to honour members of the family. See/listen to the text she delivered on that day.