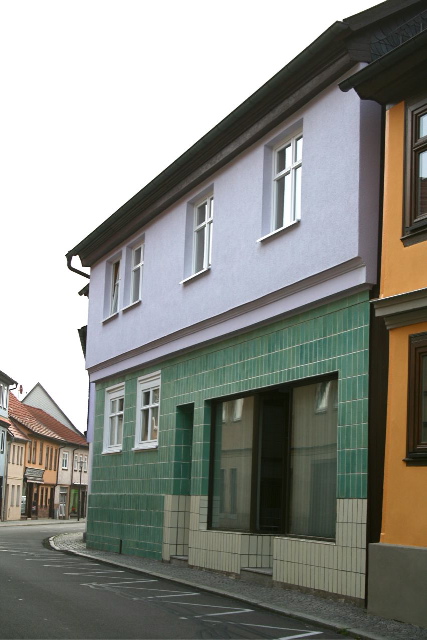 For at least 60 years, members of the Josef and Hulda Kahn family were an integral part of both the Jewish and Christian communities of Themar. It is possible that Hulda Walther, b. 14 November 1860 in Themar, was one of the first Jewish babies to be born in Themar. The marriage of Josef Kahn, who was born in Marisfeld, and Hulda Walther linked the Kahn and Walther families, both key families in the establishment and growth of Themar's Jewish community in the mid 1860s. Marriages of their children and grandchildren forged links with the Christian community. The loss of the Kahn family and its deep roots in the Themar community was — and still is — significant.
The eight Kahn children, 5 sons and 3 daughters, were all born in Themar and grew up there. Josef was a master butcher and owned a  butcher shop in Themar in the Market Square just at the entrance to Bahnhofstrasse (site #37 on Manfred Rosengarten's map). The Kahns served both kosher and non-kosher customers and the quality of their meats attracted the hotels in the surrounding area to buy at the shop.
The Kahns experienced both tragedy and joy in the early years of the 20th century: in 1909, their eldest son, Albert, died, apparently in an event related to military service. A year later, their eldest daughter, Else, married Markus Rosenberg and the couple continued to live in Themar; by 1913, Josef and Hulda had three young grandchildren: Julius, b. 1910, Irma, b.1911 and Elly, b. 1913. Paula Kahn gave birth to a son, Heinrich Willy, in Erfurt in March 1913, and remained unmarried; we do not know what happened to the child. In 1914, three Kahn sons and one son-in-law, Markus Rosenberg, the husband of Else, went to war for their country, and two Kahns — Leonhard and Friedrich Daniel — gave their lives. We do not know if Julius Kahn, b. 1896, fought in World War I, or if Adolf, b. 1902, was pulled into the last year of the war.
*****
Josef Kahn died in 1923, age 63: it was 21-year-old Adolf, the youngest son, who took over the family butcher shop. His older brother, 27-year-old Julius, had left Themar in the early 1920s to live in Weiden in Bavaria, a town with about 20,000 residents, of whom about 164 were Jews. Julius worked as a master butcher for Heinrich Hutzler and his son Hugo and, in the late 1920s, married Therese Hutzler, daughter of Heinrich and Emma (née Schön) Hutzler. Two daughters were born, Betty in 1928 and Hannelore in 1929 .
In the 1920s, four Kahn siblings lived in Themar: the three sisters, Else, Paula, and Erna, and their youngest brother, Adolf. In 1924, Adolf fathered a child with a non-Jewish woman of Themar but they did not marry; the child was later adopted by her mother and the man she married. In 1928, Erna, the youngest daughter, married Hermann Haaß, a Themar non-Jew, and converted to Christianity; on 21 December 1928, Erna gave birth to twins — Günter and Johanna. The decade closed with the death of Hulda Kahn 19 April 1929; she was buried in the Marisfeld Jewish cemetery next to her husband.
******
When the Nazi Regime began end of January 1933, seventeen (17) members of the Kahn family were living in Germany. On 28 December 1932, Paula Kahn had taken her life in the house in the Bahnhofstrasse, probably for reasons that had little to do with the political situation. Adolf sold the building in that year and moved the shop to Schulstrasse 3. In August 1933, in what would earlier have been an occasion of great joy, Julius Rosenberg., who was working in a bank in Darmstadt, married Elsa Papst, a non-Jew born in that city, and they had a daughter, Lotte, in 1934. But Nazi persecution forced Julius out of his bank position, and he and his family returned to Themar where Julius worked for the Gassenheimer company as a driver.
In November 1938, the three men who were in Themar — Adolf Kahn, Markus and Julius Rosenberg — were rounded up and hauled off to Buchenwald in the 'Reichspogromnacht' known as 'Kristallnacht.' In Weiden, Julius Kahn was rounded up and taken to Dachau concentration camp. They were released but it took time: Adolf Kahn was still in Buchenwald in late January, delaying his ability to seek emigration abroad.
In December 1938, Hermann Haaß died, and Erna faced the "Aryanization" process of the Haaß machine shop business alone. In October 1939, less than a year after Hermann's death, Erna died, leaving the twins orphaned and potentially vulnerable, like Lotte Rosenberg and Adolf's child, to the Nazi persecution of "Mischling" children (children with two Jewish grandparents).
Before WWII started, Julius Kahn was able to leave Germany and enter England; he was not able to take his wife and daughters with him but hoped that they would be able to follow him. The two daughters of Else and Markus Rosenberg were also able to leave Germany: Irma entered England as part of the Domestic Permit program, her sister, Elly, also left Germany in 1939, heading for the United States, where she married her financé, Bernard Eisemann, from Meiningen.
As World War II started, Else, Markus, and Julius Rosenberg were in Themar; Adolf, we believe, was in Berlin. In Delaware, Pennsylvania, Elly and Bernhard Eisemann did everything they could to assist their parents and their brother's family to immigrate into the United States but failed. Else and Markus Rosenberg, and Julius Rosenberg were all murdered in the Holocaust. So too were Adolf Kahn and his wife Rosa (née Glass) whom he had met and married in Berlin.
Elsa Rosenberg (née Pabst) and her daughter, Lotte, the Haaß twins, and Adolf Kahn's child survived. Elsa and Lotte left Germany in the early 1950s, Lotte with her husband Peter Schaefer. They lived in Canada, and Elsa Rosenberg died in Vancouver in 1965. Lotte Schaefer, née Rosenberg, died of Covid in 2020.
The Haaß twins, Joanna and Günter, continued to live in Thüringen near Themar. Joanna worked for the Morgenstern family and Günter became a policeman. Joanna did not marry and died in 1968; Günter married and his family continues to live near Themar. Günter died in 1988.
*****
Josef KAHN, b. 19 Mar 1860 Marisfeld, d. 22 Mar 1923 Themar
∞ Hulda WALTHER b. 14 Nov 1860 Marisfeld, d. 19 Apr 1929 Themar

1. Albert KAHN, b. 22 Aug 1887 Themar, d. 25 Dec 1909 Meiningen
1. Elsa/Elsa KAHN, b. 12 Dec 1888 Themar, 19/20 Sep 1942 deported to Theresienstadt Ghetto/18 May 1944 to Auschwitz Extermination Centre/murdered
∞ (07 Jun 1910 Themar) Markus ROSENBERG, b. 07 Mar 1886 Lichenroth/Hesse, 19/20 Sep 1942 deported to Theresienstadt Ghetto, 17 Jul 1943 murdered Ghetto Theresienstadt

2. Julius ROSENBERG, b. 30 Oct 1910 Themar, 1943 transported from Weimar to Auschwitz-Birkenau, murdered
∞ Else PABST, b. 26 Jul 1911 Darmstadt/Hesse, 1953 to Canada, d. 03 Oct 1995 Vancouver BC/Canada

3. Lotte ROSENBERG, b. 30 Jul 1934 Darmstadt/Hesse, 1953 fr. Germany to Canada, d. May 2020 Los Angeles
∞ Pete SCHAEFER

2. Irma ROSENBERG, b. 15 Feb 1911 Themar, 1939 to Suffolk/England, d. 10 May 1990 London/England
 2. Elly ROSENBERG, b. 16 May 1913 Themar, 14 Jul 1939 fr. Bremen to USA, d. 01 May 2001 Delaware/PA
∞ Bernhard EISEMANN, b. 25 Apr 1899 Bauerbach, 09 October 1936 from Bremen to USA, d. 03 Jan 1978 Delaware/PA
2. Erich Josef ROSENBERG, b. 11 Apr 1915 Themar, d. 23 Jul 1915 Themar

1. Leonhard KAHN, b. 12 Oct 1890 Themar, d. 30 Oct 1914 Belgium [WWI]
1. Paula KAHN, b. 19 Jul 1892 Themar, d. 28 Dec 1932 Themar

2. Heinrich Willy KAHN, b. 1913 Erfurt

1. Friedrich KAHN, b. 28 Oct 1894 Themar, d. 21 Feb 1915 [WWI]
1. Julius KAHN, b. 04 Feb 1896 Themar, 1939 to England (Kitchener Camp)/1940 deported as 'enemy alien' to Australia, d. 18 Jan 1965 Sydney/ Australia
∞ Therese HUTZLER, b. 07 Nov 1904 Forth/Bavaria, 24 Mar 1942 deported to Izbica Ghetto/Lublin District/Occupied Poland, murdered

2. Bella Betty KAHN, b. 30 Jan 1928 Regensburg/Bavaria, 24 Mar 1942 deported to Izbica Ghetto/Lublin District/Occupied Poland, murdered
2. Hannelore KAHN, b. 08 Sep 1929 Weiden/Bavaria, 24 Mar 1942 deported to Izbica Ghetto/Lublin District/Occupied Poland, murdered

1. Erna KAHN, b. 27 Nov 1897 Themar, d. 12 Oct 1939 Themar (of starvation by Themar city administration)
∞ Hermann HAAß (non-Jewish), b. 12 Dec 1896 Themar, d. 21 Dec 1938 Meiningen

2. Günter HAAß, b. 21 Dec 1928 Themar, d. 21 Oct 1988 Suhl
2. Johanna HAAß, b. 21 Dec 1928 Themar, d. 04 Jun 1968 Hildburghausen

1. Adolf KAHN, b. 23 Sep 1902 Themar, 11 Nov 1938-19 Jan 1939 in Buchenwald KZ, 04 Mar 1943 deported Berlin to Auschwitz, murdered
∞ Rosa GLASS, b. 02 Apr 1904 Rogowo/Posen, 01 Mar 1943 deported Berlin to Auschwitz, murdered
See also:
The Family of Else & Markus Rosenberg
The Family of Erna & Hermann Haaß