Adolf & Meta (née Schwab) Katz and children lived for some fifteen years in Themar between the mid-1880s and the early 1900s. The family was not one of the 'core' families of Themar, those families who were there from the early 1860s until the late 1930s/early 1940s. And, aside from an occasional advertisement in the local newspaper, they left few traces in the city records; we do not know where they lived, for example. The records we do have relate primarily to the Nazi regime and they tell us that the Holocaust extinguished the family, leaving no descendants to remember Themar.
It would therefore be easy for us to overlook the Katz family of Themar but to do so would be a mistake. We will probably never know a great deal about the Katz family but what we do know contributes to our growing knowledge about family dynamics in rural Thüringen in the 19th and 20th centuries.
Adolf Katz was born in 1862 in Bibra in Sachsen-Meiningen (Thuringia), the eldest child of Ludwig & Hannchen (née Stoll) Katz. He had two sisters and four step-siblings. His family was part of one of the largest Jewish families in Bibra, whose roots stretched back into the 1700s. (Researcher David Sichel has posted profiles of the Katz family dating back to the mid-1870s on the geni.com database.)
Meta Schwab came from Rimpar, a town of some 2,000 residents in Unterfranken. (Dr. Andreas Joseph Schwab has posted profiles of the Schwab family back to the early 1700s on the geni.com database.) Hanne Mintzel of Rimpar has provided us with the details of Meta's family: her parents were Hajum and Wilhelmine (née Sondheimer) Schwab and she was the third child and first daughter of Hajum Schwab.
According to the Themar Jewish Family Register, Adolf Katz and Meta Schwab had two marriage ceremonies, one religious and one civil, in December 1887. On 16 September 1888, their first child, Hedwig, was born in Themar; sadly, she lived only 12 days. Between 1889 and 1903, Meta bore eleven (11) more children, according to the Geburtsregister for Themar 1876-1920.
Sometime in the early 1900s, the family moved to the larger city of Meiningen, north of Themar. Adolf and Meta lived the rest of their lives in Meiningen, while their children started to fan out to other places in Germany.
******
While we believe that we know the names of all eleven (11) children, we know the stories of only five: Martha, Elka, Bettina, Josef, and Irma.
The eldest Katz daughter, Martha, b. 1889, probably lived about ten years in Themar and then moved to Meiningen with her parents and siblings. Collecting the puzzle pieces after the family move to Meiningen was challenging.  The Themar City Archives, which contains the 1938 letter to the Themar City Registrar confirming the addition of "Sara" to her given names, told us her married name —"Hahn" — and address — Hobartstrasse 9 — in Frankfurt a/Main. The German National Archives Memorial Book/Gedenkbuch told us she

was deported on 12 November 1941 to Minsk Ghetto. But the Memorial Book does not identify family connections and, while we were pretty sure that the other Hahns in the Gedenkbuch and on the deportation list of 12 November 1941 — Hugo, b. 1884, Margot, b. 1923, and Hildegard, b. 1925 — were related to Martha, we were not 100% sure.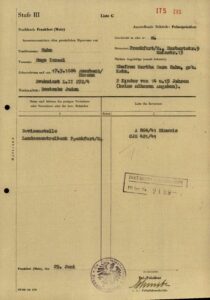 Confirmation came when the Arolsen Archives started to post their documents online. First the card for Hugo Hahn, in the Money administration cards of prisoners of CC Buchenwald, 1937 – 1945  and then a post-war document, Lists of all persons of United Nations and other foreigners, German Jews and stateless persons, confirmed that Martha Katz was the wife of Hugo Hahn, and that they had two daughters, Margot Rena, b. 1923, and Hildegard, b. 1925.
Elka Katz , b. 1890 and named after her great-grandmother, married Berthold Goudsmid of Dessau in Sachsen-Anhalt, and together they ran a textile business. In 1930 they acquired the property at Franzstrasse 47.
Their daughter, Ruth Goudsmid, born in 1922, was considered ,geistig zurück-gebliebene/mentally retarded' and she moved to the Israelitische Erziehungsanstalt für geistig zurück-gebliebene Kinder in Beelitz. The school accepted children as young as six years old so Ruth may have been admitted sometime in the late 1920s or early 1930.
In 1933, Elka's husband, Berthold Goudsmid, died, age 53. Elka's sister, Bettina, and brother Joseph, joined the Goudsmid household at Franzstrasse 47. On 6 May 1939, Joseph left Germany for Belgium, hoping that Belgium's neutrality in World War I would persist in another World War.
Irma KATZ continued to live with her parents, Adolf and Meta, in Meiningen until the 1930s. We know that she she married Berthold Mauritz Zuikerberg of Amsterdam and we believe the marriage took place in 1936 (our source is a family genealogy website). But whether Irma moved to Amsterdam because of her marriage to Zuickerberg or whether she met and married Zuikerberg after her move to Amsterdam we do not know. She was Zuikerberg's second wife; he had divorced his first wife, Rebecca Swaep, in 1926.
*****
Adolf and Meta Katz died of natural causes, Adolf in 1935 and Meta in 1937; both were in their seventies.
After that, death was unnatural, and, by the early 1940s, the family of Adolf and Meta Katz was destroyed. In late spring, 1939, Bettina Katz took her own life  — the official date of death, 11 June 1939, is the date on which her body was recovered from the River Mulde — possibly/probably in despair over the events of Kristallnacht and fearing what the future threatened.
Bettina's siblings and their families were all murdered: The deportation of 11/12 November 1941, which carried Martha and her family Frankfurt am Main to the Minsk Ghetto was one of the early deportations of German Jews to "the East",  On 13 April 1942, Elka Goudsmid (née Katz) was deported to the Warsaw Ghetto. Her daughter, Ruth, was deported on 13 June 1942, with a group of other children from Beelitz, to Sobibor. In May 1940, Joseph was deported to the Saint Cyprien Internment Camp and from there to the Drancy Collecting Detention Camp. On 10 August 1942, he was deported from Drancy to Auschwit. On  On 6 July 1943, Irma Zuikerberg (née Katz) and her husband, Berthold Maurits Zuikerberg, were deported from Westerbork to Sobibor.
On 27 October 2011, the City of Dessau laid Stolpersteine in front of Franzstrasse 47 (now Franzstrasse 111-115) to honour the four Katzes who lived there: Elka Goudsmid (née Katz) and her daughter, Ruth Goudsmid, and Elka's siblings, Bettina and Josef Katz.
If you have any information or questions about the Adolf & Meta Katz family, which you would like to share, please contact Sharon Meen @ s.meen79@gmail.com or smeen@mail.ubc.ca. We would be pleased to hear from you.
*****
Adolf KATZ, b. 16 Nov 1862 Bibra, d. 15 Nov 1935 Meiningen
∞ Meta SCHWAB, b. 17 Nov 1859 Rimpar, d. 18 May 1937 Meiningen

1. Hedwig KATZ, b. 15 Sep 1888 Themar, d. 27 Sep 1888 Themar
1. Martha KATZ, b. 18 July 1889 Themar, 11 Nov 1941 Frankfurt a/Main to Minsk Ghetto, murdered
∞ Hugo HAHN, b. 17 May 1884 Bensheim/Hess, deported 11 Nov 1941 Frankfurt a/Main to Minsk Ghetto, murdered

2. Margot Rena HAHN, b. 30 Oct 1923, deported 1 Nov 1941 Frankfurt a/Main to Minsk Ghetto, murdered
2. Hildegard HAHN, b. 11 Sep 1925 Frankfurt a/Main, deported 11 Nov 1941 Frankfurt a/Main to Minsk Ghetto, murdered

1. Elka/Else KATZ, b. 16 July 1890 Themar, deported 13 June 1942 to Warsaw Ghetto, murdered
∞ Berthold GOUDSMID, b. 27 May 1878 Termunten/Holland

2. Ruth GOUDSMID, b. 28 May 1922 Dessau, 13 Jun 1942 deported to Sobibor Extermination Centre, murdered.

1. Bettina KATZ, b. 30 Nov 1892 Themar, d. May/June 1939 Dessau (suicide)
1. Josef KATZ, b. 27 Dec 1893 Themar, May 1939 to Belgium, May 1940 to Le Vigeant/St. Cyprien, 10 Aug 1942 deported Drancy to Auschwitz/murdered
1. Max KATZ, b. 17 Feb 1895 Themar, d. 20 Aug 1895 Themar
1. Siegfried KATZ, b. 22 Jan 1896 Themar
1. Erich KATZ, b. 16 June 1898 Themar
1. Walter KATZ, b. 31 Mar 1900 Themar
1. Irma KATZ, b. 30 May 1903 Themar, 06 Jul 1943 deported Westerbork to Sobibor, murdered 09 Jul 1943 Sobibor
∞ Berthold Maurits ZUIKERBERG, b. 26 Feb 1877 Winschoten/Holland, 06 Jul 1943 deported Westerbork to Sobibor, murdered 09 Jul 1943 Sobibor
Sources:
With many thanks to
Dr. Bernd G. Ulbrich of Martin-Luther-Universität Halle-Wittenberg for his generous contributions to our knowledge of the Katz family in Dessau. We know most about the Katzes who moved to Dessau, thanks to the research of the group, Die Werkstatt Gedenkkultur in Dessau-Roßlau, and the contributions of Dr. Bernd Ulbrich both to the work of that group and to this website.
Dr. Andreas Josef Schwb for his knowledge of the Schwab Family of Rimpar.
Hanne Mintzel for data from the City Archives of Rimpar.
As well:
Ancestry.com, online Datenbank
Das Bundesarchiv. Gedenkbuch: Opfer der Verfolgung der Juden unter der nationalsozialistischen Gewaltherrschaft in Deutschland 1933-1945  (online).
Digital Monument to the Jewish Community in the Netherlands.
Gottwaldt, Alfred u. Diane Schulle. Die 'Judendeportationen' aus dem Deutschen Reich: Eine kommentierte Chronologie, 1941-1945. Wiesbaden: Marix Verlag, 2005.
Grossert, Werner. Geschichte Der Dessauer Juden: Verfolgung, Vertreibung, Deportation, 1933-1945. 2004.
Jüdische Gemeinde Themar (Kr. Hildburghausen). Matrikel 1820-1938, Koblenz: Bundesarchiv 1958
Staatsarchiv Thüringen Meiningen. Geburtsregister jüdischer Gemeinde Themar 1876-1937. 
Stadtarchiv Dessau-Roßlau, courtesy Dr. Ulbrich
Stadtarchiv Themar
Stamboden von Nederlands Joodse families
Werkstatt Gedenkkultur in Dessau-Roßlau, STOLPERSTEINE für Dessau-Roßlau: Ein Beitrag zur lokalen Gedenkkultur, Broschüre. Dezember 2008
Winschoterarchief.nl 
Wolf, Siegfried. Juden in Thüringen 1933-1945: Biographische Daten. Band 1. 2000.
Yad Vashem. The Central Database of Shoah Victims' Names (online)
Yad Vashem, "Trains to Extinction" database, "Transport, Train Da 53 from Frankfurt am Main, Wiesbaden, Hesse-Nassau, Germany to Minsk, Minsk City, Minsk, Belorussia (USSR) on 11/11/1941"