"A square on the earth
— A human being."
by Cornell Hoppe
inSouthThuringia.com
Year after year, the townspeople of Themar remember their former Jewish residents. 38 Stolpersteine have already been laid in their memory in the city. On Wednesday, another 13 were added.
Themar – "Walking in the footsteps of my ancestors," is how Garry Meller described his visit to Themar on Wednesday morning. He is a descendant of the Grünbaum family, which once lived in Themar. Meller also says that he feels very welcome here. And he is visibly moved that people who were previously strangers to him are erecting a monument to his ancestors.
13 new stones
It is cold and drizzling on this Wednesday morning. Nevertheless, more and more people are turning up to take part in the laying of the Stolpersteine. Class 9a of the "Anne Frank" regular school in Themar is there. Renate Meyer-Merkl has come from Cologne. She is a relative of the Jewish teacher Moritz Levinstein. Also the brothers Paul and Arne Müller have come again from Denmark, they are descendants of the family Max Müller. Members of the association "Themar meets Europe" and also some other descendants of Themar Jews have come to the city again to participate in the annual action. State Secretary Babette Winter has arrived from the Thuringian State Chancellery, Deputy District Administrator Dirk Lindner and Mayor Hubert Böse will also accompany the laying of the 13 Stolpersteine.
The start is at Bahnhofstraße 23 in front of a clothing store. The Grünbaum family also once had a textile store there, explains Sabine Müller from the association "Themar meets Europe". In front of the house, a total of six stones will be sunk into the Pflaster. Stones for Hugo Grünbaum and his wife Klara. For daughter Else Neuhaus and her husband Arthur and their daughter Inge. And the son Hans Grünbaum. The latter is the only one to survive the Nazi era. Already in 1934, at the age of 17, he left for Palestine, today's Israel. Hugo Grünbaum was deported first to Buchenwald, later to Theresienstadt, where he was murdered. Klara was also deported to Theresienstadt. She was murdered in the Auschwitz concentration camp in 1944. Else and Arthur Neuhaus and their daughter Inge were deported to Belzyce in 1942 and murdered there. They were 41, 37 and five years old.
Garry Meller's grandfather Karl was also born in Themar, but went to Erfurt already in 1913. He1 Karl's son, Kurt, fled to England. Karl was murdered in the Theresienstadt ghetto fled to England and later made it to Australia with his family.
Garry Meller explains that he only began to learn more about his family connections five years ago. While searching for any information, he landed on the very informative website about the Jews of Themar and thus also on Sharon Meen. This way, he said, he was able to trace his family tree back to the 1700s.
"History is remembered and the family is not forgotten," Garry Meller says. He also sees that anti-Semitic tendencies are still there. "By remembering the past, we can help change the future," he hopes.
A little way across the street, a single stumbling block is being placed. It commemorates Meta Krakauer (née Frankenberg), who also had a textile store there. In 1942 she was deported to Theresienstadt. She was the only Jewish woman from Themar who survived a concentration camp. She died in 1955, 88 years old in Dinslaken. At this point, Themar's mayor Hubert Böse quotes Ludwig Mühlfelder with the admonition that today's young people cannot be blamed for the deeds of their ancestors, but they should be expected to deal with the crimes of their people. "It was the industrial extermination of people," Böse says. "We all have to remember that and do everything we can to ensure that something like that never happens again.
Two families are commemorated in front of a house in Leninstraße. Three stones each commemorate the Frankenberg family and the Sander family. Klara Frankenberg and her children Paula and Lothar lived there. Klara was murdered in Theresienstadt in 1942, she lived to the age of 79. Paula Frankenberg was first sent to Ravensbrück concentration camp and later to Auschwitz, where she died in 1942. Lothar Frankenberg was taken into "protective custody" in 1938. He managed to escape via the USA in 19392 Lothar arrived in Canada via Englandto Montreal. Louis Sander also flüchten in 1939, after he too was initially taken into protective custody and brought to Buchenwald. He reached the USA via Shanghai.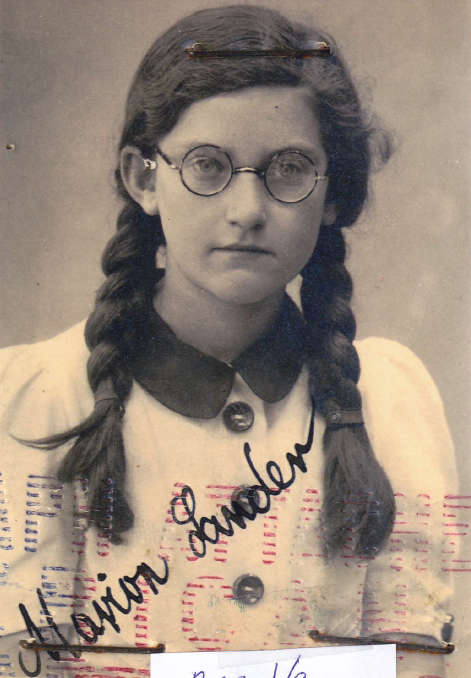 His daughter Marion Sander was also able to flie from Germany in 1939 and lived in San Diego.
Norbert Sander came to Buchenwald at the age of 17 in protective custody. It was not possible for him to fliehen. Norbert had to die because of the Nazi euthanasia program. He was murdered in the Hadamar killing center.
"Be vigilant today too!""
State Secretary Babette Winter thanked the artist Gunter Demnig for creating the largest decentralized memorial with his idea. She also praised the commitment of the people of Themar, who want to remember the people who were once citizens of this city. "By immortalizing their names, they have returned a bit to the town," Winter said. She had donated two stones herself after a visit to Themar in the summer. Remembering, she says, is one thing, but "we must also be vigilant today, because it is the bitter realization that approval of anti-Semitic statements is on the rise again, even in Thuringia," she says, referring to the Thuringia Monitor, which will be published in the next few days.
Dirk Lindner echoes her words and warns that the trivializers and deniers should be resolutely opposed.
Finally, a poem is recited. "I lie in the street. Carelessly people pass me by. Yet I am so valuable. // A name is engraved, dates to it. A square on the ground. – A human being. Yet every life is precious."
Also:
"13 Stolpersteine commemorate Jewish residents in Themar," MDR Thüringen, Nov. 27, 2019.
Ralf-Uwe Beck, "Stolpersteine in Themar," Evangelical Church in Central Germany.