Family Stories:
1. The Grünbaum Family
2. Karl & Hulda (née Schlesinger) Grünbaum
3. Abraham & Fanni (née Fuchs) Schlesinger
See as well:
The Postcard Collection of Ilse Grünbaum
2019: Stolpersteine for the Frankenberg and Grünbaum Families
Descendants Lists:
1. Hirsch & Golde (née Kohn) Grünbaum
2. Abraham & Veilchen (geb. Lang) Schlesinger
3. Noah & 1) Minna u. 2) Josefine/Sophine Grünbaum
4. Heinrich & Ida (geb. Schmalbach) Schloss
Noah Grünbaum was the first of the Walldorf Grünbaum family to move from Walldorf/Werra to Themar. His family was one of the 'core' families of the Jewish community of Themar, participating in the formal establishment of a Jewish congregation in the 1870s and living over 7 decades into the early 1940s when the community was extinguished by the brutality of the Holocaust.
*****
"Noah Grünbaum, 27 years old, 10th child and 4th son of Hirsch Grünbaum and his wife  Golde née Kohn from Höchheim, and Mina Friedman[n], 26 years old, 2nd child and 1st daughter of Simon Friedmann and his wife, Marianne née Mäy, from Simmershausen, were married on 27th September 1867, after the three bans required by law were proclaimed in the synagogue. They have set up their residence here [Walldorf/Werra]."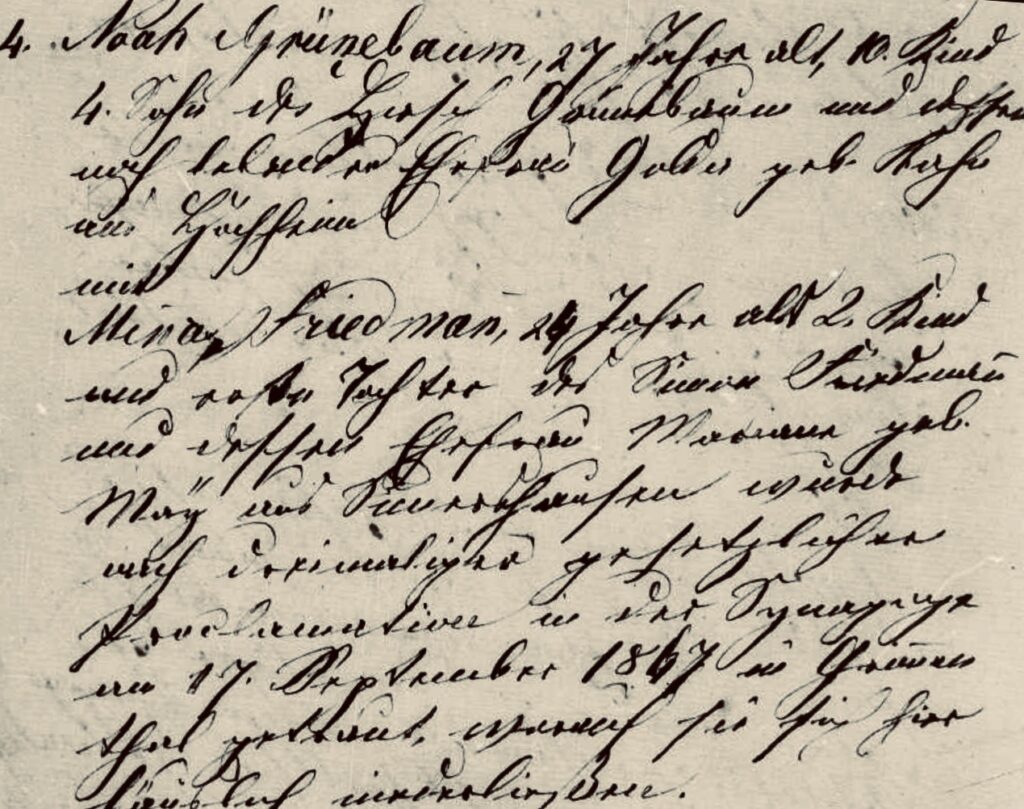 On  Hugo Grünbaum their first child was born. Sometime between Hugo's birth and that of their daughter in 1872, Noah, Minna, and Hugo moved south from Walldorf to Themar.
*****
In Themar, Noah established his first shop, a dry goods store (Kurzwarenladen) at Hintertorstraße 170 (now Bahnhofstraße). The family lived above the shop.
On 28 Feb 1872, Minna Grünbaum (née Friedmann) gave birth to a daughter. Nine days later, on 8 March 1872, Minna Grünbaum died as a result of childbirth complications. She was buried in the Jewish cemetery of Walldorf.
On 20 November 1873 Noah married Josefine, called Sophine, Schlesinger of Walldorf.  She was the third child and second daughter of Kappel and Hannchen (née Mai) Schlesinger of Walldorf..
Sophine bore three children — Beanke in 1875, Karl in 1876, and Emil in 1878 — but only Karl lived past infancy. Karl grew up with his older half-brother, Hugo, and his cousin Berta Grünbaum, the daughter of Löser and Johanna Grünbaum.
In fall 1886, the Regierungsblatt, the official Information Sheet of the Duchy of Sachsen-Meiningen, included the information that the N. H. Grünbaum Co. of Themar had been formally registered on 16 September 1886. We assume that this coincided the move of the family business up Bahnhofstraße from #170 to #150.

*****
In the 1890s, Noah's daughter Minna married Samuel Rosenthal, a cattle dealer from Apolda. She moved to Apolda and the couple formed a family of three children: Grete, b. 1898, Norbert, b. 1901, and Max, b. 1910.  Noah's sons, Hugo und Karl, remained in Themar with their father. In 1898, Hugo married Klara Schloss of Schwanfeld and, in the first years of the new century, Klara gave birth to three daughters: one was stillborn in 1901, but two — Mira b. 1903 and Else, b. 1905 — lived. At the turn of the nineteenth into the twentieth century, the family lived in Bernhardtstraße (today Leninstraße) outside the city wall.
Noah Grünbaum died on 29 January 1901; according to the 1895 will (to be found in the State Archives of Thüringen in Meiningen), the two sons were to take over the business together. However, if their partnership broke down, then Karl was to receive the business as a sole share. (Josephine/Sophine was to receive back the 3500 marks she brought into the marriage.)1 Evidence in Staatsarchiv Meiningen, summarized by G. Meller to S. Meen Nov 2019  
Further entries in the Regierungsblatt suggest that the brothers had already gone their separate ways before their father's death. In 1901, a Regierungsblatt entry indicates that Hugo Grünbaum was already the owner of Hugo Grünbaum of Themar; the entry stated that as of 4 October 1901 he was adding a Schnittwarengeschäft/dry goods store to his base company. An entry a month earlier had informed the business community that Karl Grünbaum had been registered on 24 September 1901 as the sole owner of the N. H. Grünbaum Company.
Sophine Grünbaum (née Schlesinger) died on 25 November 1903; she was buried in the Jewish cemetery of Marisfeld. The following spring, in May 1904, Karl married Hulda Schlesinger, b. 1876 in Wasungen. Hulda and Sophine were related — Sophine was the daughter of Kappel Schlesinger, Hulda the granddaughter.
A significant change occurred mid-decade. Berta Grünbaum, Löser's daughter, and her husband Jacoby Seckel decided to leave Themar. Hugo decided to take over the Seclel business. On 1 May 1905 he announced the opening of the business in his name and its relocation from the Market Square to Bahnhofstraße 143 more or less right across the street from Warenhaus N. H. Grünbaum.
Twenty-nine year old Karl and his wife Hulda continued Warenhaus N. H. Grünbaum. In the photo at the top of this page, Karl can be seen in the doorway of the store and Hulda in the window above. The two brothers may have sold similar products but offered customers a wide choice.
In 1911, Hulda Grünbaum gave birth to a daughter whom they named "Irene". The infant lived but days, dying on 4 February 1911. In 1912, Karl Grünbaum sold the business to Markus Rosenberg, and he and Hulda left Themar in April 1913 and moved to Erfurt.
With the departure of Karl and Hulda for Erfurt, the name of Noah Grünbaum disappeared from the visual streetscape of Themar, and with Minna and Karl living elsewhere, the Grünbaum name in Themar became identified primarily with Hugo and Klara.
*****
Like many other German Jews, the Grünbaums strongly supported the German side in World War I: Karl Grünbaum became a soldier in 1916 and Hugo and Klara announced the birth of their son, Hans, on 12 February 1916 in very patriotic language: "We are pleased to announce the birth of our Wartime youth."
After the war, Karl and Hulda established several businesses based in Erfurt, travelling into the surrounding countryside to sell to smaller markets. In 1916, a daughter, Ilse, was born and in 1921 a son, Kurt.
Hugo and Klara continued to manage the Hugo Grünbaum store in Themar and their daughters embarked on their own lives. Mira, the eldest daughter, married twice: the first marriage was in 1929 to a man named Hermann Goldschmidt from Fulda, but we know only his name, not when or why the marriage ended. Mira's second marriage was to Arno Sommer (of the Gassenheimer family), b. 1896 in Hildburghausen. In 1935, son Sigfried was born in Hannover. Else married Artur Neuhaus, b. 1901 in Werl, about 350 km northwest of Themar; Artur, who moved from Werl to Themar, worked in the Hugo Grünbaum  store with his father-in-law. Hans, the youngest child b. 1916, attended school in Themar.
*****
The Nazi takeover of power in January 1933 probably prompted the same response from the Grünbaum families as it did from most, if not all, German Jewish families: first, families focussed on securing the future of their children, and then they attended to their own futures. Securing the future meant leaving Germany, either for another country in Europe or better yet outside of Europe altogether. Hans Grünbaum was the first to leave, departing Themar for Palestine on 14 November 1934, age 18. In August 1936, Mira, Arno, and Sigfried Sommer went with Arno's mother, Hedwig (who was divorced), to Venice. It is possible, and indeed probable, that the Rosenthals in Apolda and the Grünbaums in Erfurt also started to explore opportunities for emigration in the early to mid-1930s.
The 1938 Novemberpogrom removed any hope that life might return to its pre-1933 pattern. Most of the Grünbaum men over 18 years of age were taken into so-called 'protective custody' and taken to Buchenwald: In Themar, Hugo Grünbaum was arrested with 17 other Themar men; he was released by the first of December 1938. In Erfurt, both Karl Grünbaum and his son, Kurt, were arrested; Kurt was released on 7 December 1938, Karl on  8 December 1938. In Apolda, Minna and , Samuel Rosenthal's sons, Max and Norbert, were arrested; while Norbert was released in December 1938, Max was kept in Buchenwald until 12 April 1939. It appears that neither Artur Neuhaus in Themar nor Samuel Rosenthal in Apolda was arrested.
The Nazis 'allowed' German Jews to emigrate until October 1941, and the children of Karl and Hulda were able to escape before the trap snapped shut. Ilse and Kurt both went to England where Ilse, although deemed an 'enemy alien,' was allowed to remain in London and work as a domestic throughout the war. Kurt, however, was considered a more dangerous enemy alien and, after the German conquest of Holland, Belgium and France, was rounded up and deported to Australia on 6 September 1940 on the infamous ship, HMS Dunera. The others — Grete, Max, and Norbert for example — may well have had all their papers in place but simply never reached the top of the quota lists to be permitted into another country.
The Holocaust dealt cruelly with the Grünbaums trapped in Germany after September 1941: all three of Noah's children — Minna, Hugo, and Karl — were murdered, as were five grandchildren with two spouses, and one great grandchild, Inge Neuhaus, age 5. In total, twelve (12) members of the family were deported.
The grandchildren and great-grand children were the first to be deported in May 1942 to the ghetto in Belzyce.
Five months later, on 19 September 1942, Hugo & Klara, Minna, and Karl and Hulda, and their cousin, Berta Seckel (née Grünbaum) were all deported to Theresienstadt, the so-called  'old-people's ghetto.' Hugo and Klara were among the last Jews of Themar to be deported.

Hulda (née Schlesinger) Grünbaum survived. In February 1945, she was freed as part of a 1200-prisoner-exchange for money from Jewish organizations to Nazi leaders. From Switzerland, she established contact as quickly as possible with her daughter, Ilse; a year later, Hulda joined her daughter in England and then in 1948, the two set out for Australia to join Kurt.
*****
After WWII, the surviving members of the Grünbaum family were on three continents: Hulda Grünbaum and her two children settled in the Melbourne area of Australia. Kurt changed his name to "Ken Green." Ilse remained 'Ilse' but married and took on the surname of her husband, Albert Meller. Mira Sommer, Hugo and Klara Grünbaum's eldest daughter, had survived the war in Italy with her husband and son. (Arno's mother, Hedwig Sommer, née Gassenheimer, had been deported from Italy in 1943 to Auschwitz). In May 1948, the Sommers sailed from Italy to the United States where Mira and Arno lived in Massachussets for the rest of their lives. Hans Grünbaum remained in Israel where he died in 1980.
Contact with the grandchildren of Karl and Hulda Grünbaum in Australia brought us welcome information that filled in many of the gaps in the story of this family. For example, Lynda Green, the eldest daughter of Ken Green, has a family tree (at the right/click to enlarge), which identifies her grandparents and great-grandparents. We thus learned that the name of Karl Grünbaum's mother was 'Josephine' [family spelling] and that Josefine [spelling in Hoschek, Ausgelöschtes Leben: Juden in Erfurt 1933 – 1945. Biographische Dokumentation,] was married to Noa [Grünbaum]. Until we had this piece of the puzzle, we had been unable to link Karl Grünbaum to either of the two Grünbaum families — Noah and Loeser — in Themar.
We also learned the names of Hulda's parents — Abraham and Fanni Schlesinger — from this family tree and other records in family archives and that has allowed us to find out more about another set of the grandparents of the Jewish families of Themar.
If you have any information or questions about the Noah Grünbaum family which you would like to share, please contact Sharon Meen @ [email protected] or [email protected]. We would be pleased to hear from you.
Sources:
Arolsen Archives
Grünbaum/Meller & Green Collections
German National Archives, Memorial Book
Jüdische Gemeinde Walldorf Werra (Kr. Meiningen), "Matrikel, 1839-1938"
Jutta Hoschek, Ausgelöschtes Leben. Juden in Erfurt 1933 – 1945. Biographische Dokumentation. Erfurt: Verlag Vopelius; Auflage: 1. Aufl. (9. November 2013)
Themar City Archives
S. Wolf, Juden in Thüringen: Biographischen Daten 1933-1945.