Leopold Ludwig was one of the driving forces in the establishment of the Jewish community of Themar; his name is identified with Themar in the mid-1860s. In 1877, he became part of the formal structure of the Themar congregation, when he and his wife, Adelheid (née Krempler), moved to Themar from Marisfeld. The Ludwigs were probably the first occupants of the living quarters in the synagogue in Hildburghäuser Strasse 17, which S. Walther donated to the Jewish community and was dedicated in 1877. All in all, the Ludwigs were familiar to Themar for close to forty (40) years.
But traces of their time in Themar are few as the following text indicates. It summarizes the mentions in R. A. Human's history of the Jews in Sachsen-Meiningen, information in the Thüringen State Archive in Meiningen, the registers of the Jewish Community/Gemeinde of Marisfeld 1768-1936, and Themar 1876-1937, as well as information in the Annual Reports of the Government of Sachsen-Meiningen. As always, we welcome any contributions from readers of this page; see the contact information at the bottom.
Leopold (Löw) Ludwig was born in 1836 in the village of Simmershausen (population about 300 with 57 Jews) to the west of Themar; he died in 1891. His wife, Adelheid Krempler, was born in 1839. According to Human, Leopold trained at the secular Teacher's College in Hildburghausen while taking on responsibilities in Jewish communities. Starting in 1848, Human writes, Ludwig shared duties in Themar and Marisfeld with Simon Lang; He completed his teacher training in 1857 and accepted a position in Dreisigacker (near Meiningen) where the Ludwigs' first child, Rosa, was born in 1866. By the birth of their second daughter, Ella, in March 1868, they were living in Marisfeld. The Ludwigs remained in Marisfeld after the the huge fire of 1865 destroyed most of the village, prompting an exodus of Jews from Marisfeld  for either Meiningen or Themar. In 1867, he began a Register of the Jewish families of Marisfeld, which has become a valuable resource for understanding the history of the community of Themar.
Ludwig took on increasing responsibilities for the Jewish community of Themar, and in the 1874 listing of who's who in state employment, he is identified as a teacher in both Marisfeld and Themar. In 1876, the family moved to live in Themar but he continued to tend to the community in Marisfeld. Three more children were born in Themar, two of whom sadly died very young. .


Leopold taught in the public school of Themar and was therefore a public employee. The Annual Reports of the State of Sachsen-Meiningen, such as the excerpt from the 1885 Report at the left, referenced his activity. It tells us that Ludwig provided the Marisfeld 'Israelite' children, as well as the Themar children, with their religious instruction (within the state curriculum) and Hebrew language lessons.
The Ludwig family lived in Themar until at least the early 1889. In January 1889, Leopold became too ill to continue working, and Leo Kahn of Bibra replaced him in his duties from 15 January until 10 October of that year. at which time, he went on to Meiningen, and Gustav Hofmann came to Themar. Leopold Ludwig died in August 1891. After that the Ludwigs — with the one exception of Siegfried — slip out of sight. The Siegfried Wolf compilation of the Jews of Thüringen 1933-1945, for example, does not include a mention of the family.
*****
If you have more information about the Ludwig family, please contact [email protected] if you have more information. And Thank You in advance.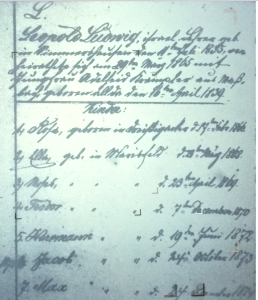 Below is the Descendants List of Leopold and Adelheid (née Krempler) Ludwig as available from the Family Register of the Jewish Community of Marisfeld (image at right), and the Birth Register of Themar.
Leopold LUDWIG, b. 11 July 1835 Simmershausen, d. Aug 1891
∞ Adelheid KREMPLER, b. 06 April 1839 Massberg
     1. Rosa LUDWIG, b.17 Jul 1866 Driessigacker bei Meiningen
     1. Ella LUDWIG, b. 23 Mar 1868 Marisfeld
     1. Moses LUDWIG, b. 23 Apr 1869 Marisfeld
     1. Feodor LUDWIG, b. 07 Dec 1870 Marisfeld
     1. Hermann LUDWIG, b. 19 June 1872 Marisfeld, d. 02 March 1941 Leipzig
     ∞ Bertha DESSER, b. 05 Feb 1887 Altenstadt/Bavaria, 21 Jan 1942
         deported to Riga, murdered.
     1. Jacob LUDWIG, b. 29 Oct 1873 Marisfeld
     1. Max LUDWIG, b. 24 Dec 1874 Marisfeld
     1. Julie LUDWIG, b. 23 Jun 1876 Themar, d. 02 Sep 1878 Themar
     1. Wilhelm LUDWIG, b. 03 Jan 1878 Themar, d. 22 Jul 1882 Themar
     1. Siegfried LUDWIG, b. 17 Jun 1879 Themar, m. 18 Aug 1903, d. 12 Oct 1918 Cambrai/Fr
     ∞ Fany HARBURGER, b. 17 Feb 1880 Gellingen
          2. Lothar LUDWIG, b. 21 Nov 1905 Geldern
Sources:
1.  Herzoglich-Sachsen-Meiningen'sches Hof- und Staats-Handbuch: 1874. 1885,
2.  Hohenems Genealogie, Jüdische Familiengeschichte in Vorarlberg und Tirol
3.  Human, Rudolf Armin. Geschichte der Juden im Herzogtum Sachsen-Meiningen-Hildburghausen. Hildburghausen: Kesselring, 1898 Schriften des Vereins für Sachsen Meiningische Geschichte u. Landeskunde, vol. 30, 1 July 1898.
4.  Jüdische Gemeinde Marisfeld (Kr. Hildburghausen), Matrikel, 1768-1936. Koblenz: Bundesarchiv, 1958
5.  Jüdische Gemeinde Themar (Kr. Hildburghausen), Matrikel, 1876-1937, Staatsarchiv Thüringen, Meiningen.