See:
The Family of Isaac and Maile Gassenheimer
Descendants List of Isaac and Maile Gassenheimer
Descendants List of Samuel & Lotte Gassenheimer
The Family of Emma and Simon Marcus
The Family of Bernhardt & Else Gassenheimer
The Family of Siegmund & Amelia Gassenheimer
The family of Samuel & Lotte Charlotte (née Stein) Gassenheimer was one of the founding families of the Jewish community of Themar and and remained a core family in Themar for 80 years. The family was also but one branch of a strong and successful family who had lived in southwest Thüringen from the mid-1700s and perhaps even earlier.
We presently know more about the background of Samuel Gassenheimer than of Lotte Stein, his wife. Samuel, b. 1837, was the second son of Joseph and his second wife, Lotte Jette. He had four older siblings: three (Seligmann, Leopold, and Sophia) from the marriage of Joseph and his first wife, Betti. We believe that Seligmann, son on Betti, and Jacob, son of Lotte Jette, died in the first years of their lives.
The family entry in the Bibra Jewish Register (Matrikel) tells us that Lotte Stein was born in Diersburg, Baden-Württemburg (about 400 km southwest of Themar) on 06 June 1840, the daughter of Bernhard and Erna Stein. But how and when Lotte and Samuel met is not yet known and may well have been an arranged marriage. They married on 06 November 1861 in Bibra.
At the time of his marriage, Samuel was the eldest son of Joseph living in Germany. Löb/Leopold had left Germany in 1849 for the United States. In 1853, his father Joseph, or quite possibly his 92-year-old grandfather, Isaac, registered the "Gassenheimer & Son" company in the Handlungsregister/ Businesss Register of Sachsen-Meiningen. Isaac died in the late 1850s. On 31 December 1862, Joseph and his 25-year-old son, Samuel (b. 1837), were registered as owners of the Gassenheimer Eisenhändler/iron monger business in Themar.

Translation:
"I. Company name: 31 December 1862, Gassenheimer and Son in Themar
established in 1853
II. Company Owners: Joseph Gassenheimer of Bibra and Samuel Gassenheimer from there, both ironmongers, are company owners"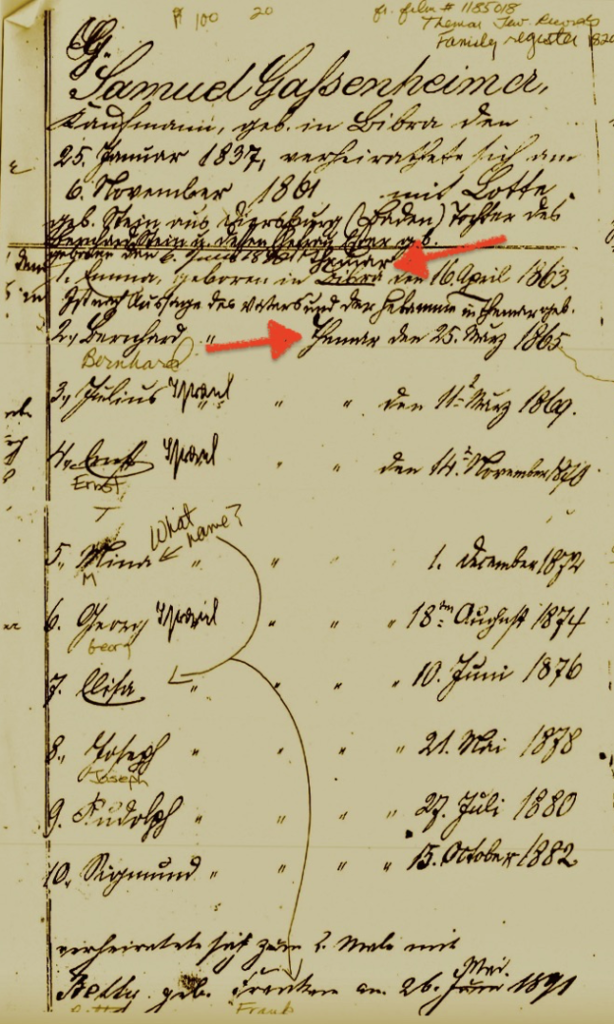 Exactly when Samuel & Lotte Gassenheimer came from Bibra to Themar is confused. The Bibra Register (Matrikel) of birth has entries for both Emma Esther, b. April 1863, and Bernhardt, b. 25 March 1865. But the Themar Register entry for families states that Emma was born in Bibra, and Bernhardt in Themar. To add to the confusion, Emma's 1915 Identity Card identifies her birthplace as Themar. Regardless, the Gassenheimer family was among the earliest Jewish families to move into Themar and earlier than previously noted in accounts of Jewish settlement in the area.
The 1875 'census,' a listing of the residents of Themar, identifies Eisenhändler/iron dealer Gassenheimer living at Schuhmarkt 70, right near the market square. Nine people were living at that address: five males (Samuel, Bernhardt, Julius, Ernst and Georg) and four females (Lotte, Emma, Minna, and a housemaid).
The eldest son, Bernhardt, b. 1865, followed the older strategy of emigrating from Germany and seeking his fortune abroad. When he left as a teenager in 1880, the decision to emigrate was a sound one. It probably was not yet clear how many sons could be provided for in Germany, and Gassenheimers had followed the emigration route to the United States successfully since at least the late 1840s.
*****
The Gassenheimers prospered in Themar: initially, Samuel's younger brother, Salomon Gassenheimer, b. 1840, carried on the family business in Bibra and was also co-owner of Firma Gassenheimer in Themar. In 1892, the outlook was so good that Salomon and his family moved to Hildburghausen, not far from Themar, and established an agricultural machinery factory, manufacturing "wind sweeps," such as the one in the collection of the Kloster Vessra Museum.
Samuel remained in Themar, building up his business into a company handling agricultural machinery, one that he could hand on with pride to the sons who lived in Germany. Samuel & Lotte completed their family in 1882 with the birth of Siegmund.
The late 1880s/1890s saw a series of rapid changes in the Gassenheimer household. In 1888, 25-year-old Emma Gassenheimer married Simon Marcus and moved to his hometown of Dessau. On 19 February 1889, 48-year-old Lotte Gassenheimer died. Minna, Emma's younger sister, was 16 years old and would have had her hands more than full with trying to care for four younger brothers and one sister. One hopes that other members of the community — both Jewish and non-Jewish — pitched in to help. On 26 May 1891, Samuel, age 54, married again — 33-year old Betty Frankson of Marisfeld. But a year later, Samuel died, and Betty became a single parent with five children under the age of 16 — Georg, Elise, Joseph, Rudolph and Siegmund. Siegmund remembers being raised primarily by his sisters Minna and Elise.
The death of Samuel Gassenheimer in 1892 at age 55 may have been a shock to his children, given the 94 years that his father Joseph had lived. Entries in the Commercial Register of the Duchy of Sachsen-Meinigen indicate that there was much discussion as to how the company would move forward. Matters seemed settled when, on 12 January 1899, 30-year-old Julius was registered as the sole owner of the J. Gassenheimer Co. in Themar. But in the same year, Bernhardt Gassenheimer came to Themar with his wife, son Bernhard and daughter Charlotte; they stayed for a year.1Letter Charlotte Gassenheimer, Bernhardt's daughter, to her niece Bernadette. Courtesy: Poulos family. Did Bernhardt consider returning to Themar hoping to take charge of the family business? Entries in the Commercial Register of the Duchy of Sachsen-Meinigen suggest that the matter was resolved in February 1900. (see The Family of Bernhardt and Ella (née Holland) Gassenheimer)
 ******
Julius Gassenheimer's decision to stay in Germany — that is, not to follow his older brother Bernhardt and other cousins (see, for example, the family of Samuel & Pauline Gassenheimer, in which most of the children left) to America — marked a change in the Gassenheimer family's strategies to achieve socio-economic success. With the unification of Germany into one state in 1866, and the granting of constitutional rights to German Jews in 1871, prosperous Jewish families such as the Gassenheimers believed that Germany offered them as much opportunity at home as elsewhere. All of the children of Samuel and Lotte Gassenheimer born after 1865 chose to remain in Germany.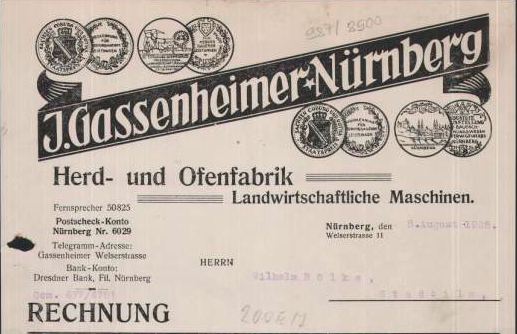 The family strategy now became one of spreading out and establishing branches of the family business elsewhere. Julius, the eldest, was in fact the first to leave Themar: in 1900, age 31, he, his wife, Johanna, and daughter Lucie, born 1896 in Themar, moved from Themar to Nürnberg where he set up a factory producing stoves and ovens as well as handling agricultural machinery.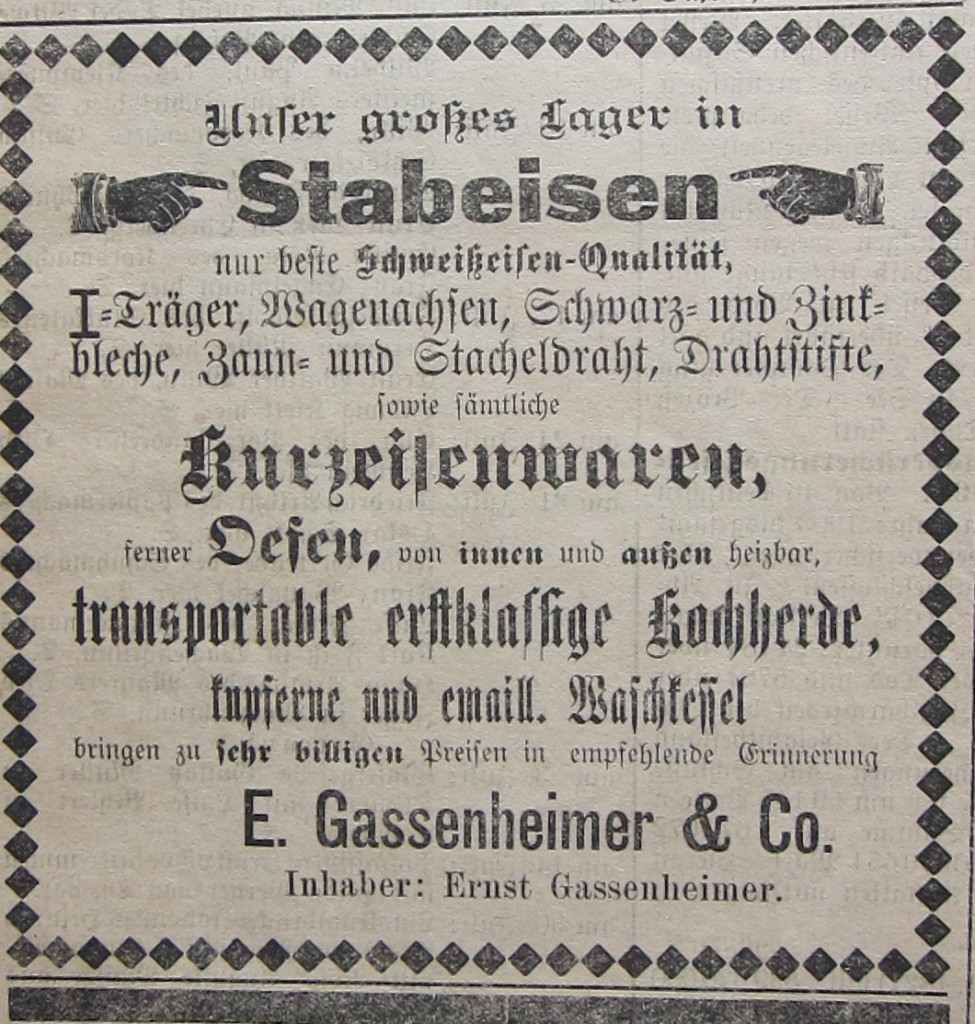 In 1900, thirty-year-old Ernst Gassenheimer took over leadership of the Themar business: Ernst was married — on 15 March 1898, he had married 20-year-old Rosa Rosenbacher of  Ebelsbach, Bayern — and was the father of two children, Herbert and Charlotte. Two more children were born after 1900: Albert in 1901, and Margarethe in 1902. The E. Gassenheimer Co. of Agricultural Implements was one of the most successful businesses — Jewish or non-Jewish — in Themar, and the Gassenheimers participated widely in political and social activities in both the religious and secular worlds. The family lived in the fabulous house in Friedensstrasse 9 near the railway station and Samuel's widow, Betty, lived with them.
Ernst's  siblings left Themar as they moved into full adulthood: Joseph married Gertrud/Trude Cohn and moved to her hometown of Plauen in Anhalt-Saxony to establish a business. Elise married Max Ney of Halberstadt and moved there. Georg and Rudolph married two sisters who had moved from Berkach to Themar around the turn of the century; on 14 April 1901, 26-year-old Georg married 20-year old Selma Schwab. In 1903, the couple moved to Halle/Saale where their daughter, Ruth, was born in 1904. Five years later, 28-year-old Rudolph married Selma's younger sister, Thekla, and they moved to Görlitz in Schlesien. The youngest son, Siegmund, who had moved to the Dresden area sometime around the turn of the 20th century, married Amalie Lewy of Posen, and they established themselves in Dresden.
Over time a cluster of Gassenheimers settled in Halle/Saale: Minna, who had initially moved to Coburg in the 1890s with her husband, Nathan Frankenberg, moved to Halle sometime before 1908, the year of the death of their son Walter.  In 1912, Emma and her husband, Simon Marcus, moved from Dessau with their three sons, Paul, Siegfried and Erich. The final arrival was Elise, who moved from Halberstadt to Halle with her son, Hans, sometime after the break-up of her marriage. Ironically, Georg and Selma Gassenheimer, who had been the first to move to Halle, left the city and moved to Berlin in 1925.
By the late 1920s/early 1930s, the children of Samuel & Lotte Gassenheimer were living in three states: Saxony-Anhalt, Thüringen, and Bavaria.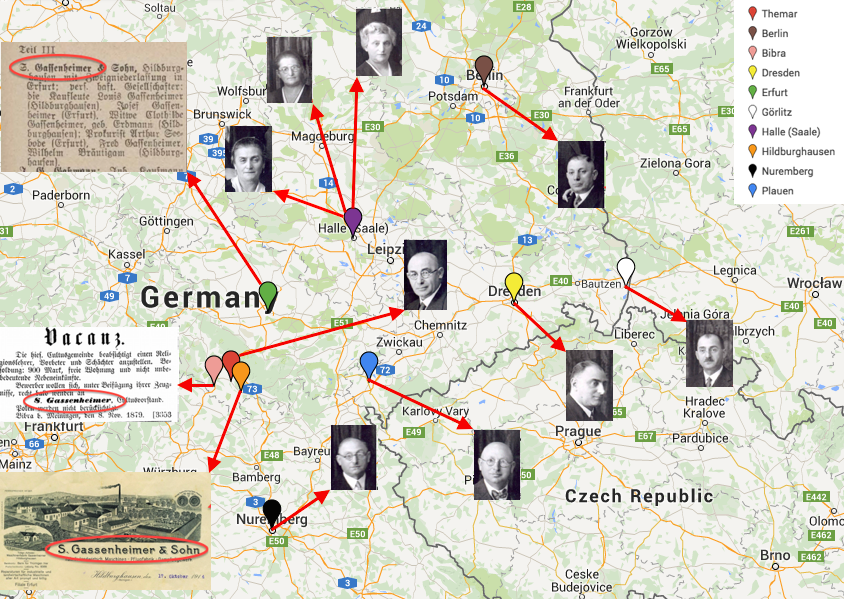 The family in the 1930s reflected natural change: Ernst Gassenheimer's wife, Rosa, died in January 1925; Simon Marcus died later that year in November — his burial was the occasion of the group photo above, a fact that explains the sombre tone. Emma Marcus (née Gassenheimer) died in 1932. Betty Gassenheimer (née Frankson), Samuel's second wife, died in 1935 and was buried in the Jewish cemetery of Marisfeld. In March 1937, Margarete Jäger, Ernst's youngest child, gave birth to twins, Ruth and Johannes. Joseph Gassenheimer died in 1938 of natural causes in Plauen.
*****
The Holocaust shattered the first generation of Samuel & Lotte Gassenheimer's children, namely, the eight children who were still in Germany when Hitler came to power. Only two were able to escape the horrors of the Holocaust: the eldest, Julius, and youngest, Siegmund,  escaped before the deportations began in October 1941. Siegmund and his wife, Amelia, managed to escape from Dresden just six weeks before WWII began; they arrived in London "with a small amount of possessions and 10 marks each. They lived a in a house my mother [Ilse], who left in 1934 and uncle [Heinz] in 1933, found for them," Barbara Mason, their granddaughter, relates.
In June 1941, 72-year-old Julius and 71-year-old Johanna (née Joseph), left on one of the last boats to leave Lisbon. Johanna's brother, Julius, sponsored their immigration. Their daughter, 41-year-old Lucie Reis, had died in 1940 (of causes unknown). Johanna Gassenheimer died in 1945, Julius in 1952. They were buried in Cedar Park cemetery in Paramus, New Jersey.
The other five  — Ernst, Elise, Georg, Minna, and Rudolph — were all deported 'east'. Ernst was deported on 27 January 1942 to Riga Ghetto with his daughter-in-law Edith Gassenheimer, née Schettmar. Gertrud Gassenheimer (née Cohn), Josef's widow, was deported from Plauen to Belzyce Ghetto in May 1942. The others were initially deported to Theresienstadt Ghetto: Georg and Rudolph with their wives, Selma and Thekla, from Prague; Minna and Nathan Frankenberg from Halle/Salle. Elise Ney was also deported from Halle/Saale, while her ex- husband, Max Ney, was deported from Magdeburg to Theresienstadt. Nathan Frankenberg, and Elise and Max Ney, 'died' in Theresienstadt while Georg & Selma Gassenheimer, Rudolph & Thekla Gassenheimer were transported from Theresienstadt to Auschwitz — to be murdered outright by gas rather than by typhus, starvation or the other means of murder within the Ghetto. Minna Frankenberg (née Gassenheimer) was the only one of Samuel & Lotte Gassenheimer's children to survive. She returned from Theresienstadt to Halle/Saale after the war and died there in 1961.
*****
As in the previous century, the Gassenheimer family hoped to save the future of the family — particularly the second and third generations — through emigration, albeit forced and involuntary. And in this endeavour, the second generation of Gassenheimers achieved the goal of finding refuge. Twenty-nine (29) grandchildren of Samuel & Lotte — and their families — were alive in the Third Reich: of those whose fate we know (26), one, Lucie Reis, died before the deportations began; twenty (77%) escaped the Holocaust, finding refuge in England, South Africa, the United States, Uruguay, and Brazil. Included in this number were Lucie Reis's husband, Sigmund, and their two children, Werner (b. 1923), who left Germany for the United States in 1939, and Lori (b. 1928) who travelled with her father on the Trans-Siberian Railway to reach the United States in October 1949. Two — Charlotte Rosenbaum and her son, Walter, made it through the war in Barcelona, Spain, immigrating into the United States in 1946.
*****
The information below comes from sources identified below as well as from family members throughout the world. We thank everyone and welcome further contributions, comments, and corrections. If you have any information or questions about the Samuel & Lotte Gassenheimer family, which you would like to share, please contact Sharon Meen @ [email protected] or [email protected]. We would be pleased to hear from you.
The Nachkommenliste/Descendants List identifies the children and grandchildren of Samuel & Lotte  Gassenheimer, including the family formed by Bernhardt in the United States. The information hints at the complex process by which a large German Jewish rural family made and implemented strategic decisions within the changing context of the status of German Jews.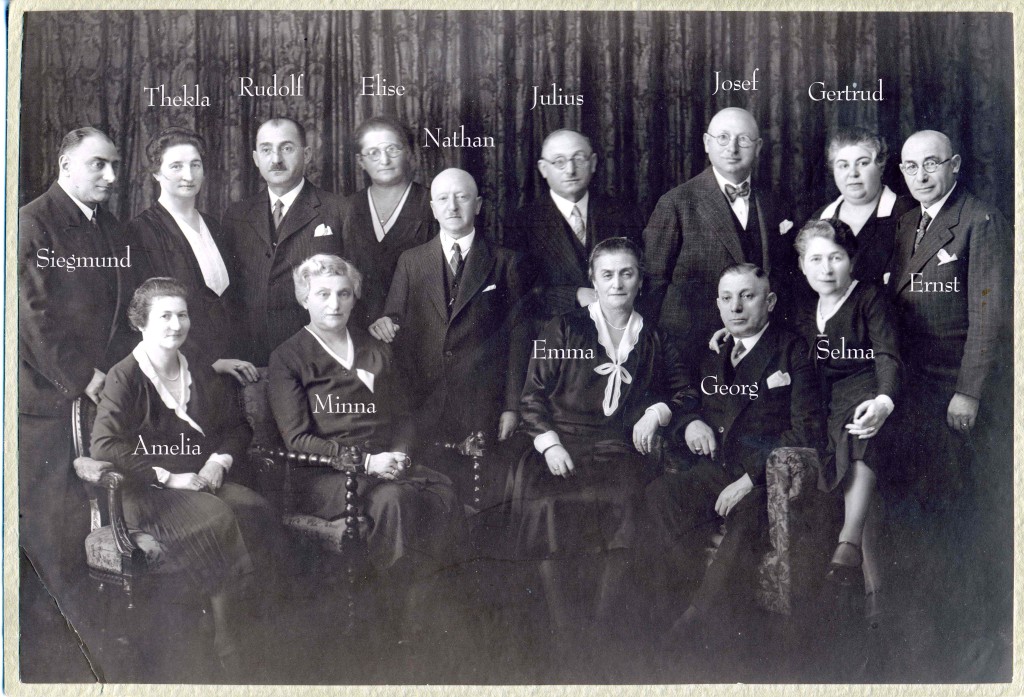 Sources:
Gassenheimer Family Archives (England, Switzerland, United States, Uruguay)
Ancestry.com databases
City of Themar Archives, Ordner 1-109
German National Archives, Memorial Book.
Hoschek, Jutta. Ausgelöschtes Leben. Juden in Erfurt 1933 – 1945. Biographische Dokumentation. Erfurt: Verlag Vopelius; Auflage: 1. Aufl. (9. November 2013)
Human, Rudolf Armin. Geschichte der Juden im Herzogtum Sachsen-Meiningen-Hildburghausen. Hildburghausen: Kesselring, 1898/ reprinted Weimar: F. Fink, 1939.
Jüdische Gemeinde Bibra (Kr. Hildburghausen). Matrikel 1838-1937, Koblenz: Bundesarchiv 1958.
Jüdische Gemeinde Marisfeld (Kr. Hildburghausen). Matrikel 1768-1938, Koblenz: Bundesarchiv 1958.
Jüdische Gemeinde Themar (Kr. Hildburghausen). Matrikel 1820-1938, Koblenz: Bundesarchiv 1958.
Schwab, Sabine. Lebenslinie. 2014
Themar newspapers. (Tägliche Nachrichten, Zeitung für Themar)
Wolf, Siegfried. Juden in Thüringen 1933-1945: Biographische Daten. vol. 1. 2000.
Gassenheimer Family Archives