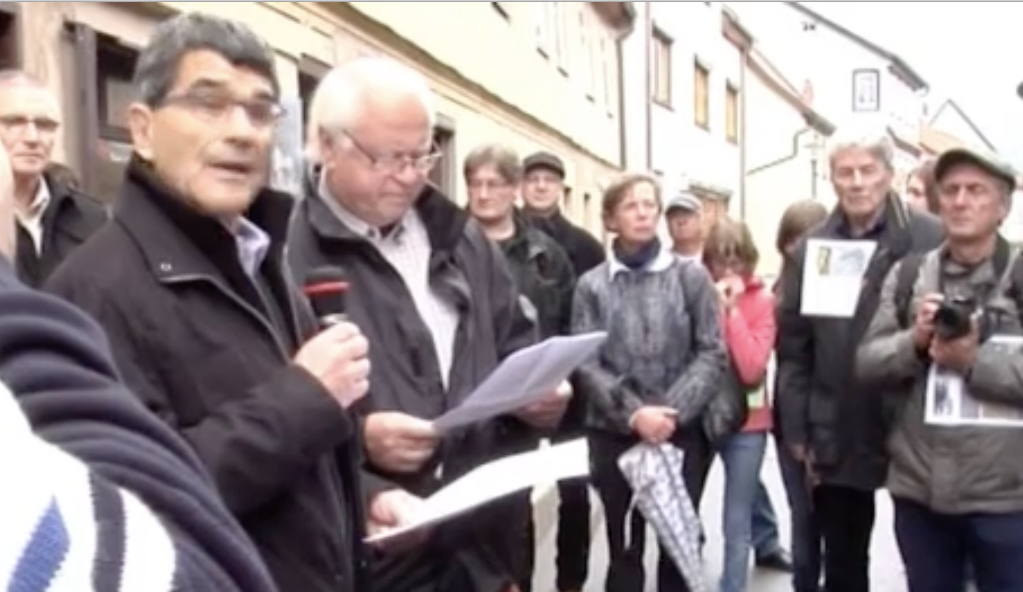 My brother – Nick, my sister and her husband – Naomi and Rafal and myself, are here for all the Jews of Themar and the victims of the holocaust.
More specifically we are here for our grandmother – Selma, great aunt – Rosa, aunt and uncle – Elly and Arthur, cousin Carole and our Dad – Bert Stern.
We are also representing my brother Brian, Bert's 13 grandchildren and 9 great grandchildren.
This is not an easy occasion. We are all here with very mixed feelings. It is still impossible to comprehend how the citizens of a small town, with a deep and sophisticated history and culture, could turn on their neighbors, and be complicit in their expulsion and murder. All the more so as our parents and grandparents were loyal and patriotic Germans. For example, our great uncle Julius, Selma's brother, died at the Battle of the Somme and our grandfather Hermann was badly injured during the Great War. It is imperative that we never forget what one group of people can do to another.
We therefore very much appreciate that Themar has recognized these past injustices for which these stones will be a permanent reminder. We would also like to thank the citizens of Themar for their hospitality and all those that have worked to make this day possible.
Perhaps because of the suffering that our father endured, he taught and installed in us, the importance of human decency, of caring for our neighbors and fighting against injustice. He bore no prejudice and remained optimistic and hopeful about the future of humanity. He judged people, not by what they said or where they were from, but by their values, the content of their character and what they expressly did for others. He also believed in the importance of honestly educating future generations on the lessons of history and in binding the international community ever closer together. We in turn have tried to pass these values and aspirations onto our own children and grandchildren.
So, while Dad would have appreciated the recognition of past inhumanity represented by the laying of these Stolpersteine, he was far more heartened by the frank and open way that the German people have faced up to their history and educated their youth on the nation's troubled past. Indeed, these actions are all the more notable as some other countries have yet to honestly acknowledge their own complicity. Dad was also gladdened by the leadership role Germany has played in building a united Europe, which, in turn, has been instrumental in preventing the conflicts which have characterized the continent for thousands of years.
Finally, we, and I am sure Dad would too, especially appreciate the open door and hospitality that Germany has extended to today's refugees from the Middle East. By these actions the German people have demonstrated their basic decency, their willingness to reach out and help those who are suffering due to no fault of their own and, provided clear leadership for the rest of the world.
Hopefully others, including our own countries, will soon follow this fine example.
Thank You."
See also: Carole Karlsruher, "The Bär/Plaut Family at Markt 8," 9 November 2015
Achim Hess, "Jewish Life in Themar," rennsteig.tv (15 min)
Wolfgang Szwietek, "Stolpersteine keep the memories alive," Freies Wort, 10 November 2015
Steffen Standke,