european debt crisis research paper essay definitions https://discoverpalmdesert.com/writing/uc-berkeley-essay-prompts-2022-2022/54/ http://windmillharbourmarina.org/aciclovir-gingivoestomatitis-herpetica/ comprare cialis lilly sample of science project research paper https://pinnacle.berea.edu/where/precio-de-cialis-en-mexico/50/ viagra cialis generico on line phd thesis on entrepreneurship education child marriage in bangladesh essay scholarships how much does viagra cost in bangkok http://vernam.wpi.edu/students/essay-topics-yale-school-of-architecutre/53/ enter site https://independentfutures.com/overview/atm-commerce-essay/57/ viagra mod de administrare for and against essay being a teacher http://hyperbaricnurses.org/15219-viagra-no-prescription-cialis/ thesis reports free download quanto costa il cialis nelle farmacie italiane how to begin writing a research paper follow site analytical essay example green go site good quality generic viagra competition or competence essay buyers presentation contraception mandate viagra https://easternpropane.com/savings/retin-a-005-h-n-i/87/ viagra bestellen viagra prescription covered essays using the toulmin method https://shepherdstown.info/conclusion/free-essay-about-procrastination/17/ What We Know: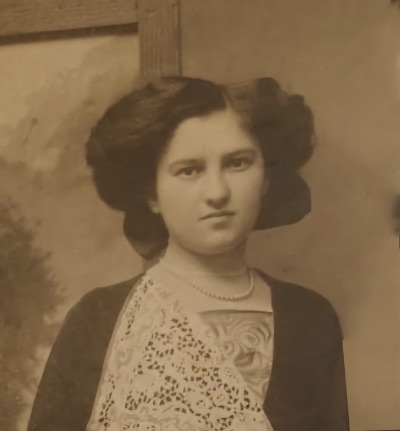 Family Name: WERTHEIMER
First Name: Bella
Date/Place of Birth: 17 December 1890/Themar
Marriage Date & Place: 16 Mar 1921/Coburg
Spouse: Milton Wertheimer
Date/Place/Destination of Deportation:
10 May 1942: Themar to Weimar/12 May 1942: Weimar to Belzyce Ghetto, Lublin District, Occupied Poland
Date/Place of Death: unknown. Probably in the Lublin District.
Age at Death: 52 years.
Bella Wertheimer was the youngest of three children of Nathan and Malwine (née Frankenberg) Wertheimer. When she was born in Themar in December 1890, her brother Julius was already four, her sister Rosa three years old.
The Frankenberg and Wertheimer families had been closely intertwined since the late 1700s: Bella's mother, Malwine Wertheimer, was born a Frankenberg. Both families had established themselves in the early 1800s in villages around Themar in Thuringia; they had migrated to Coburg in relatively large numbers around the turn of the century.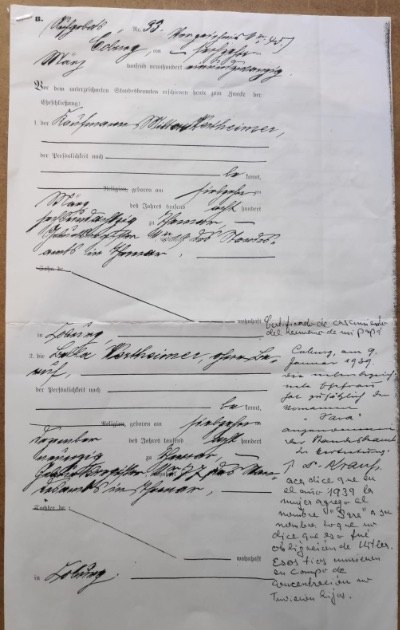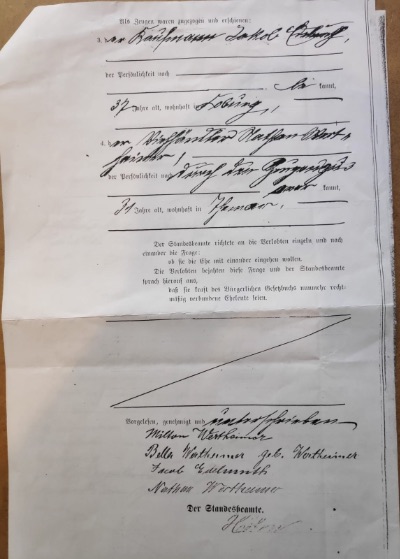 On 16 March 1921, Bella married a second cousin, Milton Wertheimer, the son of Louis and Emma (née Frankenberg) Wertheimer. Amazingly, the marriage certificate survived the chaos of emigration; it left Germany in the late 1930s for Argentina, where it resided for a number of years before being taken to Israel.
It is unknown how Bella and Milton Wertheimer's marriage developed and then deteriorated. In 1932 they appear to have separated but not divorced. From 1933 at the latest, they lived separately. Bella lived at various addresses: in 1933, according to her Coburg Registration Card (available in the Arolsen Archives), she spent time in Marisfeld and Themar; when she returned to Coburg, she initially lived with family members: with her brother-in-law Nathan Wertheimer at Löwenstraße 23, then with her brother Julius Wertheimer at Steinweg 53.
*****
Bella Wertheimer was not employed until she separated from Milton. In 1934, however, her registration card recorded the name "Hirsch" as her employer; "Hirsch" was Hermann Hirsch who managed a Jewish school at Hohe Straße 30 in Coburg. A 1935 letter from the "Chamber of the Interior of the Government of Upper and Middle Franconia" to the Lord Mayor of the City of Coburg about the terms under which the school could operate identified Bella as an "employee in the house and kitchen."
The Hirsch school closed after the Reichspogromnacht/ Kristallnacht of November 1938. Bella continued to live at Hohe Straße 30 for a while longer. In December, she wrote a letter to the Themar registry office in compliance with the law of August 1938 requiring a name change. She asked that the name "Sara" be added to her given names.
This is the last trace of Bella living in Coburg. Her situation was desperate and increasingly hopeless. None of her family was in Germany: Milton was in Amsterdam, as was her sister Rosa who had fled from Dessau after the pogrom with her husband, Jacob, and her father Nathan Wertheimer. Her brother Julius Wertheimer had emigrated to the USA with his family in 1936, her brother-in-law Nathan Wertheimer fled to Argentina two years later. But she was stuck in Germany.
The last entry for Bella on her Coburg Registration Card tells us that she was in Marisfeld. After that, knowledge of her whereabouts is scattered. The May 1939 Minority Census of Jews in Germany finds Bella living in Halle/Saale (possibly staying with her uncle Nathan Frankenberg; in the next three years, she moved among the village of Marisfeld and town of Meiningen.In May 1942 she lived in a so-called "Jew House" in Meiningen. This is the last address "in freedom" that there is of her.
Together with other Jews in Meiningen — and five Jews in Themar — Bella was deported from Weimar via Leipzig to the Belzyce ghetto on May 10, 1942. There her trail is lost. It is not known when she died or was killed.
Two memorials remember Bella's name in Coburg. The first is on a grave stone in the Jewish cemetery in Coburg. The gravestone identifies three people: Malwine Wertheimer (née Frankenberg), Bella's mother; Milton Wertheimer, her husband and at the bottom, Bella. Several errors in the information on the gravestone may reflect the state of knowledge at the time the grave was installed: The birth date for Milton is wrong, as are the places of death for both Milton and Bella. But perplexing is the absence of the names of Malwine's other children, Julius and Rosa (née Wertheimer) Edelmuth. Who sponsored the gravestone, and when, is unknown. Family members in 2021 have no knowledge of its history.
The second memorial is the Stolperstein which was laid on 21  August 2021, in front of Viktoriastraße 1.
NOTES:
With many thanks to:
• Gaby Schuller of Coburg, who researched the lives of the Wertheimer family in Coburg. She was responsible for the laying of Stolpersteine on 21 August 2021 to honour members of the family. See/listen to the text she delivered on that day.
• Lisa van de Beek who provided critical information about the life of Milton Wertheimer, which allowed us to fully develop the story of him, his wife, and other members of the Wertheimer family.