On September 19, 364 people from 38 places in Thuringia were deported to the Theresienstadt ghetto.
Among these people were Hugo and Klara (née Schloss) Grünbaum. Hugo Grünbaum was born in 1868 in Walldorf a/d Werra and came to Themar with his parents as a child. Klara Schloss was born in 1872 Schwanfeld/Bavaria. Hugo and Klara had three children deprived in Themar: Mira (1903), Else (1905), and Hans (1916). Hans and Mira were able to escape, Hans in 1934 to Palestine, Mira later with her husband, Arno Sommer, and child Siegfried, born 1936 in Hanover, to Italy where they survived the war and Holocaust.
Else Grünbaum, born in 1905, and her husband Artur Neuhaus and daughter Inge, born in 1937, could not escape, and on May 9, 1942, they were deported from Themar to Weimar and then to the Belzyce Ghetto. On that day, Else's parents already knew that the same fate awaited them.
Four months later, on September 7, 1942, in a letter from the Gestapo in Weimar of that day, it said: "…. In the near future a larger number of Jews will be resettled from the local area to Theresienstadt. The Reich Association of Jews has been instructed to conclude home purchase contracts with the Jews concerned in order to secure the costs of this accommodation."
On September 09, 1942, the final plundering of the Jews in Thuringia began. For a home in the Theresienstadt ghetto, these elderly German-Jews had to pay everything they still had.
Files in the Arolsen Archives — digital reproductions of originals kept in the Jewish Community in Leipzig — show us the sad steps Hugo and Klara had to follow to conclude the home purchase contract:
On 09 September, the two signed the home purchase contract. Their total assets were RM 850:
RM 150 + interest in a "limited available security account/bank account in the Thuringian State Bank in Themar," and RM 700 in cash at home. The dates for their departure were already set: September 19, 1942.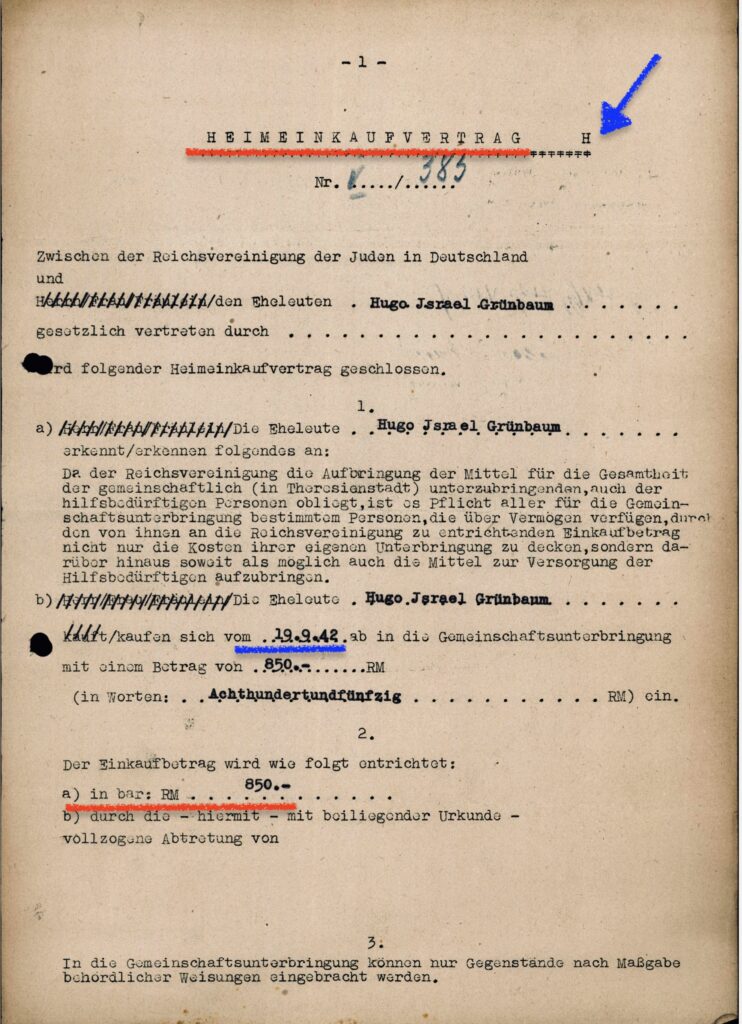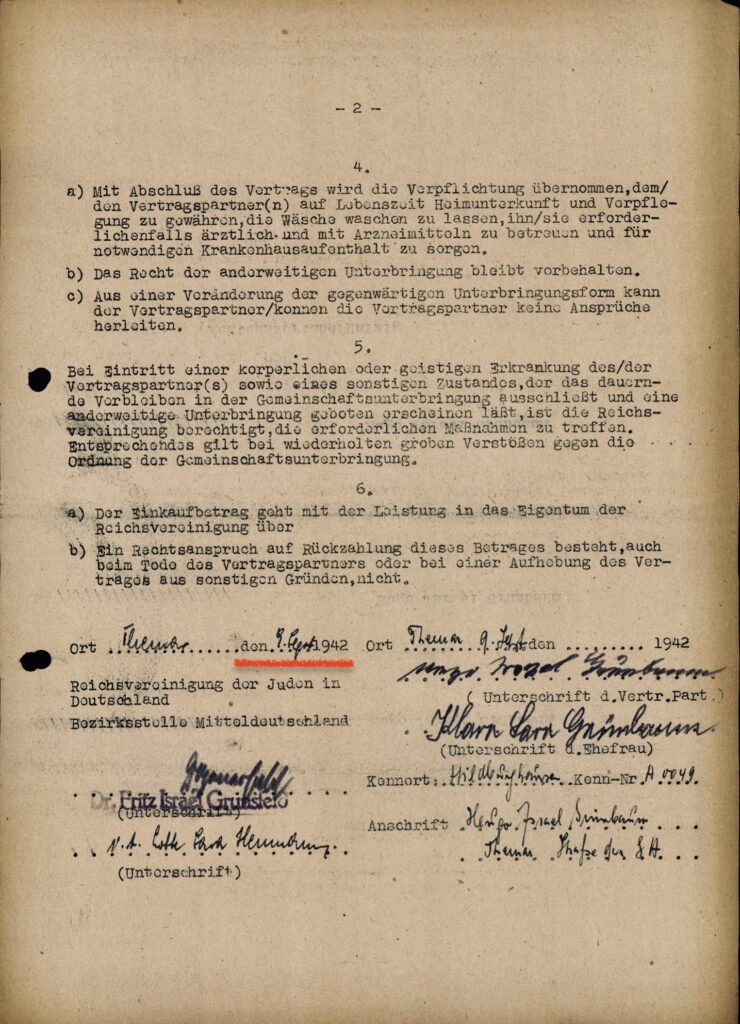 On 20 September 1942, Hugo and Klara Grünbaum, née Schloss, were deported from the town of Themar along with six (6) other Jews: Meta Krakauer, née Frankenberg, and her sister-in-law Klara Frankenberg, née Bauer; Max I u. Frieda Müller, née Freudenberger; and Markus u. Else Rosenberg, née Kahn. They were first transported to Weimar and there crammed into a train with the other 364 Thuringian Jews. Another 520 Jews joined the train in Leipzig. The deportation train arrived in the village of Bauschowitz, since the Theresienstadt ghetto itself had no rail connection until the summer of 1943. The prisoners had to walk the three kilometers to the Theresienstadt ghetto on foot and under guard.
The Grünbaums did not live long in the ghetto: a month after arriving, on October 24, 1942, Hugo, 74 years old, died; a month after that, on November 25, 1942, Klara, 69 years old, "died in the Centralbad during delousing."
Of the eight Jews deported from Themar, only one survived: Meta Krakauer, née Frankenberg.
Sources:
Arolsen Archives, Hugo u. Klara Grünbaum,
Uwe Rada, ,,Theresienstadt sucht seine Zukunft," Bundeszentrale für politische Bildung, 06.05.2014
https://www.mdr.de/tv/programm/sendung939584_date-2021-08-26_zc-f2748f6f.html
https://programm-stage.ard.de/TV/Programm/Sender/?sendung=2822612003515