See as well:
The Family of Isaac & Maile Gassenheimer
The Family of Samuel & Lotte (née Stein) Gassenheimer
Descendants List of Bernhardt & Ella (née Holland) Gassenheimer
In 1972, Bernadette Gassenheimer wrote her aunt Charlotte, asking for details about her grandparents, Bernhardt and Ella (Holland) Gassenheimer. She asked specific questions, and then went on:
"These questions should be okay although if you can tell me
anything about grandparents and great-grandparents, that would be even better. If you can't recall names, etc., if you can tell me the exact city or town where Grandfather Bernhardt and Grandmother Ella were born, nd the approximate dates, I can write to the consulate there or to the city hall and have them look it up for me.
I'm really looking forward to finding out all this information and learning who my ancestors were!
Hoping to hear from you soon."
Charlotte replied, and her answers fill in some gaps of family genealogy; however, she also makes a point of confirming that Themar, Bernhardt's birthplace, actually existed:
"Themar is the place of my father's birth — it existed I know because I have my father's atlas that he used as a school boy and it is on that map. Also when my father was born there 108 years ago, there was no East or West Germany, just Germany and it is not THÜRGER but THÜRINGIA. Also I lived in Themar …[page missing]."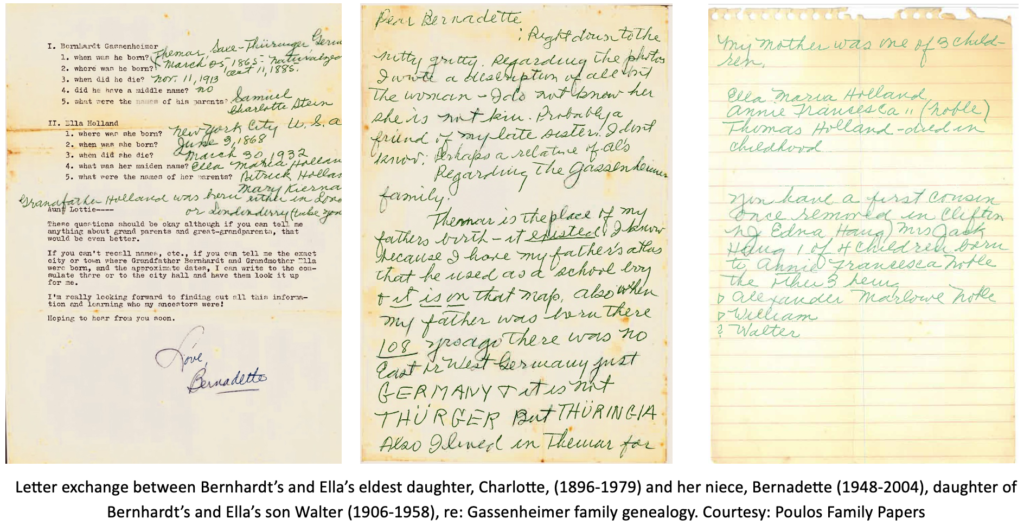 *****
And so, with the help of Charlotte, Bernadette, and other members of Walter's family, plus archival records, this is what we know about the family of Bernhardt Gassenheimer and the family he formed with Ella Maria Holland.
Bernhardt Gassenheimer was the eldest son of Samuel and Lotte (née Stein). He was born in 1865 in Themar in Sachsen-Meiningen (which became Thuringia in 1920) at a time when the family strategy was to achieve socio-economic success through emigration to the United States. By 1880, the year of his emigration, more than half a dozen Gassenheimer families were living in various parts of the United States, and they may well have assisted the 15-year old Bernhardt when he arrived in June 1880 in New York City.
On 11 October 1885, Bernhardt became a "naturalized citizen"; that is, an American. Five years later, he married Ella Maria Holland, an American-born woman of Irish/English ancestry. She was the daughter of Patrick Holland, born in Londonderry/Northern Ireland, and Mary Kieran Holland, born in England. Ella was the eldest of three children, with a sister, Annie Franziska, and a brother, Thomas, who did not live beyond childhood.
On 04 April 1892, Bernhardt's father, Samuel Gassenheimer, the co-owner of the Themar Gassenheimer u. Son Co., died in Themar. In the Regierungsblatt für was Herzogthum Sachsen Meiningen, Bernhardt was identified as one of Samuel's heirs/Miterben to the Gassenheimer and Son Co., whose whereabouts were unknown/unbekannt wo. Except for Joseph, who was living in Dessau, Bernhardt's other siblings all lived in Themar. On 27 May 1892, the local court stated that the business would continue but that Bernhard, Minna, Georg, Elise, Joseph, Rudolf and Sigmund [sic] were excluded from representing the company. Julius, b. 1869, and Ernst, b. 1870, were not excluded.
But three subsequent entries in the Commercial Register hint at ongoing negotiations between Bernhardt, eldest son of Samuel & Lotte, and Julius, b. 1869, the next in line. On 12 January 1899, Julius registered as the sole owner of the J. Gassenheimer Co. in Themar. For a brief month in 1900, Bernhardt had power of attorney in J. Gassenheimer Co. in Themar. But in February 1900, Bernhardt lost power of attorney. Why? What is equally intriguing is the detail in the register that Bernhardt was in Themar. Did Bernhardt return to Themar? What exactly transpired between the two brothers is probably lost to time.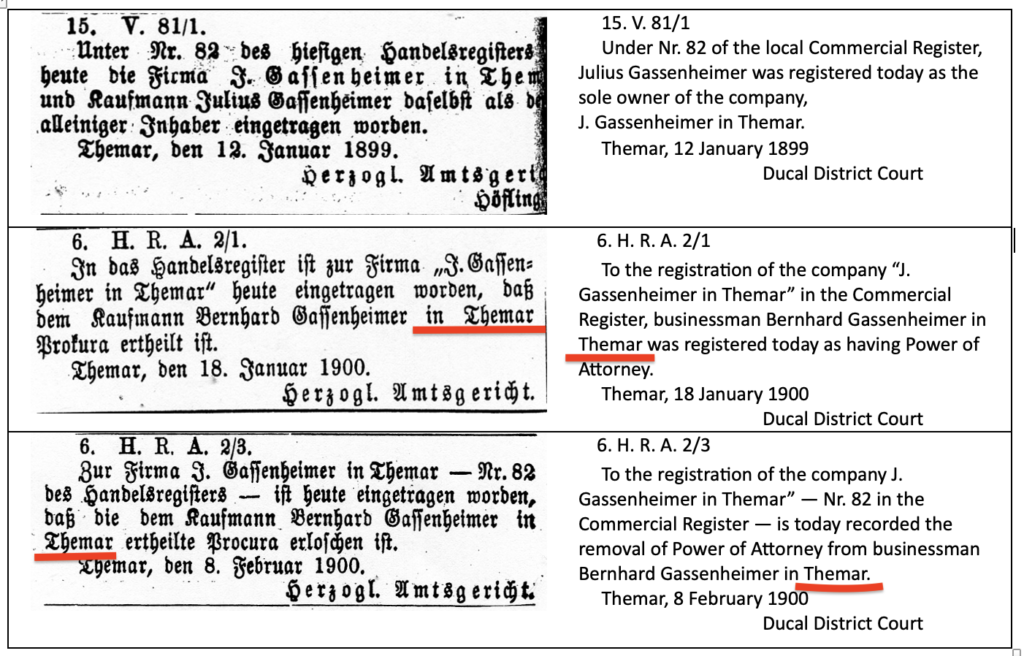 Be that as it may, the 1900 USA Census, taken on 04 June 1900, finds Bernhard Gassenheimer living in Hoboken City/New Jersey, with Ella and two children, Bernhard, b. November 1890 and Charlotte, b. January 1896. Silent in that census entry was the loss of four children between 1890 and 1900: William (1893-1895), a stillborn birth in 1894, Thomas, b. 1897, and Florence in 1898.
Between 1900 and 1910, Ella gave birth to four more children, three sons and one daughter.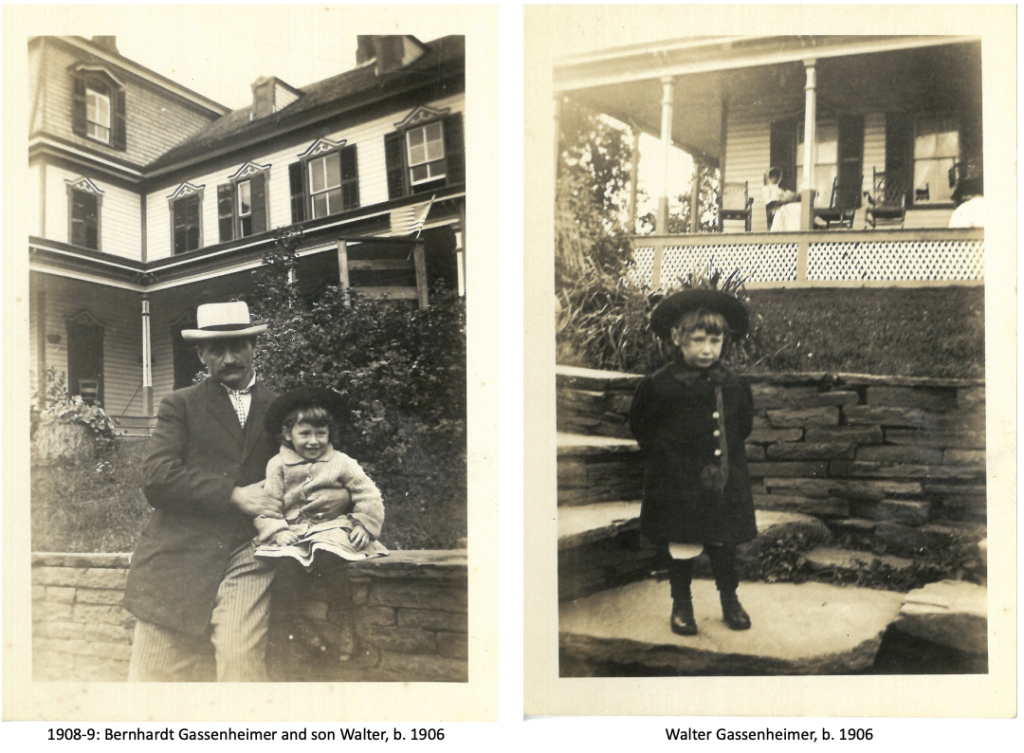 The 1910 Federal Census identified a family of eight (8) living on 5th Street in Hoboken City, New Jersey: Bernhardt, Ella, and six children ranging in age from two years to nineteen.


On 11 November 1913, tragedy struck the family with Bernhardt's death, leaving Ella a widow in her early 40s with five (5) children. Two — Bernard (b. 1890) and Charlotte (b. 1896) — were adult; the other three were under 15 years of age. The 1915 Census tells us that Ella and the children were no longer living in Hoboken City but in new quarters at 323 16th Street, West New York. She owned the property, and rented space to a young couple, an English immigrant and his German-American wife, with their four-year-old son.
Death pounced once again in the 1910s: in March 1916, Bernard, Ella's eldest child, died, age 26.1New Jersey, U.S., Death Index, 18in48-1878, 1901-2017 (Ancestry.com). Ella carried on: in 1920, all three of her oldest children were working but still lived at home. Charlotte, 20 years old, was an "examiner in a weaving company;" Rudolf, 18, "a driver's assistant" in what was probably a transport truck;" and Gertrude, 16, was a proofreader for a publishing company. Walter, 13 and Joseph, 11, were at school.
About 1924, Ella moved to Teaneck/NJ, and the 1925 City Directory listed her and four children: Charlotte, Joseph, and Walter lived at 289 Hickory with her. Rudolf, however, was now living with his new wife, Gertrude Fuhrman, at 180 Maple. Gertrude Gassenheimer had also married Albert de Titta in the early 1920s, and they had two children.
In February 1930, Walter married Marion Burkhardt; two years later, Charlotte married George Broschardt. The last to marry was the youngest, Joseph, who married Margaret Stachura in 1935.
*****
On 30 March 1932, Ella Holland Gassenheimer died at home in Teaneck, age 63. The obituary below was published in The Record,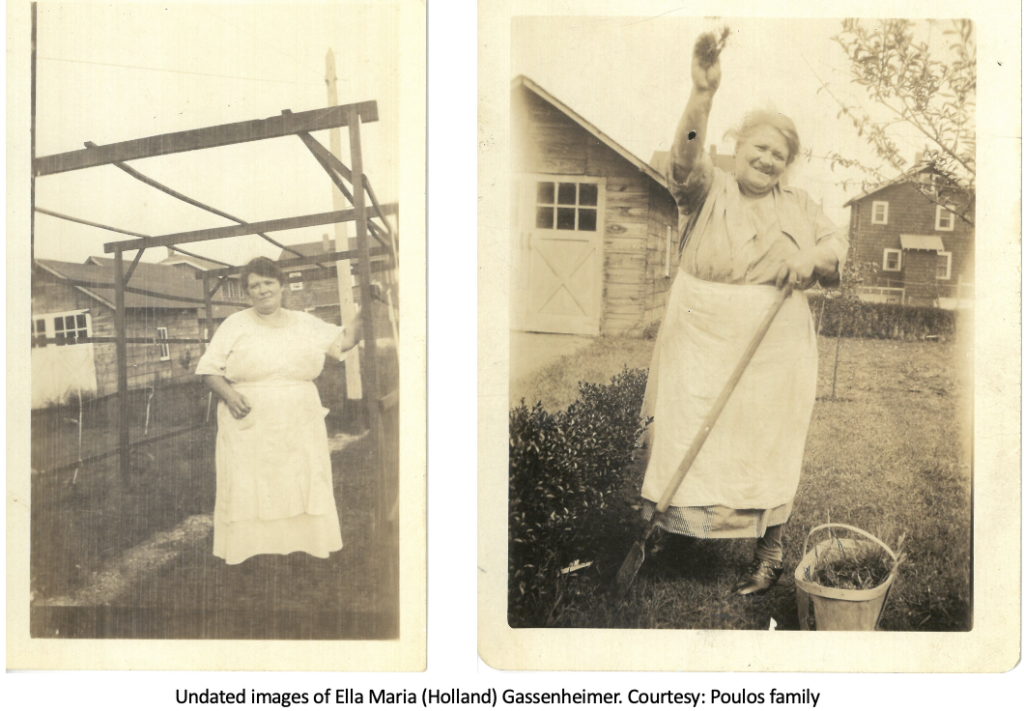 *****
Descendants List of Bernhardt & Ella (née Holland) Gassenheimer
Bernhardt GASSENHEIMER, b. 25 Mar 1865 Bibra/Thuringia, 1880 to USA, d. Nov 1913 NJ
∞ (13 Apr 1890/NY) Ella Maria HOLLAND, b. Jun 1868 NY, d. 30 Mar 1932 Corinth/NJ2

Source: Ancestry.com. New York, U.S., Death Index, 1852-1956 [database on-line]. Lehi, UT, USA: Ancestry.com Operations, Inc., 2017.

1. Bernhard Eugene GASSENHEIMER, b. 03 Nov 1890 Hoboken/NJ, d. 29 Mar 1916 Hoboken/NJ
1. William Henry GASSENHEIMER, b. 3 Dec 1892 [Hoboken/NJ?], d. 21 Jul 1895 Hoboken/NJ
1. NN (stillborn) GASSENHEIMER, b. 18 Nov 1894 NJ, d. 18 Nov 1894 NJ
1. Charlotte Sophia GASSENHEIMER, b. 14 Jan 1896 USA, d. 03 Feb 1979 Englewood/NJ
∞  George BROSCHARDT
1. Thomas GASSENHEIMER, b. 03 Feb 1897 Hoboken/NJ, d. bef 1900?
1. Florence Mathilda GASSENHEIMER, b. 03 Feb 1898 Hoboken/NJ, d. 07 Oct 1898 Hoboken/NJ
1. Rudolf GASSENHEIMER, b. 14 Mar 1901 NJ, d. Oct 1967 Hudson/NJ
∞ (1925) Gertrude FUHRMAN, b. 26 May 1904 Guttenberg/NJ, d. 05 Oct 1975 PA/USA

2. Grace GASSENHEIMER, b. 07 Aug 1927 Bergen/NJ, d. 07 Jul 1971 Wayne/NJ.
∞  Roy G. BARDOWELL, b. 09 Apr 1922 Savalmar/Jamaica, d. 11 Feb 2015 Oxford/FL

3. Cheryl L. BARDOWELL, b. 26 Sep 1955
3. Wayne Andrew BARDOWELL
3. Roy Glenn BARDOWELL
3. Tammy BARDOWELL

1. Gertrude GASSENHEIMER, b. 09 Jun 1903 Hoboken/NJ, d. 23 Sep 1972 Bergenfield/NJ
∞ Albert DE TITTA, b. 17 Jun 1895 Nocarro/Italy, d. 17 Jun 1980 Englewood/NJ

2. Rosella Mary DE TITTA, b. 23 Oct 1923 North Bergen/NJ, d. 21 Dec 1995 Ocean/NJ
∞  Nicholas Michael ALBANESE, b. 13 Apr 1919 Italy, d. 25 Jul 2003 Brick/NJ

3. Nicholas ALBANESE, 13 Apr 1954 Brooklyn/NYC
3. Paul ALBANESE
3. Albert ALBANESE
3. John ALBANESE

2. Florence DE TITTA, b. 01 Oct 1925

1. Walter Tenbroeck GASSENHEIMER, b. 09 Apr 1906 Hoboken/NJ, d. 17 Aug 1958 Perth Amboy, Middlesex/NJ
∞ (1) (11 Feb 1930/NJ/div.) Marion Virginia BURKHARDT, b. 12 Jun 1910 NYC/NY, d. 23 Jul 1979 Hillsdale, Bergen/NJ
∞ (2) (Jun 1947 Wilmington/DL) Eleanor P. HURLEY, b. 07 Apr 1906 NJ, d. Aug 1990 NY/NY

2. Bernadette GASSENHEIMER, b. 19 Sep 1948, d. 10 Dec 2004 Florida
∞  (May 1972) Thomas J. POULOS, b. 13 Jul 1947 Brooklyn/NYC

3. Jennifer J. POULOS, b. 06 Feb 1975
3. Arielle A. POULOS, b. 26 Sep 1979

1. Joseph Evans GASSENHEIMER, b. 04 Aug 1908 Hoboken/NJ, d. Aug 1963 New Milford/NJ
∞ (1935) Margaret STACHURA, b. 16 Jan 1909 NJ, d. Mar 1972 Bergen/NJ

2. Gertrude GASSENHEIMER, b. 1938 NJ, d. 05 Oct 1975 Pennsylvania
2. Bruce Joseph GASSENHEIMER, b. 18 May 1941 NJ, d. 23 Jan 1975 Paterson/NJ
We wish to thank the Poulos family for their kind generosity in sharing the personal documents and photos that are presented in this page.
Should anyone have more information or questions and/or comments about this family, please contact Sharon Meen at [email protected]