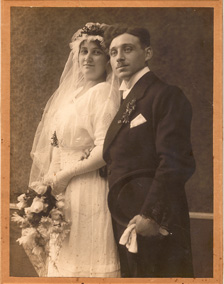 Berta Schwab came from a family with deep roots in the Marisfeld/Themar Jewish community. Her grandfather, Elias Schwab, was born In Marisfeld in 1822 and he and his wife, Betty (1827-1888) lived there until at least the late 1860s if not longer. Berta's father, Abraham Schwab, was born in Marisfeld in November 1860. We do not yet know exactly which families moved from Marisfeld to Themar after the terrible fire in Marisfeld in 1865 and whether the Elias and Betty Schwab family was among them. We know that Abraham and his wife, Regina Epstein, who was from Eisenach, about 70 km. to the north, lived their adult lives in Themar. Their first child, Oskar, was born in Themar in 1890 and their daughter, Berta Schwab was born in 1893. Regina Schwab died in 1933 and Abraham died in 1937.
In 1920 Berta married Paul Rosengarten, also born in the year 1893. Paul's birthplace was Herbede-Witten near Dortmund, and he was one of 10 children of Moses and Johanna Rosengarten. Exactly when and why Paul came to Themar and met Bertha we do not yet know. We know that Paul fought in the First World War on the Russian Front and it is possible that he came to Themar on his way back from the war and simply stayed. No other members of his family lived in the surrounding area.
The first child of Paul and Berta was Manfred, born in 1921; a second son was born two years later. Manfred Rosengarten remembered his childhood days in Themar with enormous affection as recorded both in his 1980s letters to his non-Jewish school chums and in the photoalbum/memoir, Themar, Thüringen: My Hometown, that he prepared in 1984 for his children and grandchildren.
But Manfred's account also tell us of the darker side of those years: when the Nazis took power, the family immediately and literally felt the boots of the local Nazi bullies. On January 30, 1933, Paul Rosengarten was immediately arrested, not because — or not solely because he was a Jew — but because he was a Communist. The sons of a local Nazi leader attacked Manfred, who at age 11, was also a member of a local Communist group. Manfred remembered it as one of the worst fights of his young life.
In 1936, Paul and Berta moved to the larger town of Meiningen (1933 population: 18,377), hoping to escape the mounting persecution and to find work for Paul. Knowing that their future did not lie in Germany, the Rosengartens applied for visas to go to Argentina. Manfred, who had finished public school, lit out — to acquire as "many skills as I could," he wrote, "to be ready to go to other worlds." For the next two years, Manfred moved systematically around northeastern Germany, working in a cemetery, in factories and on different farms.
In 1938, Paul Rosengarten was arrested and imprisoned twice in Buchenwald: in June, he was arrested as part of the June 14-19 "Juni-Aktion," in which over 1000 male Jews were imprisoned in Buchenwald. Paul was sent home on a stretcher in August, a shadow of his former self, completely unable to work. He was required to report daily to the Gestapo. In the November Pogrom ("Kristallnacht"), Paul was rearrested and sent to Buchenwald. He was released by the end of the year.
Manfred Rosengarten, 17, happened to be at home in Meiningen with his parents on the night of November 9/10. He was also arrested but the police let him go the following morning — "the only man in Meiningen," he believed, "to be let go." He hit the road again and for the next six months, tore around the area east of Berlin, barely staying one step ahead of the Gestapo. His younger brother was not so lucky. He was rounded up in Schleusingen and hauled off to Buchenwald.
Like many of the other prisoners in the November pogrom, the Rosengartens were released on the understanding that the family would emigrate as quickly as possible. The family left in May 1939, but rather than travelling to Argentina, as they had hoped, they sailed from Italy for Shanghai. Their way was paid by Berta's brother, Oscar Schwab, who had become a successful businessman in Schleusingen. He and his wife, Frieda Steindler Schwab (sister of Pauline Steindler Müller and Max Müller, both of Themar), also made it to Shanghai.
Eight years later, in 1947, the Paul Rosengarten family travelled to America; Manfred remained in the San Francisco Bay area, while the others moved on to the eastern states. Manfred married Eveline Berger, whom he met on the ship to America, and they had two children. Manfred returned to Themar constantly in his thoughts and, in the last four years of his life, in his correspondence with his former school mates. He also put together a photo album/memoir for his children and grandchildren that vividly portrays his life as a child and teenager in Themar. Berta Rosengarten died shortly after arriving in the United States and Paul died five years later. Manfred Rosengarten died in November 1987.