See as well,
The Family of Samuel & Lotte (née Stein) Gassenheimer
The Family of Salomon & Babette (née Wolfermann) Gassenheimer
The Family of Emma (née Gassenheimer) & Simon Marcus
The family of Samuel & Pauline (née Schwab) Gassenheimer
The Family of Gustave & Minnie (née Strauss) Gassenheimer
Who was 'cousin: Leo Gassenheimer'?
The Gassenheimer family was a strong and successful family in southwest Thüringen in the nineteenth and early twentieth centuries. The initial seat of their settlement was Bibra, a small village north west of Themar. The first Jewish settlement in Bibra took place in 1658. We do not know exactly when the Gassenheimers settled in the village: Dr. Armin Human in his 1898 History of the Jews of Sachsen-Meiningen-Hildburghausen (p.20) speaks of an Itzig in Bibra in 1739, before Jews took on surnames. According to his account, an "Itzig Gassenheimer" lived in Bibra in 1818 when the Jews of Bibra took on surnames; possibly this was the son of the first Itzig. (The text from Dr. Human's Geschichte is included at the end of this page for your perusal.) The Gassenheimers lived in House #57 in the village, shown on the map below. In 1833, there were 27 Jewish families in Bibra who included about 104 people, of a total of 518 (20.7%). As of 1885, the Jewish population in Bibra peaked: 134 Jews lived in Bibra, 20.2% of the town's total population of 663 people.
The Gassenheimers lived in House #57 in the village, shown on the map below. (Unfortunately the online source for this map does not include the colour for the right portion; we hope a future trip to the Thüringen, the archives and the village will sort this out.) The layout of the village is more or less identical in 2016 and if you go to the Google.map with Earth view you will find a set of pictures.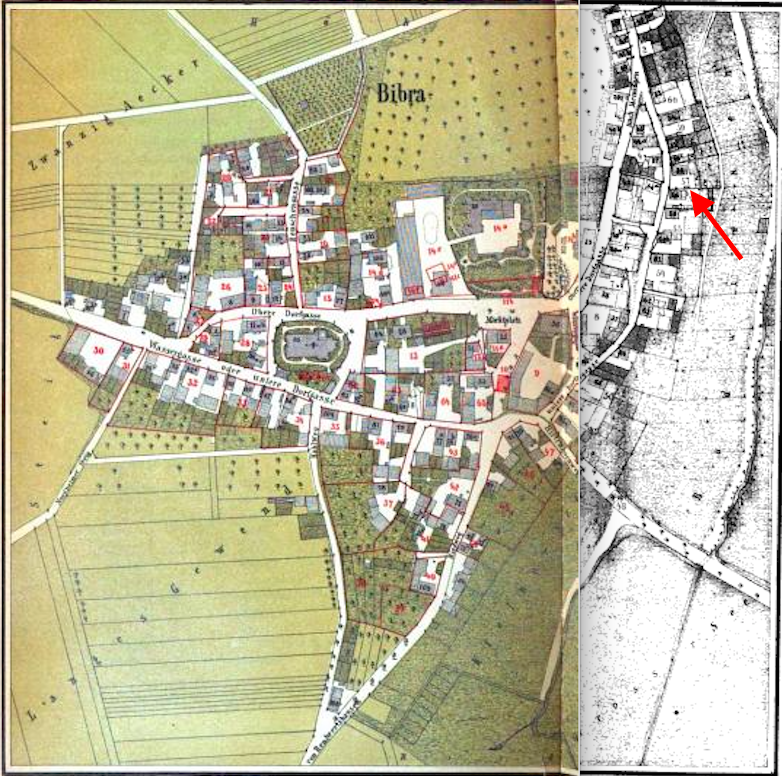 We believe that Itzig/Isaac and Amelia Gassenheimer, both born in the 1700s, were the ancestors of the families we have documented in this pages — in Themar, Hildburghausen, Coburg elsewhere. We do not have a fully documented record of the links; however, an overview of a possibly family outline, please go here.
We know that Gassenheimers lived in Bibra for at least seven decades. But we also know they were among the first to leave Bibra for larger centres within Sachsen-Meiningen (as Thüringen was then known) and nearby Bavaria, Samuel and his wife Pauline (née Schwab) appear to have moved from Bibra to Coburg in Bavaria the early 1840s with at least one child. Samuel Gassenheimer, b.1837 in Bibra, moved to Themar in the 1860s with his wife Lotte (née Stein); In 1892, Salomon, b. 1840, and his wife, Babette (née Wolvermann) left Bibra for Hildburghausen. This family was probably the last Gassenheimer family to leave Bibra. "In the last decade," wrote Human in 1898, "the community has declined noticeably because many young people, both men and women, are leaving and some families (Aaron, Kahn, and Gassenheimer) have moved away." By the turn of the nineteenth/twentieth centuries, no Gassenheimer lived in Bibra.
*****
Starting in the 1840s, many Gassenheimer families sent their young people — fifteen and sixteen years of age, both male and female and mostly unmarried — out of Germany altogether to seek both economic success and marriage possibilities. (See the article by Hasia R. Diner for more detail.) Among the earliest dates of departure in the listing, Auswanderung aus dem Herzogtum Sachsen-Meiningen, is or 17-year-old Leopold Gassenheimer, 'Löb' in the ship's manifest below, who left in 1849.




The oldest son of Samuel and Lotte Gassenheimer — Bernhard, b. 1865 — followed, and at least four members of the Samuel & Pauline Gassenheimer family in Coburg — Amalie, Joseph, Selig, and Simon — left for the United States.
Some, such as 37-year-old Joseph Gassenheimer, entered the States about 1880 with wife Fanni and two daughters, Alma and Malvina; others, such as 42-year-old Amalie Levor (née Gassenheimer), came as a widow, a single parent to her 5-year old son, Samuel. Many — particularly those who set out from German in their teens — married several years, often a decade, after arrival in the States. Their spouses were often American-born German Jews.  For example, Simon Gassenheimer from Themar settled in Montgomery, Alabama, and Bernhard Gassenheimer, who arrived age 15 in 1880, married 21-year-old Ella M. Holland of New York City ten years later and settled in New Jersey.
The extract below of the 1880 Federal United States Census captures three of the children of Samuel & Pauline Gassenheimer at the same address: Selig Gassenheimer came as a 17-year-old in 1866. initially he settled in Opelika, Alabama, where there was growing community of German Jews from the Coburg area of Bavaria. In 1876, age 27, he married 21-year-old Rosa Strauss, born in Alabama of German-born parents. 



But Bibra was never forgotten and the lives of those in America and those in Germany intersected through the years. Some Gassenheimers returned regularly to Europe — one example is Simon Gassenheimer, son of Samuel & Pauline Gassenheimer, who travelled almost every year to Europe. Of the Themar Gassenheimers, we know that Bernard Gassenheimer returned to Themar late in the 19th century with wife Ella and one son and this may not have been the only visit.
*****
We initially focussed on the family of Samuel and Charlotte (née Stein) Gassenheimer because of its critical role in establishing the Jewish community of Themar. Samuel and Charlotte came to Themar from Bibra in the early 1860s and raised a total of eleven (11) children in the city. Charlotte died in 1889 and Samuel remarried in 1891 but died within a year. Their children spent their childhood years in Themar and one, Ernst, remained in Themar to continue the family agricultural implements business. The others set out to find their fortunes elsewhere: the eldest son, as already mentioned, left for the United States while the rest fanned out within eastern Germany as part of the Gassenheimer Co. business expansion.
Yet, as we seek to understand the Themar Jewish families within their larger social, economic, and political context, we are broadening the context. Exploring the linkages among various branches of large Jewish families such as the Gassenheimer family offers much reward. We learn more about how German-Jewish families acted in the nineteenth and twentieth centuries. What were the family decision-making strategies that led to migration, first within Germany and then from Germany altogether? Were there connections between those that left and those who remained in Germany? How were they maintained? One result of this research can be found in the short article "Who was 'cousin: Leo Gassenheimer'?"
The puzzle of piecing together all the branches of the Gassenheimer family tree is nowhere near complete. But as our quest to fill in the broader context of the Jewish families of Themar continues, so too will our knowledge of the large Gassenheimer family. Experience shows that the more we share our research findings on the website, the more knowledge we receive in return. We have thus added three other branches of the original Bibra Gassenheimers to the website, first, the family of Samuel & Pauline (née Schwab) Gassenheimer, who went to Coburg in the 1840s; and second, the family of Salomon & Babette (née Wolfermann) Gassenheimer, who settled in Hildburghausen in 1892.
Filling in the story of this one family and all its members is an absorbing adventure connecting family members, the residents of Themar, and researchers in Germany and elsewhere. We thank them all!
See as well,
The Family of Samuel & Lotte (née Stein) Gassenheimer
The Family of Salomon & Babette (née Wolfermann) Gassenheimer
The Family of Emma (née Gassenheimer) & Simon Marcus
The Family of Samuel & Pauline (née Schwab) Gassenheimer
The Family of Gustave & Minnie (née Strauss) Gassenheimer 
Who was 'cousin: Leo Gassenheimer'?
As with all the material on this website, these pages are works in progress and we welcome contributions, comments and questions.
If you have any information or questions about the Gassenheimer family of Bibra which you would like to share, please contact Sharon Meen @ s.meen79@gmail.com or smeen@mail.ubc.ca. We would be pleased to hear from you.
Sources:
Gassenheimer Family archives
Alemannia-judaica page re: Bibra
Diner, Hasia R. "German Immigrant Period in the United States," Jewish Women's Encylopedia
Goldring/Woldenberg Institute of Southern Jewish Life, Encylopedia, Opeleika. Accessed 05 June 2015.
Genealogical Research Library, comp. New York City, Marriages, 1600s-1800s [database on-line]. Provo, UT, USA: Ancestry.com Operations Inc, 2005.
Haratmann, Pfarrer Heinrich. Der Marktflecken von Bibra," Schriften des Vereins für Sachsen-Meiningische Geschichte und Landeskunde, Heft 13, 1892.
Trauregister der Juden von Barchfeld/Werra in Thüringen 1824-1904, The Hessen Gütermann Index, Jenischen.
1880; Census Place: Opelika, Lee, Alabama; Roll: 19; Family History Film: 1254019; Page: 42C; Enumeration District: 089; Image: 0086A.
"United States Germans to America Index, 1850-1897." Index. FamilySearch. http://FamilySearch.org : accessed 2015. Citing NARA NAID 566634. National Archives at College Park, Maryland.
Dr. Armin Human, Geschichte der Juden in Sachsen-Meiningen-Hildburghausen, 1898, pp. 20-21, 53.