See as well:
The Family of Samuel (b. 1837) & Lotte (née Stein) Gassenheimer
The Family of Emma (née Gassenheimer) & Simon Marcus
The Family of Bernhardt & Ella (née Holland) Gassenheimer
The Family of Salomon (b. 1840) & Babette (née Wolfermann) Gassenheimer
The family of Selig (b.1804) & Pauline (née Schwarz) Gassenheimer
The Family of Gustave & Minnie (née Strauss) Gassenheimer
Who was 'cousin: Leo Gassenheimer'?
Descendants Lists:
Itzig & Malia Gassenheimer
Samuel & Lotte (née Stein) Gassenheimer
Salomon & Babette (née Wolfermann) Gassenheimer
Selig (Samuel) & Pauline (née Schwarz) Gassenheimer
The Gassenheimer family was a strong and successful family in southwest Thüringen in the nineteenth and early twentieth centuries. The initial seat of their settlement in Thüringen was Bibra, a small village north-west of Themar. Where they lived before this time is unknown.
Jews settled in Bibra as early as 1658. In 1833, there were 27 Jewish families in Bibra with about   104 people, about one-fifth of a total number of residents of 518. In 1885, the Jewish population in Bibra peaked: 134 Jews lived in Bibra, 20.2% of the town's total population of 663 people. The number of Jews in Bibra declined steadily thereafter as Jews were allowed to settle in urban centres throughout Thüringen and other German states.
We do not know exactly when the Gassenheimers settled in the village, but it is possible that they were there in 1739: in his History of the Jews of Sachsen-Meiningen-Hildburghausen, Dr. Rudolf A. Human (p. 13) identifies  'Jetzig", as the head of one of the eighteen (18) Jewish families in Bibra in that year. We believe this to be the first mention of Itzig, aka Jetzig or Isaac, Gassenheimer, the ancestor of all the later Gassenheimer families of Bibra, Themar, Hildburghausen, and Coburg.
In 1818, the 15 Jewish families in Bibra took on surnames: among them was Itzig Gassenheimer. From then on, we are better able to trace the Gassenheimer family. The 1837 entry in the Jewish Register of Bibra/Jüdische Gemeinde Bibra Matrikel recorded the death of Maila or Amalie Gassenheimer, Itzig's wife. Maila had been born in Bibra on 12 September 1756; Isaac Gassenheimer's birth date is identified as 1761 in a profile posted to the geni.com database. Maila was 81 years of age when she died on 17 January 1837 in Marisfeld; she was a widow but we do not yet know the date of Itzig/Isaac's death.
The death record identified the four living children of Itzig and Maila and subsequent entries in the Jewish Registers of Bibra and other Jewish communities allow us to fill out details of the families of the three sons: Joseph, b. 1898; Samuel, b. 1802, and Selig, b. 1804; however, we know only the birth year, 1807, of Klara, the last child and only daughter.

*****
The Gassenheimers lived in House #57 in the village, shown on the map below. The layout of the village is more or less identical in 2021 and, if you go to the Google.map with Earth view you will find a set of pictures.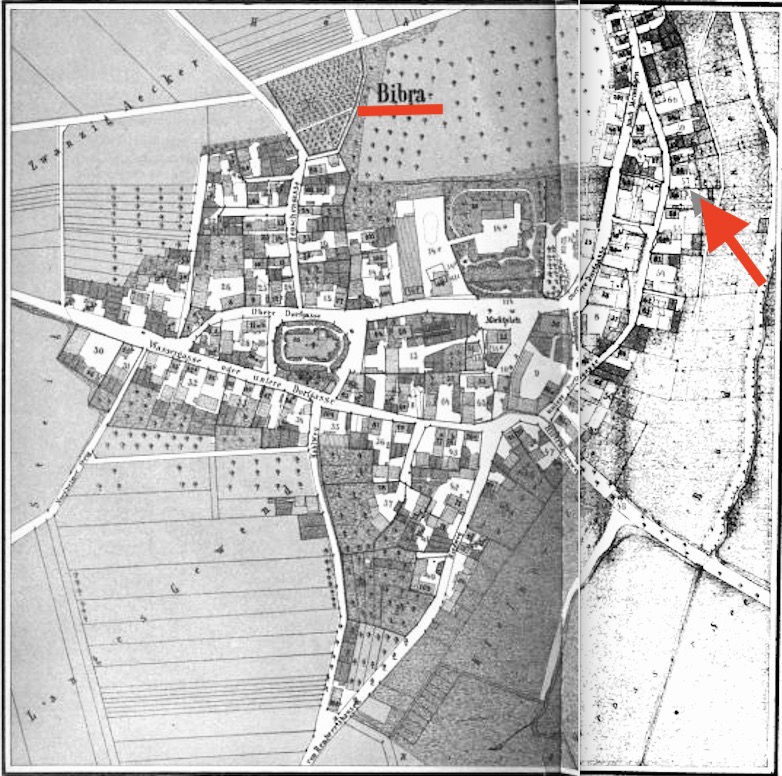 We know that Gassenheimers lived in Bibra for at least seven decades. But we also know that their strategy for socio-economic success depended upon migration away from Bibra to larger towns and/or cities, within Thuringia, in other German states, and out of Germany altogether. As well, we know that the Gassenheimers were among the first Jewish families to leave Bibra.
The first generation either moved within Germany or established a presence in a larger centre: As eldest son, Joseph, was able to remain in Bibra; in 1853, however, he established an Eisenhändler/iron monger business in Themar; he continued to live in Bibra.

Younger sons Samuel and Selig left Bibra in the late 1840s/early 1850s. Both moved to the much larger centre of Coburg in nearby Bavaria. Both men were married with at least one child: Samuel and Blumchen (née Sichel) Gassenheimer moved with daughter Therese; Selig and his wife Pauline (née Schwarz) with three children.
*****
Starting in the 1840s, second and third generations of the Itzig and Melia Gassenheimer family, both male and female, married, widowed, and/or unmarried, also used emigration as a means of achieving success. In her compilation of Jews who migrated from Thüringen to other places, Auswanderungen aus der Herzogtum Sachsen-Meiningen, Katharina Witter, Archivist of the Meiningen Archives, identified twelve (12) Gassenheimers of Bibra who left Bibra for America in the late 1840s and 1850s.
Different families chose different strategies: for example, all three children of Joseph's first marriage left Germany in chain migration: Leopold,  b. 1831, the eldest son left in 1849; Sophie, b. 1831, followed in 1850, and Adolus in 1852. All three married in the United States, raised families and lived the rest of their lives in America. Sophia died in 1869 from complications of childbirth; Leopold died in Washington DC in 1881; we do not yet know the date/place of death for Adolus Gassenheimer.
In contrast, two of the four children of Joseph's second marriage stayed in Germany and in Thüringen. In 1862, Samuel was registered as an owner of "Gassenheimer & Sohn"; he moved to Themar where he remained until the end of his life in 1892. His younger brother, Salomon, became part of the Gassenheimer business in 1868, replacing his father as one of the owners of "Gassenheimer & Son." In 1892, Salomon moved with his wife, Pauline, and children to Hildburghausen to establish a Gassenheimer business. He lived the rest of his life in Hildburghausen.
The family of Samuel Gassenheimer, b. 1802, is proving difficult to confirm. For the moment, we believe that a daughter, Therese, b. 1844 in Bibra, moved to Coburg and lived there until her death in 1932, and that a son, Simon, b. 1853, left Germany for the United States in 1868. All of Selig's children emigrated from Germany: in 1871, 42-year-old Amalie Levor (née Gassenheimer) came as a widow, a single parent to her 5-year old son, Samuel. Around 1880, Joseph Gassenheimer, b. 1842, followed with wife Fanni and two young daughters, Malvina, b. 1872 and Alma, b. 1876.
The families settled in various parts of the United States, including New York, Washington DC, Kentucky, Alabama, and Texas. The extract below of the 1880 Federal United States Census captures three of the children of Selig & Pauline Gassenheimer at the same address: "S." (Samuel Selig Gassenheimer (b. 1849) had come to the States as a 17-year-old in 1866. Initially he settled in Opelika, Alabama, where there was a growing community of German Jews from the Coburg area of Bavaria. In 1876, age 27, he married 21-year-old Rosa Strauss, born in Alabama of German-born parents. By the early 1880s, the family was living in Montgomery Alabama. 



But Bibra was never forgotten and the lives of those in America and those in Germany intersected through the years. Some Gassenheimers returned regularly to Europe — one example is Simon Gassenheimer, b. 1853 in Coburg, who travelled almost every year to Europe.
*****
We initially focussed on the family of Samuel Gassenheimer, the son of Joseph and Jette (née Salomon), and his wife Charlotte (née Stein) because of its critical role in establishing the Jewish community of Themar. Samuel and Charlotte came to Themar from Bibra in the early 1860s and raised a total of ten (10) children in the small city. Charlotte died in 1889. Samuel married Betty Frankson, b. 1857 in Marisfeld, in 1891. Samuel died in 1892, leaving Betty a widow with 3 children under age 15 to raise.
Their children spent their childhood years in Themar and one, Ernst, remained in Themar to continue the family agricultural implements business. While the eldest son, Bernhard, b. 1865, left Germany for the United States, all the other children remained in eastern Germany, expanding the Gassenheimer Co. business.
Yet, as we seek to understand the Themar Jewish families within their larger social, economic, and political context, we are broadening the context. Exploring the linkages among various branches of large Jewish families such as the Gassenheimer family offers much reward. We learn more about how German-Jewish families acted in the nineteenth and twentieth centuries (even back into the 18th century). What were the family decision-making strategies that led to migration, first within Germany and then from Germany altogether? Were there connections between those that left and those who remained in Germany? How were they maintained? One result of this research can be found in the short article "Who was 'cousin: Leo Gassenheimer'?"
The puzzle of piecing together all the branches of the Gassenheimer family tree is nowhere near complete. But as our quest to fill in the broader context of the Jewish families of Themar continues, so too will our knowledge of the large Gassenheimer family. Experience shows that the more we share our research findings on the website, the more knowledge we receive in return. We have thus added three other branches of the original Bibra Gassenheimers to the website: first, the family of Samuel & Pauline (née Schwarz) Gassenheimer, who went to Coburg in the 1840s; and second, the family of Salomon & Babette (née Wolfermann) Gassenheimer, who settled in Hildburghausen in 1892.
Filling in the story of this one family and all its members is an absorbing adventure connecting family members, the residents of Themar, and researchers in Germany and elsewhere. We thank them all!
See as well,
The Family of Samuel & Lotte (née Stein) Gassenheimer
The Family of Salomon & Babette (née Wolfermann) Gassenheimer
The Family of Emma (née Gassenheimer) & Simon Marcus
The Family of Samuel & Pauline (née Schwarz) Gassenheimer
The Family of Gustave & Minnie (née Strauss) Gassenheimer 
Who was 'cousin: Leo Gassenheimer'?
As with all the material on this website, these pages are works in progress and we welcome contributions, comments and questions.
If you have any information or questions about the Gassenheimer family of Bibra which you would like to share, please contact Sharon Meen @ s.meen79@gmail.com or smeen@mail.ubc.ca. We would be pleased to hear from you.
Sources:
Gassenheimer Family archives
Alemannia-judaica page re: Bibra
Diner, Hasia R. "German Immigrant Period in the United States," Jewish Women's Encylopedia
Goldring/Woldenberg Institute of Southern Jewish Life, Encylopedia, Opeleika. Accessed 05 June 2015.
Genealogical Research Library, comp. New York City, Marriages, 1600s-1800s [database on-line]. Provo, UT, USA: Ancestry.com Operations Inc, 2005.
Haratmann, Pfarrer Heinrich. Der Marktflecken von Bibra," Schriften des Vereins für Sachsen-Meiningische Geschichte und Landeskunde, Heft 13, 1892.
Trauregister der Juden von Barchfeld/Werra in Thüringen 1824-1904, The Hessen Gütermann Index, Jenischen.
1880; Census Place: Opelika, Lee, Alabama; Roll: 19; Family History Film: 1254019; Page: 42C; Enumeration District: 089; Image: 0086A.
"United States Germans to America Index, 1850-1897." Index. FamilySearch. http://FamilySearch.org : accessed 2015. Citing NARA NAID 566634. National Archives at College Park, Maryland.
(See the article by Hasia R. Diner for more detail.)
Dr. Armin Human, Geschichte der Juden in Sachsen-Meiningen-Hildburghausen, 1898, pp. 20-21, 53.