Birth Name: Kahn
First Name: Julius
Date/Place of Birth: 19 July 1896/Themar, Thüringen
Date/Place of Death: 1965/Sydney, Australia
Age at Death: 69 years

Update October 2022. This page is under construction: When we first met Julius Kahn, back in 2010, it was because we learned of his deportation from Britain in 1940 as an "enemy alien" to Australia. We  thus knew more about Julius Kahn after he left Germany in 1939 than we did about the 43 years he lived in Germany.
Since then, we have learned significant new information about Julius's life from researchers in the town of Weiden in Bavaria where he spent the bulk of his adult years before leaving Germany. What we now know is as follows:
Julius Kahn was born in Themar in 1896, the sixth of eight children of Josef and Hulda (née Walther) Kahn. His ancestors — Kahn and Walther — had lived in the area around Themar since the early 1800s. Both Josef and Hulda were born in the village of Marisfeld, 8 km northwest of Themar, and moved to the larger town of Themar before starting a family.
Julius grew up in Themar and attended the public school. Hugo Friedmann would have been his Lehrer/teacher for his formal teaching in Judaism. As well, he trained as a master butcher, like his father, Josef, and it's possible that he initially worked in the Kahn butcher shop in the Bahnhofstrasse in Themar. It also seems likely that he fought in WWI — he was 18 in 1914 — and a 1939 letter, written by Dr. Ernst Ledermann on behalf of Julius's younger brother, Adolf, says that all the Kahn brothers fought in WWI (that is, Leonard, Fritz, Julius, and Adolf).
Sometime in the 1920s, Julius moved to Weiden, about 270 km south-west of Themar in Bavaria. Weiden was a town of close to 15,000 residents in 1910, of whom 156 were Jews. He worked for Heinrich and Hugo Hutzler, who had moved from Forth, their hometown, to Weiden in 1919. Julius then married the Hugo Hutzler's sister, Theresia, called "Therese" by Julius, Hutzler, b. 1904 in Forth; they had two daughters, Bella Betty, b. 1928 and Hannelore, b. 1929.
It seems possible that Julius did not visit Themar and his relatives often. In 2012, his great-niece, Lotte Rosenberg, b. 1934, grand-daughter of Julius's sister Else, who spent much of her time as a young girl in Themar in the 1930s, was startled to learn she had a great-uncle named 'Julius' who had children somewhat in her age range.
*****
Julius and Therese, and their two young daughters, were living in Weiden when the Nazi Regime began. Their lives would have been badly disrupted when his brother-in-law and 'boss', Hugo Hutzler and his wife, Selma, left Weiden in November 1933 for Oberrosenthal in Czechoslovakia, where they leased an inn with a trucking company. But they were not successful and returned to Weiden in 1935.  Johannes Laschinger, ,,Judenpogrome in Weiden und Amberg 1938," p. 206: "Während man die Frauen entließ, wurden die männlichen Juden dem Land- gerichtsgefängnis Weiden überstellt1 8 3 , wo sie vom dortigen Gefängnisverwalter " in der unflätigsten Weise" behandelt wurden. Noch am 10. November wurden die 23 inhaftierten Juden mit einem Bus vom Landgerichtsgefängnis Weiden nach Regensburg in ein Gefängnis verbracht. Auf dieser Fahrt wurden sie unter anderem auch von dem schon mehrfach erwähnten SS-Oberscharführer J. W . begleitet1 8 4 . Die 224 Juden aus dem Regierungsbezirk Niederbayern und Oberpfalz wurden noch im Laufe des Vormittags des 10. Novembers 1938 vor ihrem Abtransport in das
In the Kristallnacht/Pogromnacht, Julius was arrested and imprisoned in Dachau concentration camp. When he was
released is not yet known. On 31  December 1938, he submitted the required name change form (adding the name "Israel") to the Themar city authorities.
Julius was able to leave Germany in 1939, sometime before the start of World War II. He — and his brother-in-law Hugo Hutzler —  were two of the 4,000 Jewish men who were able to enter Britain before war began, sponsored by the Central British Fund for German Jewry (CBF) (now World Jewish Relief), . Most of the men had been arrested during November 1938 and incarcerated in three concentration camps: Sachsenhausen, Dachau, and Buchenwald.
On 16 October 1939, Julius met with the Enemy Alien Tribunal and was declared exempt from internment, a so-called 'friendly alien'.
This situation changed dramatically in spring 1940, as the German army swept through Holland and Belgium. The British army rounded up all 'enemy aliens' making no distinction between Jewish refugees and non-Jewish individuals, who might harbour pro-Nazi sentiments. On 12 May 1940, Julius was arrested in the first major round ups of Categories B & C of the alleged 'enemy aliens' of Britain. Julius remained in Kitchener Camp until July when he was crammed on the Dunera and deported to Australia. He — and once again his brother-in-law Hugo Hutzler — were two of 2,000 Jewish refugees on board, sharing space with 500 non-Jewish Germans, a brutal crew, and callous officers. It was "57 days of Hell!"
On
*****
When the English government recognized its error and began a process of repatriation of the refugees, Julius was not initially eligible; higher on the list were married men whose families were already in England. In March 1942, Julius enlisted in the Australian war effort in the Melbourne area, and in May 1943 he was granted a form of parole.
Julius's wife, Therese, and daughters, Betty and Hannelore, were trapped in Germany and deported to Izbica in Lublin District in occupied Poland March 1942. When Julius might have learned of their deaths, we do not know; documents in the National Archives of Australia suggest that it may not have been until the late 1940s. Julius remained in Australia after the war, moving to the Sydney area, where he died on 18 October 1965.
The words on his gravestone were dedicated to the wife and children whom he had lost in the Holocaust:
To the Memory of
His Beloved Wife Therese
Daughters Bella and Hannelore
Who Perished in Europe 1942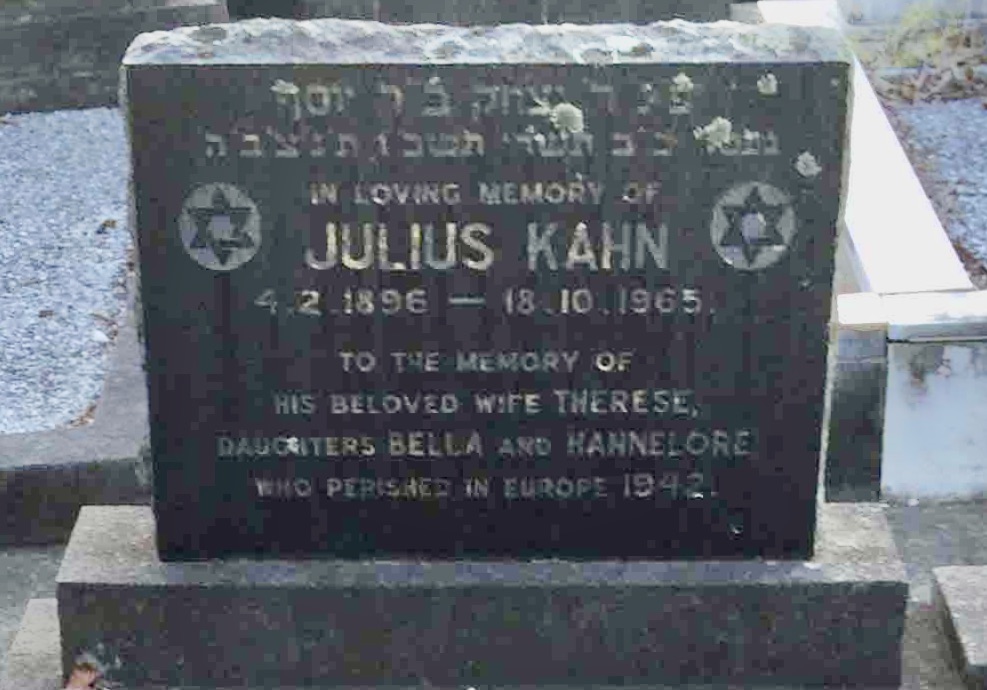 ---