What We Know:
Birth Name: Hutzler
First Name: Therese
Date/Place of Birth: 07 November 1904/Forth, Bayern
Date/Place of Death: unknown/unknown [assumed 1942/Izbica]
Husband: Julius Joseph Kahn, b. 1896 Themar
Age at Death: 38 years

We first learned about Therese Hutzler of Weiden/Bavaria in our search for information about Julius Kahn, born 1896 in Themar. Julius Kahn escaped to England from German before World War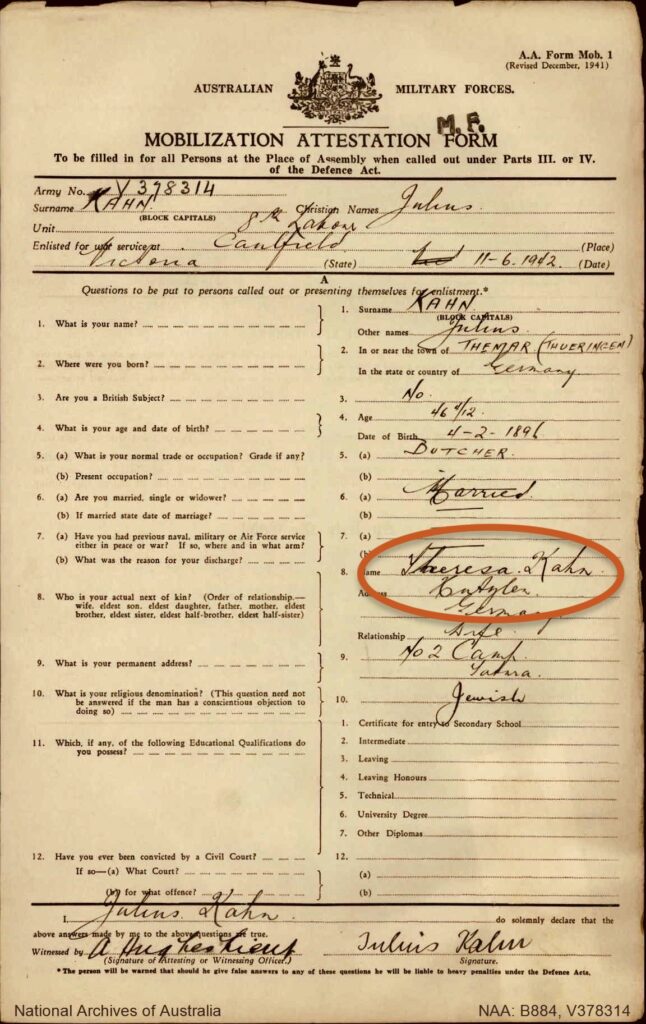 II started; in June 1940, he was rounded up as an 'enemy alien' in Britain and deported to Australia. In the records of his internment in Australia, Therese Kahn, née Hutzler, was identified as his wife.
because of documents in the National Archives of Australia; she was identified on the records of her husband, Julius Kahn, when he was sent from England to Australia in 1940 as an alleged 'enemy alien.' Julius had escaped to England from Germany before WWII started; the hope was that Therese and their two daughters would follow him. They could not, but were instead trapped in Germany and deported to Izbica Ghetto in March 1942.
In 2022, we learned much more about the family
We know that Julius and Therese had two daughters from the entry on the Report on Internee, dated September 18, 1940. From documentation provided by Gerhard Jochen on JewishGen, Nürnberg's Victims of the Shoah, it seems highly probable that Betty Kahn and Hannelore Kahn were the daughters of Julius and Therese Hutzler Kahn. Betty and Hannelore were both living at the same address in Nürnberg as Therese in 1942 and the three were deported on the same deportation to Izbica on March 24, 1942.
1919 ließen sich die fränkischen Brüder Hugo und Heinrich Hutzler in Weiden nieder. Hugo Hutzler war Vieh- und Pferdehändler tätig, Heinrich Hutzler besaß in der Oberen Bachgasse bis 1934 (dann wurde er zur Aufgabe gezwungen) eine Metzgerei mit eigenem Schlachthaus. In dieser Metzgerei arbeitete Metzgermeister Julius Kahn aus Themar in  Thüringen, der die Schwester Theresia Hutzler heiratete. Das Paar bekam zwei Töchter, Bella und Hannelore. 1939 reiste   Julius Kahn  1939 nach England aus. ( Nach der Reichspogromnacht waren im November etwa 25 Juden in das KZ Dachau gebracht worden, ich muss erst fragen, ob er damals in Weiden war und eventuell unter den Inhaftierten war.)

Die Familie hat auch durchaus die Wohnorte gewechselt. Bruder Hugo Hutzler, der seit 1925 mit Selma Landecker aus Neumarkt verheiratet war, verließ im November 1933 Weiden und ging nach Oberrosenthal in der  benbachbarten Tschechoslowakei. Dort pachteten sie eine Gastwirtschaft mit Spedition. Als sie 1935 zu Hugos Eltern nach Weiden zurückkehrten, wurden sie zurückgekehrte Emigranten vorübergehend festgenommen und gerieten erst recht ins Visier der Nationalsozialisten.

Selma zog zum Kriegsbeginn wieder nach Neumarkt, ihr Mann Hugo siedelte nach England über. Das muss aber vor Julius gewesen sein. Selma wurde  nämlich  am 13. November 1938 in Nürnberg festgenommen. Man schob ihr einen Diebstahl in einem Warenhaus in Nürnberg unter. Die Verhaftung war der NS-Presse eine Schlagzeile wert: Als die "Jüdin mit den Goldknöpfen" soll sie nach ihrer Verhaftung eine Handtasche mit Halsketten und Goldmünzen in einen Vorgarten geworfen haben, um so der Beschlagnahmung des Vermögens zu entgehen. Sie wurde zu sieben Monaten Gefängnishaft und 900 Mark Geldstrafe verurteilt.

1942 wurde Selma mit ihrem Nürnberger Bruder und ihrer Mutter ins Ghetto Piaski in Ostpolen deportiert, dort verliert sich ihre Spur.