The family of Max and Clara (also spelled Klara) Nussbaum Müller lived in Marisfeld from 1912 until 1929 and then in Themar from 1929 until spring 1942 and their presence in the Jewish communities of both places was large, and memories of the family linger on well into the 21st century. 
Max was the one with the longer connection to the area, b. 1884 in Marisfeld, the son of Nathan and Bertha Schwed Müller. At the time of Max Müller's birth in 1884, Marisfeld was a small village with a total population of fewer than 500 and an even smaller Jewish community — after the disastrous fire of 1866, only seven Jewish families remained in Marisfeld.
Max remained in Marisfeld while his siblings migrated to other towns in Thüringen. Clara Nussbaum, who married Max in 1912, was born in 1890 in Bad Hersfeld, a much larger community than Marisfeld, with a population of 11,000 and a Jewish community of around 325. Family lore has it that Max promised Clara that they would move to a larger town as soon as possible, but war and other unfavourable circumstances prevented them from doing so for 17 years.
Instead, they remained in Marisfeld where their first son, Herbert, was born in 1913. Max then went off to war for his country, earning an Iron Cross for his bravery. Upon his return, the couple had two more children: Meinhold in 1919 and Willi in 1922.
In 1924, Herbert, the eldest son, started attending middle school in Themar, finishing in 1928. In 1929, the Müller family moved to Themar. Berta Müller, Max's mother, may have moved with them.
The arrival of the Max Müller family from Marisfeld prompted a distinction to be made between his cousin, Max Müller, b. 1873 in Themar, and the newly arrived Max Müller. The designation Max Müller I was given to the Max Müller born 1883 in Themar and owner of the S. M. Müller department store in the Bahnhofstrasse. Max Müller of Marisfeld became known, both formally and informally, as Max Müller II. The Max Müller II family lived at Meininger Strasse 17, on the northwest edge of the town, outside the city wall. The house served as both home and business and the Manufakturwaren (textile) business continued. Both Meinhold and Willi attended the local public school and continued to receive religious instruction from Lehrer Moritz Levinstein, as they had in Marisfeld. Herbert went to other towns in Bavaria in order to do an apprenticeship and then to work for other businesses.
When the Nazis formed the government in January 1933, Max was 49 years old, Clara 43, and the boys were 20, 14, and 11. Like many other Germans, both Christians and Jews, Max initially expected the Nazi regime to be a temporary aberration. The family's life continued more or less as usual. Like many other German Jews, Max found it difficult to imagine the extreme outcome of Nazi persecution of Jews. Through the first half of the 1930s, Max hoped that his status as a WWI veteran would protect him and his family, and he proudly wore his WWI medal on his lapel.
In April 1934, Meinhold Müller went to Bad Kissingen to train as an apprentice in the Grünebaum textile business; in the town, he rented a room at Theresienstraße 4 with Klara Dreifuss. He returned to Themar two years later as his parent's growing anxiety was prompting them to find emigration routes for their younger sons. Meinhold was among the first of the Jews to leave Themar and Germany. Initially, Meinhold left for Italy and subsequently for Sweden. Willi left in 1938, just before Kristallnacht, for Palestine. Still in Germany at Kristallnacht, Herbert, who had married Flora Wolf in July 1938, and his parents faced the rapidly increasing difficulties of finding refuge in another country.
Relatives did their utmost to get Max & Clara, Herbert & Flora (and Flora's mother, Frieda Wolf) out of Germany. By early 1939, relatives had sent affidavits (guarantees of financial support) for Clara and Max to immigrate into the United States. In early December 1938, Clara wrote to Willi that both Albert Wolf, the brother of Flora Müller, née Wolf, Herbert's wife, and Max's cousin, Herbert Sweed (né Schwed), in California were also taking action.
Letters from Clara and Max to their sons Meinhold and Willy between December 1938 and 1941 detail these efforts. (The letters and postcards are available in German here; English translations will be posted soon.) Clara and Max knew that their numbers were high — in mid-1939, before the outbreak of war, Clara wrote to Willi that they would probably have to wait two years before they had any hope of coming within the American quota allowance. They explored other possibilities in South America and elsewhere, but everywhere the doors were closing on Jewish refugees. In March 1941, Herbert Sweed in Petaluma, California, a first cousin of Max's, paid for the passage of Max and Clara from Themar to the United States. Everyone hoped that their numbers would come up in time.
In summer 1941, Herbert and Flora were able to leave with Flora's mother, Frieda Mayer Wolf. They travelled to Lisbon and on to the United States, arriving on the SS Excambion in New York City in July 1941.
*****
Max and Clara were now alone in Themar, two of the tiny remnant of the once thriving Jewish community. There was little or no hope they might escape. Persecution continued: On 16 August 1941, the police of the Weimar Gestapo arrested Max for the crime of  "procurement of eggs." He was taken to Buchenwald on 22 August 1941 and held there until 15 October 1941.
On the same day as Max's release, the first deportations of the German Jews began; on 23 October 1942, all voluntary emigration by German Jews was prohibited. In February 1942, Herbert Sweed was refunded his payment and the file was closed.
Three months later, on 10 May 1942, Max and Clara were part of the first deportation of the Jews of Thüringen, when 315 men, women and children were sent east to Belzyce Ghetto in occupied Poland.
Research in archives in the Lublin District by Jörg Kaps of Arnstadt has revealed that Max Müller II was taken from the Belzyce Ghetto to the concentration camp of Majdanek where he was murdered on 20 October 1942. When Clara They 'died' — murdered by Nazi policies of death by starvation, disease, bullets or gas — is not known. Max was 58 years old, Clara 52.
*****

Below is the entry in the Jewish Register of the families of Marisfeld, and the updated Descendants List of Max & Klara Nussbaum. (Please note that various records use various spellings of Clara/Klara.)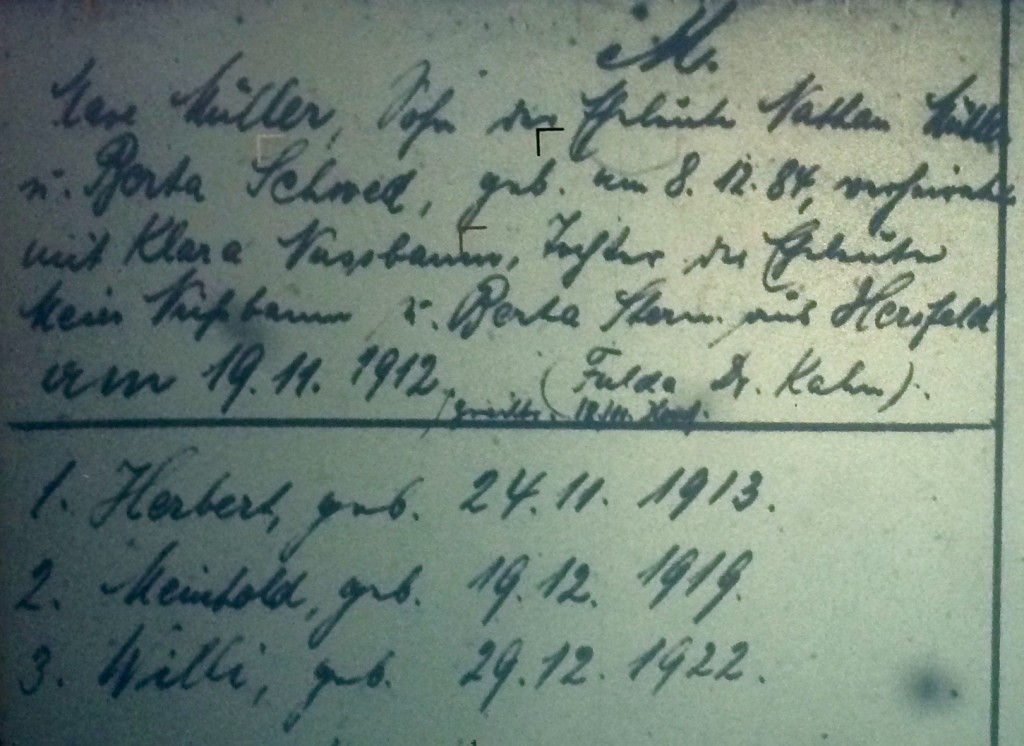 Max MULLER

, b. 1884 Marisfeld, 09 May 1942 deported from Themar to Belzyce Ghetto/occupied Poland, 20 October 1942 murdered Majdanek Concentration Camp/occupied Poland

∞ Clara NUSSBAUM, b. 1890 Bad Hersfeld, 09 May 1942 deported from Themar to Belzyce Ghetto/occupied Poland, murdered 1942-3 Belzyce Ghetto

1. Herbert MULLER, b. 1913 Marisfeld, 1941 to USA, d. 1994 New York/NY

∞ Flora WOLF, b. 1909 Sulzbürg, 1941 to USA, d. 2000 New York/NY

1. Meinhold MULLER, b. 1919 Marisfeld, 1936 to Italy/1938 to Sweden, d. 1993 Göteborg/Sweden

1. Willi MULLER, b. 1922 Marisfeld, d. 1938 to Palestine, d. 2013 Israel