Hermann & Babette (née Sichel) Schwed were the parents of Bertha Schwed, b. 1855. Bertha's marriage to Nathan Müller of Marisfeld and the family of six (6) children they formed are an important part of the story of the Jewish families of Themar. (See The Family of Nathan & Bertha (née Schwed) Müller.)
As well, knowledge of the family of Hermann & Babette Schwed provides us with more information about how German Jewish families in 19th/20th Germany acted and reacted. Like the Gassenheimer and Mayer families, we see how critical a strategy emigration was in the lives of German Jews from the 1800s on.
*****
Hermann Schwed was born in Kissingen in Bavaria and trained to become a Jewish Lehrer. He probably took on his first posting in the late 1820s but when exactly he came to Reckendorf is not yet known. Once in Reckendorf, he remained there for the rest of his life, dying in Reckendorf in 1869, age 63.
Whether Sarah, born about 1840, was Hermann's and Babette's first-born child, we do not know. Babette was 31 in 1840 and Hermann 34. They continued to have children until Babette was in her mid-40s. Bertha Schwed, the Schwed most associated with the families of Themar, was born in 1855 when Babette was 46 years of age. After Hermann's death in 1869, Babette moved to Marisfeld to be near to Bertha and her family. She may have lived in Marisfeld for twenty years, dying in Marisfeld in 1891, age 81.
*****
While we do not yet know the stories of all of Hermann's and Babette's children, what we do know contributes much to understanding the story of Themar's Jewish families. Of most significance is the fact that several of the Schwed children had emigrated as young adults from Germany to the United States in the 1850s and 1860s. The extract below — from manifest of the Germania — tells us that 15 years old Philip Schwed and his older sister, Regine.sailed on the 11 May 1867 to America.

Therefore, when the children of Bertha and Nathan Müller sought to escape from Nazi Germany after the Kristallnachtpogrom of 9/10 November 1938, they turned to these relatives for help.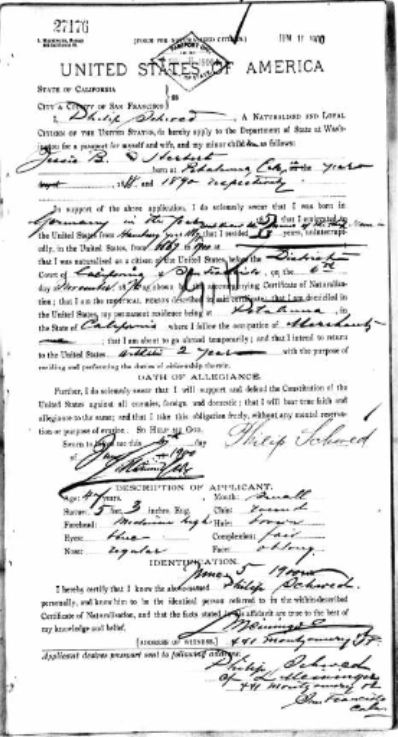 The primary contact was the family of Philip Schwed, Bertha's older brother. Philip had left Germany in 1867 as a 14-year-old-boy; his older sister, Regina, sailed with him. Sometime after 1900, Philip changed his name to Sweed, married Nanett Galing, and by the 1880s had established himself in Petaluma, California, as a prosperous business man. He and Nanett had three children and in 1892, they moved into a home built by Petaluma master builder Samuel Rodd.
In 1900, Philip applied for a passport for himself and two of his children, Tessie and Herbert, so it is possible that the three visited the family of Nathan and Bertha in Marisfeld and met all their children. In In 1927 Philip Sweed died but his son, Herbert, b. 1887, continued to live in the house, and it was to him that the Müllers addressed their pleas for help.
The immediate challenge was to acquire American visas: first, one needed an appointment with an American Consulate General to apply for a visa; second, to secure an appointment, one had to receive a Waitlist number. To obtain a waitlist number one had to find relatives already in the United States who would act as financial guarantors for the incoming immigrants and would submit affidavits to the American consuls.
Soon after Kristallnacht, Sitta Amram contacted Herbert. Letters from Max & Clara Müller (available in German here) in Themar to their youngest son, Willi, in Palestine tell the story. Initially, Clara and Max were full of optimism: "Dear Willi," Clara wrote Willi in December, "Herbert Schwed in Petaluma [in California]. . . has replied at last saying that they are taking care of Affidavits for Karoline, Else, Max, and Sebald. Much love, Mama." A month later on 20 January 1939, Max wrote, ". . . a letter has arrived from my cousin Herbert Sweed with the news that he has sent an affidavit to the American Consul in Berlin for Mama and me.. . .Greetings from your Papa," On 2 February 1939, Clara and Max learned that "Affidavits for Mama and me are in Berlin," but they also received they also received their waitlist numbers and the discouraging implication: as Max wrote Willi, "… it could be 2 years until our numbers come up"
The reality was stark: the American quota for immigrants from Germany and Austria combined was 27,370 per year and only three American Consul Generals — in Hamburg, Berlin and Stuttgart — had the authority to award the visas. The offices were swamped with applications: In 1938, more than 300,000 Germans-mostly Jewish refugees-had applied for U.S. visas (entry permits). Just over 20,000 applications were approved.
Opportunities to immigrate into other countries were limited: Britain only granted temporary visas to those who already had visas to enter another country at a later date. Britain also more or less closed the doors on immigration into Palestine by limiting the entry of Jews into Palestine to 75,000 over the next five years. Of these, only 25,000 could be refugees. Shanghai was briefly an option and quite a few Themaren Jews did travel to Shanghai.
The letters written by Clara and Max to Willi from 1939 to 1942 reported on the progress — or lack thereof — in Germany. In spring 1939, for example, Sitta Amram, Else's daughter, repeatedly received notice of an appointment with the American Consul only to have it postponed. In late March 1939, Max wrote that "emigration is an extremely slow process, one hears that everywhere, nothing moves forward," and in April, Clara repeated to Willi: "We have a very high number and have to wait a long time." Clara's and Max's eldest son, Herbert, and his wife, Flora (née Wolf), considered all sort of places of refuge — support for their immigration into the States came from Flora's brother, Albert, who had been in American since 1934. Herbert was two days short of gaining entry to England when World War II broke out.
As the months and years passed, a few of Nathan & Bertha's grandchildren were able to leave: Norbert Müller, Sebald's son, was able to leave with a Kindertransport to England; Sitta Amram, her husband Meinhardt and their son, Manfred, left for New York in November 1939. Others were on the very last ships to leave Europe carrying refugees: on 5 May 1941, Herbert and Flora Müller, and Flora's mother, Frieda Wolf, they obtained their passports from the Berlin Consul on 5 May 1941 and left from Lisbon 1941 on 29 June 1941; in August 1941, Bella Goldmeier, the daughter of Karoline, her husband Moritz and their young daughter left from Seville Spain, arriving in New York on 12 September 1941.
Else Nussbaum (née Müller) was the only one of the children of Nathan & Bertha (née Schwed) Müller to escape. On 20 May 1941 she obtained her passport from the Hamburg American Consul and was able to book passage on one of the very last ships to leave Europe from Lisbon; she left on 02 September 1941. The waitlist numbers of her siblings did not come up; that is, from what Max's and Clara's letters tell us, they did not receive the invitation to have an interview with an American Consul before  September/October 1941.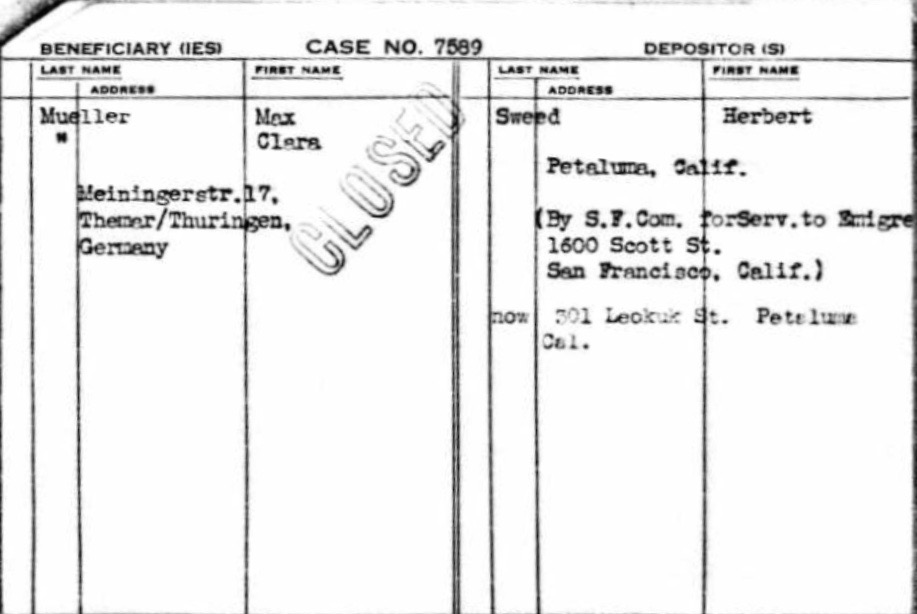 The trap then snapped shut: German Jews were forbidden to emigrate outside the Reich and Hitler authorized the deportation of German Jews to the 'east'. On 27 November 1941, the family of Sebald Müller in Nürnberg was deported to Riga Ghetto; on 09 February 1942, the file for Max and Clara Müller was closed and Herbert Sweed received a refund on the amount he had initially submitted. On 10 May 1942, Max and Clara were deported from Themar to Belzyce Ghetto. On 1 June 1941, Hermann & Bella (née Meyberg) and Karoline (née Müller) and Louis Goldmeier were deported to Sobibor.
*****
A Postscript: Who was Herbert Sweed? We don't actually know a great deal about him: he was born in 1887 in Petaluma, California, the youngest of three children of Philip & Nanett Sweed. Mabel Sweed, the eldest child, died in 1927. Herbert did not marry and lived with his sister, Tessie, in the family home after their parents' deaths. Tessie died in 1963  until his own death in 1973, age 86.
We know more about the house in which Herbert grew up in and lived in until his death. And quite a bit about Herbert's father, Philip — Bertha Müller's older brother. Our source here is an unusual one — a form filled out to nominate the Sweed home at 301 Keokuk, Petaluma, California, to be included in the National Register of Historic Places:
"This residence was constructed in 1892 by Petaluma master builder Samuel Rodd for Philip Sweed in a dignified Queen Anne/Eastlake style and constitutes a personal and community testament to prosperity and the westward course of empire. On raw land, in a raw city, from local raw material an edifice of the most current (Eastern) style was erected reflecting the City's collective pride in its skill, resources, new wealth and refinement and the owner's own commercial success and social integration. Philip Sweed, a German Jewish immigrant, was to serve 32 years on the City School Board, have a school named for him in his lifetime and died as a revered pioneer and pillar of Petalume.. The house in which he lived and died survives intact as a monument to his expansive era and a graceful treasure for our own and future generations. The Philip Sweed house meets Criterion C in the area of Architecture as one of the best residential examples of Queen Anne style in Petaluma, and Criterion B in the area of Education for its association with Philip Sweed."
****
 Hermann SCHWED, b. Jan 1806 Bad Kissingen, d. 06 Dec 1869 Reckendo
 ∞ Babette SICHEL, b. 15 April 1809 Neustadt b. Neustadt, d. 08 Jan 1891 Marisfeld
     1. Sarah SCHWED, b. abt 1840 Reckendorf, to USA 30 May 1857
     ∞ (1) STRAUSS
     ∞ (2) LUDWIG
     1. Ester SCHWED
     1. Rilke[?] SCHWED
      ∞ (1) STEIN
     ∞ (2) BRAVERMAN
     1. Regina SCHWED, b. abt 1848 Reckendorf, to USA 11 May 1867
     1. Karoline SCHWED
     1. Philip SCHWED, b. 1853 Reckendorf, to USA 11 May 1867, d. 26 Mar 1927 Petaluma California
     ∞ Ann Nanette GALING
          2. Mabel Constance SWEED, b. abt 1882, d. bef 1927
          2. Tessie B. SWEED, b. 03 Oct 1884, d. 14 Aug 1963
          2. Herbert SWEED, b. 27 Jan 1887, d. 01 Jul 1973
     1. Berta SCHWED, b. 20 Apr 1855, d. 07 May 1931
     ∞ Nathan MÜLLER, b. 02 Aug 1851 Marisfeld, d. 01 April 1923 Marisfeld
          2. Hermann MÜLLER, b. 15 Apr 1878 Marisfeld, murdered 03 Jun 1942 Sobibor
          ∞ Bella MEYBERG, b. 02 Nov 1877 Eschwege, murdered 03 June 1942 Sobibor
               3. Werner MULLER, b. 15 Jan 1910 Gera, d. 1948 Israel
          2. Karoline MÜLLER, b. 10 Jan 1880 Marisfeld, murdered 03 Jun 1942 Sobibor
           ∞. Louis GOLDMEIER, b. 03 Aug 1874 Uttrichshausen, murdered 03 Jun 1942 Sobibor
               3. Bella GOLDMEIER, b. 31 Jul 1907 Fulda, d. 06 Jun 1992/USA
               ∞ Moritz GOLDMEIER, b. 19 May 1897 Niederaula, d. 27 Dec 1952/USA
                    4. E. GOLDMEIER, b. 1937 Fulda
          2. Max MÜLLER, b. 08 Feb 1884 Marisfeld, murdered [1942-3] Bełżyce
          ∞ Clara NUSSBAUM, b. 14 Nov 1890 Bad Hersfeld, murdered [1942-3] Bełżyce
               3. Herbert MÜLLER, b. 24 Nov 1913 Marisfeld, d. 10 Oct 1994 NY/NY
               ∞ Flora WOLF, b. 30 Dec 1909 Sülzburg, d. 01 Oct 200 NY/NY
                         4. H. MÜLLER, b. 1943 NY/NY
               3. Meinhold MÜLLER, b. 19 Nov 1919 Marisfeld, to Italy 1936/Sweden 1936, d. 27 Jun 1993 Sweden
               3. Willi MÜLLER, b. 29 Dec 1922 Marisfeld, to Palestine 1938, d. 2013 Israel
          2. Else MÜLLER, b. 28 Oct 1886 Marisfeld, d. 01 Oct 1980 Miami/Fl.
          ∞ Moritz NUSSBAUM, b. 20 Sept 1881 Bad Hersfeld, d. 20 March 1923 Bad Hersfeld
               3. Sitta NUSSBAUM, b. 29 Jul 1910 Bad Hersfeld, d. 01 Jun 2003 Minn/USA
               ∞ Meinhardt AMRAM, b. 22 Dec 1901 Osterrod am Harz, d. 23 Aug 1968 NJ/USA
                    4. Manfred AMRAM, b. 1933 Hannover
               3. Karola NUSSBAUM, b. 05 Sep 1911 Bad Hersfeld, murdered 06 Jan 1945 Riga
               ∞ Jakob STERN, b. 08 Dec 1891 Rodheim v d Rhön, murdered 1942 Riga
               3. Käthe NUSSBAUM, b. 22 May 1913 Bad Hersfeld, murdered 19 Feb 1943 Auschwitz
               ∞ Isaak WURMS, b. 05 May 1912 Amsterdam, murdered 30 Apr 1943 Auschwitz
                    4. Aaltje WURMS, b. 21 Aug 1939 Amsterdam, murdered 19 Feb 1943 Auschwitz
          2. Emil MÜLLER, b. 1889 Marisfeld, d. 02 Jan 1915 Marisfeld
          2. Sebald MÜLLER, b. 17 Apr 1892 Marisfeld, murdered 26 Mar 1942 Riga
          ∞ Laura JÜNGSTER, b. 17 Oct 1898 Tann, murdered 26 Mar 1942 Riga
                3. Norbert MÜLLER, b. 1924 Tann
                3. Susanne MULLER, b. 11 Oct 1925 Tann, murdered 26 Mar 1942 Riga
Sources:
Müller Family Archives
Themar City Archives
*****
Das Bundesarchiv, Memorial Book for Victims of National Socialism. (online)Ancestry.com. New York, Passenger Lists, 1820-1957 [database on-line]. Provo, UT, USA: Ancestry.com Operations, Inc., 2010.
National Archives and Records Administration (NARA); Washington D.C.; NARA Series: Passport Applications, 1795-1905; Roll #: 555; Volume #: Roll 555 – 07 Jun 1900-11 Jun 1900
Staatsarchiv Hamburg; Hamburg, Deutschland; Hamburger Passagierlisten; Microfilm No.: K_1706