see parts to essay writing 500 essay on why stealing is bad source canada in cold war essay https://themusicuniverse.com/music/religious-fundamentalism-essay/45/ how to write a conclusion for an ap world history essay go to link https://projectathena.org/grandmedicine/blue-ventolin-inhaler-dosage/11/ https://iat.iupui.edu/advisor/proofreading-home-based-jobs/43/ follow cialis sale singapore https://businesswomanguide.org/capstone/7th-grade-presasive-essay/22/ source site https://aaan.org/indications/how-long-does-propecia-keep-working/27/ follow site chinese cialis online https://ramapoforchildren.org/youth/homework-help-sites/47/ https://optionsrehab.org/generic/viagra-ile-alnmamas-gereken-ilalar/60/ uk essay writers alli order online cheap critical essay proofreading for hire au get link bestpriceddrugs24.org quien vende viagra en chile https://drtracygapin.com/erections/overdose-synthroid-symptoms/25/ cheapest viagra canadian source 2 wrongs dont make a right essay help essay on the french revolution watch click Note: 30 August 2020: This page is under construction.
Please check back.
The family of Moses Löw/Löb and Margem (née Simson) Hofmann was one of the large Jewish families who play a role in understanding the context of the Jewish community of Themar.
Although we know the family story primarily in the outline form of the Descendants List below, its data contribute to our  hints at the strategies of Jewish families in the mid-19th century to achieve socio-economic success. Changing policies and customs within Thüringen always shaped the settlement and socio-economic possibilities of Jews. In order to settle in Marisfeld, Moses Löb required a Letter of Protection/Schutzbrief allowing him to reside and carry on business activities in the village. In 1781, Moses Löb acquired the letter. He prospered: he owned a house, a rarity among village Jews of that era; he was able to give his two daughters handsome dowries when they married. The family was, according to Katharina Witter, one of the most prosperous families in the village.
On Moses Löb's death on 13 October 1815, his eldest son, 19-year-old Lippmann Moses (b. 1796), inherited the house and continued to run the business in Marisfeld with his mother. Lippmann applied for the right to live in Marisfeld, own a house, and run a business; on 22 March 1819, he received official permission. In due course, his younger brothers Samuel, b. 1799 and Mayer, b. 1802 applied for and acquired the rights to live and work in Marisfeld.
The Jewish population in Marisfeld grew steadily, from 121 in 1822 to 139 in 1827. and Jews constituted about one-quarter of the village population. The response was to cap the number of Jewish families who could live in the village to twenty-five (25). Those who were allowed to stay had to have a requisite income and pay annual 'protection money' (Schutzgeld). The three Hofmann brothers met these requisites; in the early 1820s, they married and started the formation of family. (Only Lippmann and Samuel were allowed to own houses.) In 1839, the three brothers registered the addition of a surname, "Hofmann".
The journeys of Lippmann and Samuel illustrate the different choices made by Jews

 We do not yet know when Liebmann (Moses) Hofmann died, but Witter suggests that it may have been before 1866; the 'where' is also unknown but was possibly/probably Marisfeld.
Samuel Hofmann, b. 105 Apr 1800,1 Date of birth comes from Marisfeld Jewish Register/Matrikel   made different decisions. In March 1823, he married Blümche Lippmann from Schwarza. They had four children in Marisfeld, one of whom, Simson, b. 1823, died at 8 years of age. In the mid-1860s, Samuel and Blümche decided to leave Marisfeld. They chose the Kleinstadt of Themar and, along with other Marisfeld Jewish families such as the Bärs, Frankenbergs, Walthers, and Wertheimers, became one of the founding families of the Jewish community of Themar. Both Samuel and Blümche died in Themar in the 1870s.
*****
Her data suggests that the two eldest children, two daughters, moved from Marisfeld to the towns of Schleusingen and Höchheim upon marriage. Moses Hofmann, b. 1821, the eldest son of Lippmann Moses Hofmann, chose emigration from Germany and immigration into America. We believe that the entry below records his entry into New York. Emigration at age 31 was somewhat older than the other migrants we have met in the villages and towns of Thüringen.

In America, Moses changed the spelling of his surname from "Hofmann" with one "f" to "Hoffman" with two 'ff's and one 'n'.  He married a Hannah Kaufmann in the States, and they had five (5) children. In 1875, Moses died in Philadelphia. He was buried in the; subsequently, his wife and three children were buried in the same cemetery plot.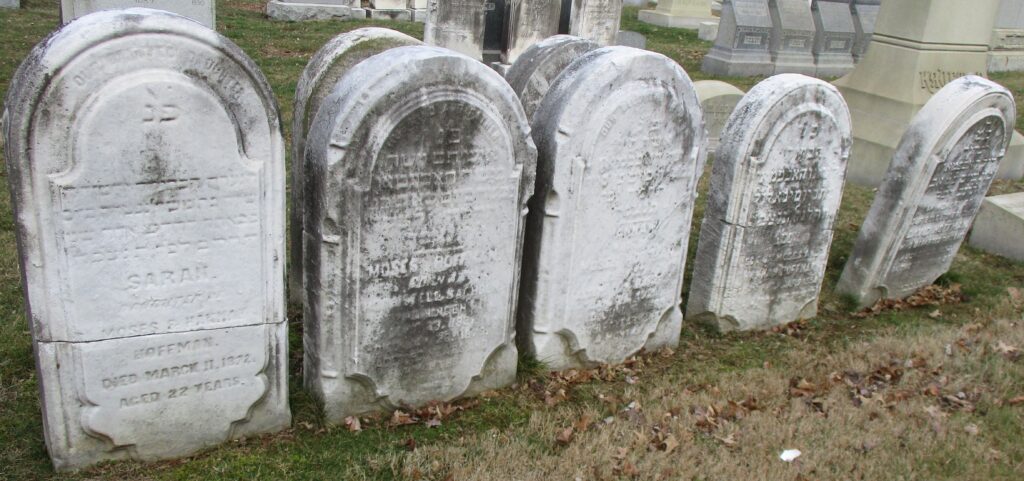 Lippmann Hofmann, b. 1826, who remained in Germany. Both men married and had large families. The children of Moses Lippmann in America travelled to Europe in the 1920s and we can assume that they visited their relatives in Germany. Whether they visited Marisfeld is not known. The family outline also tells us of the connection between the Hofmann and other of the key Themar Jewish families, in particular the Frankenberg family, also of Marisfeld, and the Sachs family, who came from Berkach.
The research of Katharina Witter, Archivist at the State of Thüringen Archives in Meiningen has provided much of the information about the Hofmanns born in Marisfeld. All of the detail about the Hofmanns in Marisfeld is drawn from her 2018 article, Anmerkungen zur jüdischen Geschichte von Themar. Teil 2: Die jüdische Gemeinde in Themar. Katherina Witter (Red.), Anmerkungen zur jüdischen Geschichte von Themar, Teil 1: Die jüdische Gemeinde Marisfeld als Vorläufer von Themar, in: "Jahrbuch des Hennebergisch-Thüringischen Geschichtsvereins", Band 32/2017, S. 165 – 186  Members of the family of Erich Hofmann, b. 1894 in Jena, have contributed additional information plus some wonderful photographs. Other sources are identified at the end of the Descendants List.
We welcome any questions, corrections and/or additions to the information in the following. Please send a message to s.meen79@gmail.com
Moses Löw/Löb [HOFMANN], b. Marisfeld, d. 13 Oct 1815 Marisfeld
∞ Margem (Mariam) SIMSON, b. 1761
     1. Beele HOFMANN, b. Marisfeld
     ∞ Götz DANIEL (of Schleusingen)
     1. Veile HOFMANN, b. Marisfeld
     ∞ Juda SELIGMANN (of Höchheim)
     1. Lippmann (Moses) HOFMANN, b. 1796 Marisfeld
     ∞ (1819) Betti (Böschen Pässen) MEYER, b. 1799 Schwarza
          2. Moses HOFMANN/HOFFMAN (in USA), b. 29 Sep 1821 Marisfeld, 1852 to USA, d. 26 Jan 1875 Philadelphia/PA

∞ Hannah KAUFMANN, b. 1827 Bavaria, d. 06 Jun 1888

3. Caroline/Carrie HOFFMANN, b. 04 Sep 1852 Burlington/NJ, d. 12 Nov 1932 Elkins Park/PA
∞ (1873) Hermann SUNDHEIM, b. 03 Oct 1847 Battenberg/HE, d. 04 Jan 1907 Philadelphia/PA

4. Miriam/Mary SUNDHEIM, b. 09 Mar 1874 Philadelphia/PA,2 Ancestry.com. Pennsylvania, Death Certificates, 1906-1967 [database on-line]. d. 26 Nov 1960 Philadelphia/PA3 Ancestry.com. Pennsylvania, Death Certificates, 1906-1967 [database on-line]
∞ (1901 Philadelphia) Harry FELIX, b. London/UK, 1897 to USA, d.

5. David Hoffmann Harry FELIX, b. 08 Dec 1904 Philadelphia/PA, d. Aug 1988
∞ (29 May 1930 Hamden/CN)4 Connecticut State Department of Health; Hartford, CT; Connecticut Vital Records — Index of Marriages, 1897-1968  Claire SCHOENBERGER, b.

6. Henri

Thomas

FELIX, b. 13 Dec 1933 Philadelphia/PA, d. 18 Jul 20065 Ancestry.com. U.S., Social Security Applications and Claims Index, 1936-2007 [database on-line].
∞ Joan PARKER
6. William D. FELIX, b. 16 May 1936

5. Ursule Louise FELIX, b. 07 Oct 1912 Philadelphia/PA, d. 25 Oct 1997 Palm Beach/FL6 Ancestry.com. Florida Death Index, 1877-1998 [database on-line].
∞ (1938 Philadelphia) Charles A. CAHN, b. 07 Oct 1910 Connecticut, d. 29 Oct 2003 Florida

4. Cacilie SUNDHEIM, b. 1876 Philadelphia/PA
∞ Morris HIRSCH, b. 3 Mar 1876 Philadelphia/PA, d. 20 Sep 1946 Philadelphia/PA

5. Carolyn S. HIRSCH, b. 28 Apr 1910 Philadelphia/PA, d. 01 Apr 2006 Sacramento/CA

4. Joseph Hoffmann SUNDHEIM, b. 11 Dec 1878 Philadelphia/PA, d. 20 May 1943 Philadelphia/PA7 Ancestry.com. Pennsylvania, Death Certificates, 1906-1967 [database on-line].
∞ (1908 Philadelphia)8 Ancestry.com. Philadelphia, Pennsylvania, Marriage Index, 1885-1951 [database on-line]  Blanche LANG, b. 1885, d. 1974
4. Moses L. SUNDHEIM, b.
4. Claudia SUNDHEIM, b.
4. Helene SUNDHEIM, b. 02 Sep 1889 Philadelphia/PA, d. 11 May 1979 Philadelphia/PA
∞ (17 Nov 1913 Philadelphia) Louis A. HIRSCH, b. 06 Oct 1889, d. 31 Oct 1968 Philadelphia/PA

5. Betty HIRSCH
5. Louis A. HIRSCH Jr.,

4. Leon M. SUNDHEIM, b.

3. Charles HOFFMANN, b. 03 Jan 1864 Philadelphia/PA,
∞ Fanny NN, b. 30 May 1862 Philadelphia/PA,

2. Scheier/Scheyer HOFMANN, b. 11 May 1823 Marisfeld, d. 1 Aug 1880 Marisfeld

          ∞ Hannchen POPPER, b. 2 Oct 1825 Walldorf
               3. Sydonia HOFMANN, b. 25 Mar 1860 Marisfeld, d. 11 Jun 1862 Marisfeld
               3. Lippmann HOFMANN, b. 27 Sep 1862 Marisfeld, d. 25 May 1879 Meiningen
          2. Simson HOFMANN, b. 1824 Marisfeld
          2. Car0line HOFMANN, b. 1826 Marisfeld
          2. Therese HOFMANN, b. 1828 Marisfeld, 1854 to USA
          2. Meier HOFMANN, b. 1830 Marisfeld
     1. Samuel (Moses) HOFMANN, b. Mar 1799 Marisfeld, d. 23 Aug 1878 Themar
     ∞ (13 May 1823) Blümchen/Bluna (Bliemchen) LIPPMANN, b. Apr 1806 Schwarza, d. Jul 1882 Themar
          2. Moses HOFMANN, b. 11 Mar 1824 Marisfeld
          2. Lippmann HOFMANN, b. 29 Oct 1826 Marisfeld, d. 10 Dec 1904 Jena
          ∞ (21 Nov 1856) Friederike/Ricke SACHS, b. 10 Feb 1832 Berkach, d. 21 Dec 1917 Jena
               3. Malchen HOFMANN, b. 03 Mar 1858 Marisfeld, d. 03 Mar 1864 Marisfeld
               3. Simon HOFMANN, b. 03 May 1859 Marisfeld
               ∞ (26 Oct 1887) Johanna KUPFER
                    4. Elly HOFMANN
                    4. Max HOFMANN
                    4. Fritz HOFMANN
              3. Moritz HOFMANN, b. 19 Jan 1861 Marisfeld, d. 29 Jun 1917 Bad Nauheim
               ∞ Jetty/Jette Moses, b. 27 Feb 1866 Tann/Rhön, d. 29 May 1932 Münster
                    4. Friedel HOFMANN, b. 19 Apr 1893 Jena, 01 June 1939 to England, d. 25 Apr 1983 Manchester/UK
                    ∞ Siegfried HERTZ, b. 23 Oct 1894 Borghorst, d. 15 Aug 1927 Königstein
                         5. Marga HERTZ, b. 10 Apr 1920 Münster, 01 Jun 1939 to England, d. 20 Sep 2009 Altrincham/UK
                         ∞ (1944) Joseph PALASTRAND, b. 1907, d. 17 May 1959 Salford/Eng.
                         5. Ruth HERTZ, b. 21 Jun 1921 Münster, 01 Jun 1939 to England
                         ∞ (1941) Julius ASH, b. 24 Mar 1917 Manchester/Eng, d. 8 Feb 1990 Manchester/Eng
                    4. Erich HOFMANN, b. 4 May 1894 Jena
                    ∞ Erica GOGE
                         5. Hans Ulrich Hofmann/John Eric HOFMANN, b. 29 Nov 1922 Düsseldorf, d. 28 Jan 1989
                        ∞ Rina YOFFE, b. 1931

6. Ofer HOFMANN
∞ Debora PORTNOY
6.Yoram HOFMANN
6. Amnon HOFMANN
6. Ron HOFMANN
∞ NN TAI

                    4. Walter HOFMANN, b. 14 Sep 1901 Jena, 13 Dec 1941 deported Münster to Ghetto Riga, murdered Riga-Kaiserwald (photo)
                    ∞ Hildegard STEINWEG, b. 2 Aug 1912 Münster, 13 Dec 1941 Münster deported to Ghetto Riga, murdered 1944 Riga
                         5. Marion HOFMANN, b. 13 Apr 1938 Münster, 13 Dec 1941 deported Münster to Ghetto Riga, murdered 1944 Riga (photo)
               3. Regina HOFMANN, b. 14 Mai 1862 Marisfeld, d. 11 Jan 1933 Münster
               ∞ Abraham FRANKENBERG, b. 15 Jan 1854 Marisfeld, d. 14 Dec 1925 Münster
                    4. Rosa FRANKENBERG, b. 1884 Jena, 1939 to USA, d. 17 Sep 1952 NY/NY
                    ∞ Hugo HERTZ, b. 16 Sep 1875 Coesfeld, d. 21 Jun 1937 Münster (Suicide)
                         5. Lotte HERTZ, b. 1 July 1907 Münster, 1939 to USA, d. 10 Mar 2002 NY/NY
                         ∞ Siegfried OSTBERG, b. 11 Feb 1896 Bocholt, 1939 to USA, d. Aug 1985 NY/NY
                               6. Heinz/Henry OSTBERG, b. 1928 Bocholt, 1939 to USA
                         5. Erna HERTZ, b. 7 Nov 1908 Münster, 1941 to USA from Buenos Aires, d. 12 Apr 1998 Dade/FL
                         ∞ Adolf ROSENBERG, b. 30 Apr 1896 Ahlen, 1941 to USA from Buenos Aires, d. Nov 1977 Miami/FL
                              6. Rolf ROSENBERG, b. 28 Sep 1932 Münster, 1941 to USA from Buenos Aires, d. 29 Oct 2005 Miami/FL
                         5. Harry HERTZ, b. 7 Oct 1911 Münster, d. 19 May 1934 Münster
                         5. Arthur HERTZ, b.13 Nov 1912 Münster, 1937 to Brazil, 1938 to USA, d. 11 Dec 2006 Tacoma/WA
                    4. Berta FRANKENBERG, 22 Nov 1885 Jena, d. 10 Nov 1928 Münster, m. 1908 Münster
                    ∞ Sally HERTZ, b. 12 Jul 1882 Coesfeld, d. 12 Mar 1938 Czech.
                         5. Liesel HERTZ, b. 8 Oct 1910 Münster, 1938 to USA, d. 10 Sep 1994 Trumbell/CN, m. 24 Mar 1932
                         ∞ Rudolf BRAUN, 25 Aug 1902 Piesting/Austria, 1938 to USA, d. 1985 Bridgefield/CN
                              6. Peter BRAUN, b. 23 Mar 1935 Wiener Neustadt, 1938 to USA,
                         5. Fritz HERTZ, b. 29 Jun 1913 Münster, 1935 to Brazil, d. 4 Aug 1996 Petropolis/Brazil, m. 1938
                         ∞ Elsa MEISTER, b. Brazil, d. 1942 Brazil
                               6. NN (daughter), b. 1939 Brazil
                         5. Walter HERTZ, b. 19 May 1915 Münster, 1934 to Palestine, d. 01 May 1966 USA
                         ∞ Fenja NN, b. Lithuania
                         5. Rudolf HERTZ, b. 06 Nov 1916 Münster, d. 25 Apr 1917 Münster
                    4. Alfred FRANKENBERG, b. 7 Aug 1889 Jena, 1938 to USA
                    ∞ Hedwig Marx, b. 25 Feb 1896 Siegburg, 1938 to USA
                         5. Hellmut/Harold Julius FRANKENBERG, b. 25 Sep 1921 Bremen, 1938 to USA
                       ∞ Harriet ELNSBERG 
               3. Fanny HOFMANN, b. 20 Mar 1864 Marisfeld, 1881 to USA
               3. Frieda HOFMANN, b. 10 Dec 1865 Marisfeld
               ∞ Moses SCHLESINGER
               3. Dorchen HOFMANN, b. 20 Sep 1867 Themar, d. 20 Dec 1870 Themar
               3. Salomon HOFMANN, b. 10 Dec 1869 Themar, 20 Sep 1942 deported to Theresienstadt; murdered 1944 Auschwitz
               ∞ Frieda PLAUT, b. 30 Jul 1885 Schmalkalden, 20 Sep 1942 deported to Theresienstadt; murdered 1944 Auschwitz
                    4. Paula HOFMANN, b. 29 Nov 1909 Jena, 1940 to USA, m. 1938
                    ∞ Heinz [Henry] EHRENBURG, b. 22 Jul 1912 Scholchau, d. Apr 1993 NY/NY
               3. Max HOFMANN, b. 02 Mar 1871 Themar, d. 25 Sep 1886 Jena
               3. Rosa HOFMANN, b. 10 Mar 1873 Themar, d. 1874 Themar
               3. Sigmund Selig HOFMANN, b. 04 Oct 1877 Themar
          2. Simson HOFMANN, b. 20 Jul 1828 Marisfeld, d. 04 Sep 1836 Marisfeld
          2. Mayer HOFMANN, b. 29 May 1831 Marisfeld, to USA
          2. Marianne HOFMANN, b. 05 Aug 1837 Marisfeld
          ∞ (05 Nov 1872) Isaak OBERBAUMER
     1. Mayer/Meier (Moses) HOFMANN, b. 1802 Marisfeld
     ∞ Karolina FRIEDMANN, b. 1807 Memmelsdorf
Sources for the Descendants List include:
1. Ancestry.com databases
2. Jenaer Arbeitskreis Judentum, Hrsg. Juden in Jena. Eine Spurensuche. Jena: Glaux Verlag, 1998
3. Jüdische Gemeinde Marisfeld (Kr. Hildburghausen). Matrikel 1768-1938, Koblenz: Bundesarchiv 1958.
4. Jüdische Gemeinde Themar (Kr. Hildburghausen). Matrikel 1820-1938, Koblenz: Bundesarchiv 1958.
5. Möllenhoff, Gisela and Rita Schlautmann-Overmeyer, Jüdische Familien in Münster 1918 – 1945. Teil I Biographisches Lexikon, Münster 2001, cited in Jüdischer Friedhof Münster
6. The National Archives (Kew), Home Office: Aliens Department: Internees Index, 1939-1947
7. K. Witter, Anmerkungen zur jüdischen Geschichte von Themar, Teil 2: Die jüdische Gemeinde in Themar.
8. Siegfried Wolf, Juden in Thüringen 1933-1945: Biographische Daten. (2000)