The ordeal of the internees did not end with arrival in Sydney Harbour as the men were immediately loaded onto four trains and hauled off to Hay, some 800+ kilometres to the west.
Hay was a treeless semi-arid Australian town with a population of approximately 3,000. Upon arrival at Hay, the men were moved into an internment camp about 3 km out of town; the camp was divided into two compounds each housing about 1,000 men in 32 huts along with a mess hall and offices. The two compounds were very close to each other but contact between the two was strictly prohibited. Camp 7 housed the Jewish Germans while Camp 8 housed German Catholics and those interned owing to political beliefs. Julius Kahn and Adalbert Stern lived in Camp 7. This was to be their 'home' for the next while: Julius Kahn was transferred to Tatura in January 1941, Adalbert remained in Hay for another six months, until July 1941, when he too was transferred to Tatura.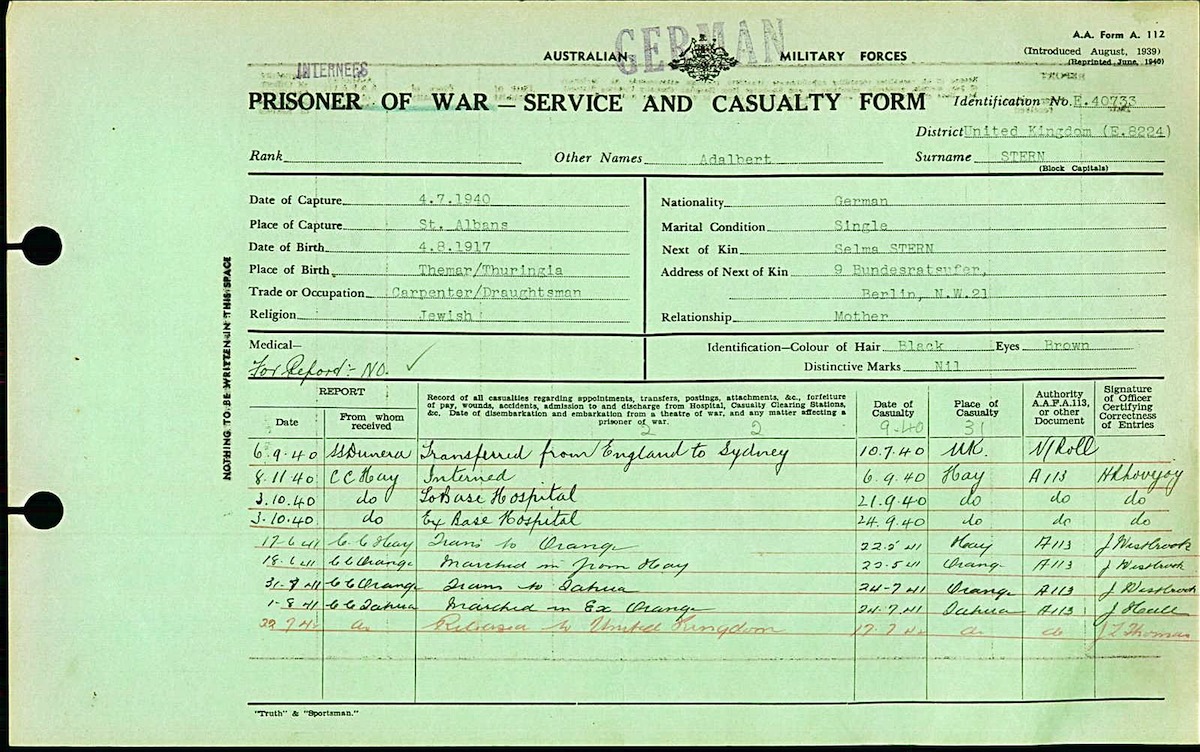 Life at Hay Camp was significantly different than the shipboard experience — most importantly, the attitude of the guards was markedly different; they described their detainees as "well educated and anti-Nazi."
But it still was internment. The camp was surrounded by triple barbed wire and four watchtowers guarding it with machine guns and spotlights. Its location made escape impossible since there was nowhere to go. The bunks were arranged in pairs, one above the other. The internees were denied access to mosquito netting since they were a possible fire hazard. In an effort to control the insects and dust, hessian material was used in the vents. The Australian government placed a 40-day embargo on mail in the camp so internees were at first isolated from the world. Even when this ended, internees could still not write letters for months since writing materials were scarce. Moreover, camp administrators allowed only two letters per week with no more than 22 lines per letter.When Dr. Sydney Morris, Quaker and president of the European Emergency Committee, visited Hay in early November 1940, he noted that the conditions were 'archaic,' and that, while they might be bearable for the winter months, they would probably not be so in the summer when heat and dust storms would prevail. Also, he stated that the clothing of many internees was in great despair and that some went barefoot due to an overall shortage of footwear
Despite the substandard living conditions in the camp, the internees quickly established a sense of order and community, organizing a system of self-government, with its own constitution. The camp functioned under the direction of a camp spokesman who was assisted by a cabinet that included a camp bank manager, chief of the labour force, kitchen manager and an entertainment manager. The internees also designated one hut captain and one deputy for each hut. The captains met in a Hutcaptainversammlung, a parliament that had a speaker and a secretary to keep the minutes. Furthermore, the internees established a court of arbitration known as a "camp court" to maintain their constitution. With the establishment of these institutions the internees ensured that their camps would be run in an orderly fashion and that they would be able to maintain some semblance of normal life.
Education became a critical element of camp life. They also developed a camp university wherein educated internees taught other courses in various subjects with language classes being the most popular. Here internees could contact those they were forbidden to speak to in the other camps, which enabled them to broaden their social sphere and to expand their cultural awareness. Adalbert Stern's friend and fellow internee, Willi Guttsman, described the importance of these schools stating, Reports about need. Among the internees were 30 teachers and lecturers, 42 students (general and specialists), 12 students (technical), 31 mechanical engineers and 27 electrical engineers. School opened on October 15, 1940, just a month after arrival in Hay. ". . . the school of the German camp no.7 has 101 courses, comprising 181 classes and is attended by 560 students. The studies pertain to languages, sciences, technology, agriculture, arts and religion." Books, etc.
"For the younger ones, whose education had often been cut short by events in Germany this was a great opportunity to make good and to widen horizons. It was equally important to meet older, non-Jewish and mostly political refugees with whom we had no contact."
For Adalbert Stern this education system was life changing as he developed new political ideas and thought less in terms of Zionism and focused on a more socialist view of the world. Other cultural influences and events in the camp included concerts, plays, debates and revues. Internees even made musical instruments and furniture from packing cases and sun helmets were fashioned out of wire from butter cases and old underclothing. Several internees also developed a paper entitled Desert Hayrald and the Views of the World which was succeed by Boomerang, a weekly publication of 14 pages, some in English and some in German, containing serious articles, poems, and reports on camp activities. These various activities kept the internees occupied and maintained some semblance of normal life for those interned.
Religious faith was respected in the camp: the approximately 300 Orthodox Jews were allocated a separate hut, a kitchen and mess-hut. Eventually, internees were able to eat kosher mutton. Internees established canteens, banks, workshops for repairing clothes and shoes and a recreation department and organized ball tournaments.
Break-outs were therefore not a major concern for camp officials. Sir Fredrick Jordon, one of the official visitors assigned with the task of ensuring the internees were treated in accordance with the Geneva Convention, was surprised with the lack of complaints about the treatment of the internees. Working as a mediator between internee leaders and camp administrators, he reported that many of the internees were very satisfied with the conditions. The complaints Jordon did receive were mostly based on their treatment by the British soldiers, who were alleged to have damaged personal property of internees prior to their arrival at the camp.
The main concerns of the internees are illustrated in a number of the letters addressed to Sydney Quaker, Ruth Swann. No doubt the correspondence would have been established by E. Sydney Morris, Quaker and President of the European Emergency Committee. Morris, who had been touched by the recounts of the internees, helped the internees locate family members and make links to the outside world.
The letters reinforce the internees' feelings of isolation from their families and disenfranchisement from their European homes, as well as a strong anti-Nazi sentiment. Many of the letters have also been censored with tight restrictions on word limits and the number of letters they could write each week. Camp administrators allowed only two letters per week with no more than 22 lines per letter.
http://www.australianstamp.com/coin-web/aust/intokens/intokens.htm
Notes dated 1st March, 1941 were issued at the Hay Internment Camp No. 7 for use by inmates mainly for purchases from the camp canteen. Three denominations – Two Shillings, Shilling and Sixpense – were printed, each with three separate signature combinations. The notes were designed by Austrian artist George Teltscher and printed by Harry Byers in the printshop of the Riverine Grazier, Hay. It is estimated that a total of 9,000 notes were printed (2,000 Two Shillings, 4,000 Shilling and 3,000 Sixpence). These issues contravened Australian law and were withdrawn in September, 1941. Many were cancelled with a red rubber stamp. The few notes that remain in existence – estimated at around twenty – are extremely rare souvenirs as all notes were supposedly destroyed.
The military ordered the closing of all civilian-based canteen operations and the task was taken over by the Australian Defence Canteen Service who, with the approval of the Australian Department of Army, issued five tokens for use in Internment Camps during World War II. The five shillings, two shillings and penny denominations were struck by Australian contractors, R. Arendeen & Sons Pty Ltd in Malvern, Victoria, while the shilling and threepence were struck by K. G. Luke & Co. Pty Ltd in Fitzroy, Victoria. These tokens were especially designed so that they could not be used outside the camp area to prevent their use in aiding the escape of any prisoners from the camp.
Use of the tokens was confined to the compound and an audit was taken daily for security reasons in order to check on the use and circulation of the tokens. Australian coins were prohibited within the compound.
At the end of the war these tokens were withdrawn and remelted by the authorities as their circulation would be a contravention of the Commonwealth Coinage Act. A number of these were souvenired by officials, army personnel and even prisoners and today they are eagerly sought by collectors of Australiana. The tokens were also used by New Zealand.
These tokens are extremely difficult to obtain, the five shilling and two shilling denominations being the scarcest. The threepence token occurs in two varieties with either 'Camp' or 'Camps' on the obverse, the latter being re-engraved. The penny is the most common of this scarce series.
The dies for the Internment Camp Tokens are now held by the Royal Australian Mint in Canberra. A complete set of these tokens has a substantial premium value above the sum of individual valuations
After the war, 933 of the internees, who became known as the 'Dunrea Boys', chose to remain in Australia and were rapidly integrated into the fast growing nation.
Source:
'The Hay Australian Internment Camp Banknotes', Leigh Burford, Australian Numismatic Society Yearbook, 1974.
Hans Lausch, Mathematics in Detention, Australian Mathematical Society, May 2006. http://www.austms.org.au/Gazette/2006/May06/history.pdf
Charles Sturt University, CSU Regional Archives and University Art Collection, Hay Internment Camp Internees, accessed Dec. 24, 2010.
Bevege, M., Behind Barbed Wire – Interment in Australia during World War II. University of Queensland Press, St Lucia, 1993; Internees letters, 1941-42, RW1605, CSURA.