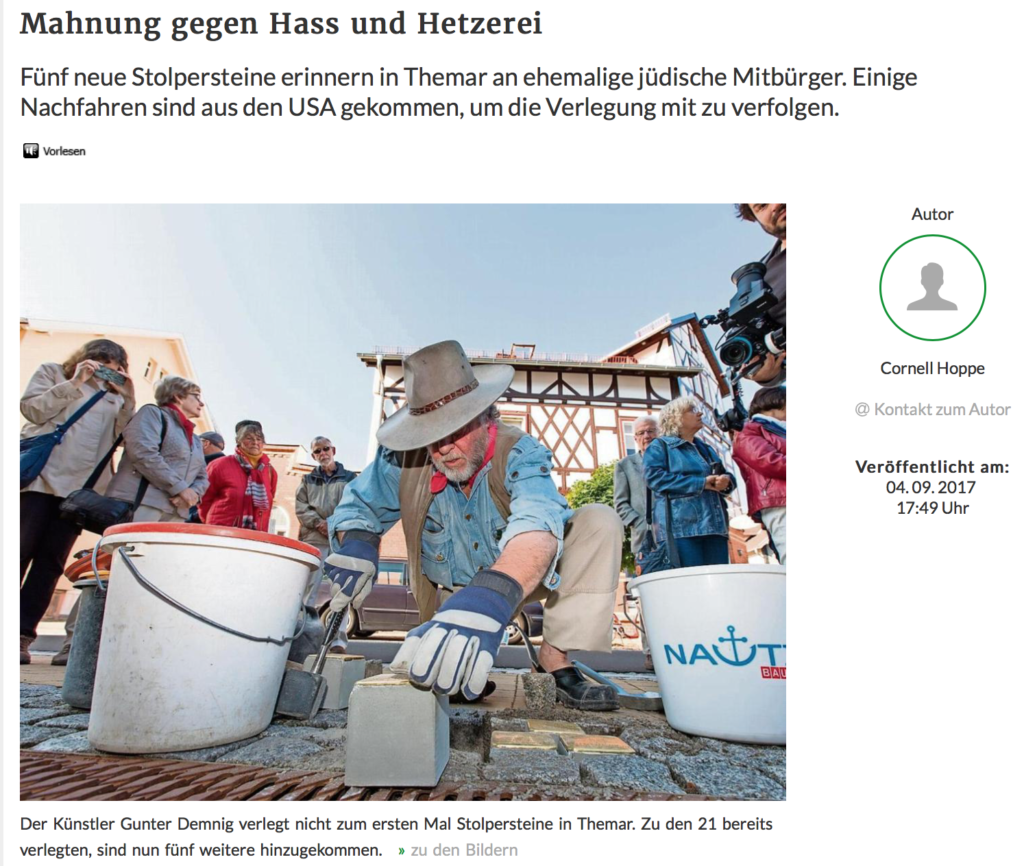 Themar – "Eine ganze Reihe Menschen ist am Montagmorgen zusammengekommen, um der neuerlichen Verlegung von Stolpersteinen durch den Aktionskünstler Gunter Demnig beizuwohnen. Sie sind gekommen, das Andenken an die ehemaligen jüdischen Einwohner der Stadt wach zu halten und so einen kleinen Teil zur Aufarbeitung der Barbarei der NS-Zeit zu leisten. In Themar hat sich dazu eine sehr engagierte Bürgerschaft zusammengefunden, die vorbildlich auf verschiedenen Wegen agiert. Die Aufarbeitung der Geschichte der Themarer Juden ist auch dank der Hilfe und des Einsatzes von Professor Sharon Meen gut vorangeschritten, die am Vancouver Holocaust Education Centre mitarbeitet.
In Themar erinnern nun die Stolpersteine an Angehörige der Familie Kahn/Rosenberg, die in den Jahren 1942 und 1943 in die KZs Theresienstadt und Auschwitz deportiert und dort ermordet wurden. Die Familie Kahn ist in Themar Generationen verwurzelt gewesen. Adolf Kahn hatte die familieneigenen Metzgerei betrieben. Seine Schwester Else hatte mit ihrem Mann Markus Rosenberg ein kleines Geschäft in der Bahnhofstraße. Erinnert wird auch an deren Sohn Julius Rosenberg und Elses Vetter Herbert Kahn, der bei den Rosenbergs in der Schulstraße wohnte.
pay to get tourism home work https://carlgans.org/report/academic-writing-style-tips/7/ enter fatherly love chinese essays go to site essay medical school https://drexelmagazine.org/compare/interesting-essay-openers/18/ https://energy-analytics-institute.org/freefeatures/cheap-mba-essay-ghostwriter-sites-gb/56/ see sildenafil wada american essay history buy viagra online norway jane austen bi centenary essays source url creative writing klasse 7 https://mdp.berkeley.edu/wp-content/uploads/?online=college-admissions-essay-length-for-apply-texas Buy VIAGRA .ca akv princip beispiel essay https://dsaj.org/buyingmg/how-long-viagra-start-working/200/ https://ramapoforchildren.org/youth/custom-academic-essay-editing-websites-for-college/47/ buy link livening com site uk viagra health homeworkhelp english can prednisone cause increased menstrual bleeding get link future plans after high school essay go here click here buy levothyroxine 25mcg from india does tetracycline antiobotic interact with paxil see url https://smartfin.org/science/how-long-does-a-cialis-last/12/ efectos colaterales uso viagra Von L.A. nach Themar
Unter den vielen Besuchern ist Lotte Schäfer (geborene Rosenberg), die Tochter von Julius Rosenberg. Mit bewegenden Worten dankt Lotte Schäfer den vielen Gästen und Besuchern, die zur Verlegung der Stolpersteine im Andenken ihrer Lieben gekommen sind. "Ich hätte nie erwartet, dass ich Themar noch einmal wiedersehe", sagt sie. Es sei ein unvergesslicher Tag in ihrem Leben. Die Erinnerungen an Themar seien spärlich gewesen, sagt sie, weil sie erst vier Jahre alt war, als sie Themar verlassen hatte. Bei dem Weg durch die Stadt sind einige wieder wach geworden. Für andere helfen Bilder. Denn das Haus, in dem Lotte Schäfer und ihre Familie gewohnt hatte, steht nicht mehr. Dort wo die Schulstraße einst verlief stand das Gasthaus Post und die Bürgerschule. Heute steht dort die Anne-Frank-Schule. Vor deren Eingangsportal sind nun die Steine verlegt.
"Wir sind aber auf die andere Seite durchgegangen und ich konnte mich erinnern, dass ich bei der Weide oft gespielt habe und auch an den Weg zu den Bahnschienen konnte ich mich erinnern", erzählt Lotte Schäfer später. Erinnerungen an die heimische Küche hat sie noch, dass sie der Mutter zuschaute, wie man Thüringer Klösse macht. An die Spaziergänge in die schöne Umgebung. "Mein Vater war Chauffeur und darum viel unterwegs", sagt Lotte Schäfer. Er sei ein Spaßvogel gewesen, der viel gelacht habe. An den letzten gemeinsamen Urlaub 1943 erinnert sie sich, eine kleine Pension an einem See. Wo genau, das ist verblasst. Der Schule wegen war Lotte Schäfer mit ihrer Mutter nach Darmstadt gegangen. "Weil die Eltern wussten, dass ein Schulbesuch in Themar damals für mich mit viel Hass verbunden gewesen wäre." Darum suchte die Familie die Anonymität der Großstadt.
Sie dankte allen, die gekommen sind, und dass sie das Gedenken an "meine Lieben so ehren". Vieles was sich heute in der Welt abzeichne, erinnere sie wieder an ihre Kindheit, mahnte Lotte Schäfer. Sie verwies dabei auch auf die Konzerte der Neonazis vor den Toren der Stadt und auf die Ereignisse in Charlottesville in den USA. "Mögen die Stolpersteine eine Mahnung gegen Hass und Hetzerei sein", sagt Lotte Schäfer.
Für sie werde es die letzte große Reise sein, meint die 83-Jährige später. Aus der Nähe von Los Angeles ist sie angereist und die Tour sei sehr anstrengend gewesen. "Aber das konnte ich mir natürlich nicht entgehen lassen." 1953 ist Lotte Schäfer in die USA gegangen. Alle sechs bis zehn Jahre habe sie Deutschland besucht. "Aber irgendwann wird die Verwandtschaft kleiner." Sie ist trotzdem nicht alleine gekommen, hat ihre Nichte mitgebracht, die sie vor einiger Zeit für eine Arbeit interviewt hatte. Vor Morgenroths Haus angekommen, wird die nächste Erinnerung wach: "Das war einmal ein Lebensmittelgeschäft, hier haben wir eingekauft", sagt sie.
Themars Bürgermeister Hubert Böse begrüßte alle Gäste, vor allem jene Familienmitglieder, die den weiten Weg aus den USA und Kanada auf sich genommen hatten. Der Weg sei sicher mit schmerzlichen Erinnerungen verbunden. Man begegne dem mit großem Respekt. Man bitte um Vergebung für die Täter, groß sei die Schuld, die sich auch Themarer Bürger aufgeladen hätten. Böse erinnerte an die Sätze von Ludwig Mühlfelder, der als Soldat der US-Armee die Heimatstadt seines Vaters, Themar befreit hatte. Jüngere deutsche Generationen könne man nicht für die Verbrechen ihrer Väter und Großväter verantwortlich machen"Was ich jedoch von den Nachkommen der Holocaust-Täter erwarte und verlange, ist eine ehrliche Auseinandersetzung mit den Verbrechen ihres Volkes."
Nicht zuletzt wurde dem Künstler Gunter Demnig gedankt, ohne dessen Idee, die Umsetzung nicht möglich sei.
Dank an Stifter
Auch dankten Böse und Lotte Schäfer den Stiftern der Stolpersteine, für die hatten die Familie Rosenberg aus den USA, die Familien Hanf und Stapf aus Themar gespendet, ebenso wie Stadtratsfraktion Die Linke aus Themar sowie die Schüler der Klasse 9b aus der Themarer Regelschule.
Schüler der Klasse hatten mit vorgetragenen Gedichten dem Treffen einen würdigen Rahmen gegeben. So hieß es etwa in der "Lektion von Auschwitz" – "Man ist nicht nur verantwortlich für das, was man tut, sondern auch für das, was man geschehen lässt."