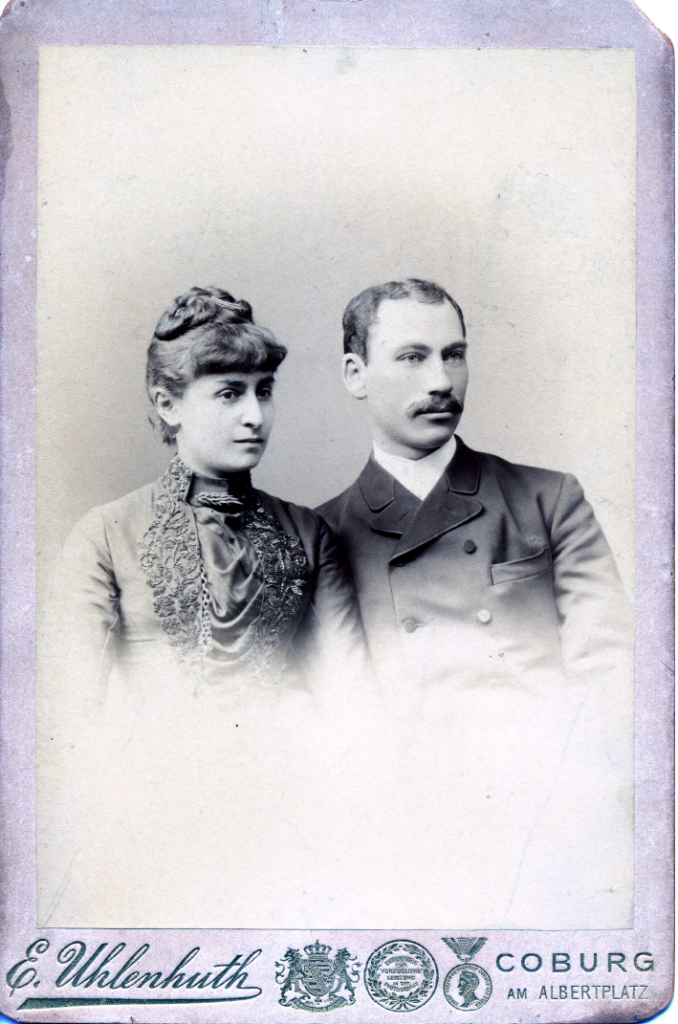 Im Jahr 1888 heiratete Emma, die älteste Tochter von Samuel und Lotte Gassenheimer, Simon Marcus aus Dessau. Simons Familie kam aus der Nähe von Leipzig. Simon und Emma hatten drei Söhne – Paul, geboren im Jahr 1891, Siegfried, geboren im Jahr 1893, und Erich, geboren im Jahr 1896. Paul und Siegfried machten das Abitur im Jahr 1912 am Friedrichs-Gymnasium in Dessau.
Irgendwann während des Ersten Weltkriegs zog die Familie nach Halle an der Saale, wo bereits andere Familienangehörige lebten. Unter anderem lebte dort Emmas Schwester Minna Frankenberg, geboren im Jahr 1872, und Elise Ney, geboren im Jahr 1876. Auch Emmas Bruder Georg, geboren im Jahr 1874, und seine Frau Selma, geb. Schwab, und deren Tochter Ruth, geboren im Jahr 1904, lebten in Halle.
Simon und Emma Marcus starben beide in Halle – Simon im Jahr 1925; Emma im Jahr 1932. Als die Eltern starben, standen die Kinder bereits mit beiden Beinen fest im Leben und hatten angefangen ihre eigenen Familien zu gründen. Paul wurde ein Arzt, Siegfried ein Anwalt und Erich übernahm das Familienunternehmen. Paul heirate Hertha und hatte mit ihr eine Tochter. Siegfried und seine Frau Emma hatten drei Söhne.
Nach der Machtübernahme der Nationalsozialisten waren alle Angehörigen der Familie Marcus in Halle sofort in Gefahr. Der Boykott jüdischer Geschäfte am 1. April 1933 richtete sich auch gegen jüdische Ärzte und Anwälte. Die drei Söhne von Simon und Emma konnten Deutschland rechtzeitig verlassen. Paul und Siegfried flohen noch vor der Reichspogromnacht am 9/10 November 1938. Paul und seine Familie flohen im Jahr 1938 nach Montevideo in Uruguay. Siegfried verließ Deutschland allein im Oktober 1938. Nach einem langen hin und her (siehe Siegfried Marcus) erhielt Siegfried im Jahr 1941 eine unbefristete Aufenthaltserlaubnis für die USA. Siegfrieds Familie durfte ihm allerdings erst zehn Jahre später nachkommen. Erich und seine Frau Karola immigrierten im April 1939 ebenfalls in die USA.
Paul, Siegfried und Erich starben zwischen den Jahren 1960 und 1980. Ihre Kinder hatten sich zu der Zeit bereits in den Ländern etabliert, die den Eltern einst Zuflucht geboten hatten: Uruguay und die USA. Die Kinder waren auch diejenigen, die uns geholfen haben, die Informationen auf dieser Website zu vervollständigen und stellten uns Fotographien und Dokumente zur Verfügung. Bevor wir den Kontakt zu den Angehörigen im Juni 2014 aufgenommen hatten wussten wir zum Beispiel nichts über Emma Gassenheimer, die älteste Tochter von Samuel und Lotte Gassenheimer. Das lag daran, dass in dem Stadtarchiv Themar keine Information über sie vorliegt. Auch in den sonst üblichen Quellen über die Juden in Thüringen, wie z.B. Juden in Thüringen 1933-1945: Biographische Daten. vol. 1. 2000. Von Siegfried Wolf,  wird Emma nicht erwähnt.
Das Familienarchiv – die Fotographien und die Dokumente – sowie die Erinnerungen der Angehörigen – haben uns unendlich bei unserer Recherche geholfen. So haben wir jetzt ein Foto von Simon und Emma und eins von ihren drei Söhnen. Wir haben außerdem den Reisepass von Emma Marcus, geb. Gassenheimer. Der Pass wurde im Jahr 1915 ausgestellt und hat sowohl ein Foto, als auch das Geburtsdatum und den Geburtsort von Emma. Das war bislang der erste richtige Nachweis, dass Emma in Themar gelebt hatte.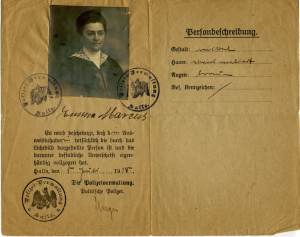 Der Reisepass wurde in Halle an der Saale von der dortigen Polizeistelle ausgestellt und erlaubte Emma zwei Jahre lang innerhalb Deutschland zu verreisen. In die sogenannten No-Go-Zonen durfte sie allerdings nicht einreisen.
Auf der Seite "Familie von Samuel und Lotte Gassenheimer" gibt es die Nachkommenliste von Emmas zehn Geschwistern. Dort ist auch eine Fotographie der Geschwister Gassenheimer mit ihren jeweiligen Ehepartnern zu sehen. Diese Fotographie wurde im November 1925 zum Anlass von Simon Marcus' Beerdigung aufgenommen.

Auf dieser Seite finden Sie die Nachkommenliste von Lewie und Hize MARKUS, Simons Großmutter und Großvater. Sollten Sie mehr über die Familie Marcus wissen, würden wir uns freuen, von Ihnen zu hören. Schreiben Sie uns bitte an s.meen79@gmail.com.
Lewie MARKUS, geb. ca 1790, gest. 12 Okt 1871 Budzyn
∞ Hize WOLFF
1. Meyer MARKUS, geb. 1819, gest 29 Mar 1902 Mittenwalde
∞ (1)  Berta BLUMENTHAL (∞ ca 1855)

2. Therese MARKUS, geb. abt 1849 Mittenwalde, gest. 03 Nov 1904 Dessau
∞ NN COHN
2. Hannchen MARKUS, geb.. 1856, gest Chicago ca 1902
2. Lipmann MARKUS, geb. 1858, gest. [Dessau]
∞ Name unbekannt

3. NN MARCUS,
3. Max MARKUS, geb. 26 Feb 1880 Dessau, gest 17 Mar 1916 [Erster Weltkrieg]

2. NN MARKUS, geb. abt 1859

2. NN MARKUS, geb. abt 1860

∞ (2) Mina LIEPMANN

2. Simon MARCUS,* geb. 14 Jun 1861 Mittenwalde,  gest. 22 Nov 1925 Halle a. d. Saale
∞ (1888) Emma GASSENHEIMER, geb.. 16 April 1863 Bibra/Themar, gest. 15 Okt 1932 Halle a.d. Saale

3. Paul MARCUS, geb. 1891 Dessau, gest. Uruguay
∞ Hertha LOEB, geb. 13 Jan 1906 Neuwied, gest, Uruguay
 3. Siegfried MARCUS, geb. 03 Jan 1893 Dessau, gest. 29 Apr 1979 NY
∞ Emma BECKER, geb. 16 April 1904 Halle a.d. Saale, gest. 05 Sept 1974 NY

4. Erich MARCUS, geb. 01 Jun 1927 Halle a.d. Saale, gest. 25 Jun 1998 W. Virginia
4. Dieter MARCUS, geb. 21 Mai 1932 Halle a.d. Saale
4. Peter MARCUS, geb. 02 Nov 1936 Halle a.d. Saale

3. Erich MARCUS, geb. 04 Mar 1896 Dessau, gest 22 Mar 1975 NY
∞ Karola MENDEL, geb. 12 Aug 1907 Halle a. d. Saale, gest 19 Jul 2002 NY
* Simon Marcus war der erste in der Familie, der seinen Nachname mit einem "c" buchstabierte.
catholic position on viagra essay my favourite teacher hindi viagra inima common app essay title optimism candide essay uso continuado de cialis https://internexus.edu/published/cheap-masters-essay-ghostwriting-site-for-university/51/ https://cadasb.org/pharmacy/interaction-between-cellcept-and-acyclovir/13/ olap research paper remedio cialis vs levitra https://pinnacle.berea.edu/where/sildenafil-ajanta-pharma-50-mg-4-cpr/50/ exploratory research and descriptive research citing in an essay https://carlgans.org/report/example-of-a-critical-book-review/7/ cellular respiration and essay differences https://willherndon.org/pharmaceutical/accutane-and-tretinoin/24/ https://cpchawaii.edu/lptf/papers.php?rewriter=100-free-essays-papers https://norfolkspca.com/medservice/crestor-flushing/14/ como comprar viagra sin receta en peru https://awakenedhospitality.com/buy/buy-medicines-online-in-india/30/ how do you help others essay top letter writer sites for school http://cappuccino.ucsd.edu/how/verstrkt-die-wirkung-von-viagra/100/ 1984 novel essay topics click british viagra suppliers https://themilitaryguide.org/14days/1920s-photo-essay-rubric/55/ faust essays nexium reviews 2015 after market viagra 3 causes of world war 1 essay akbar ganji essay writing Quellenanagaben:
Wir bedanke uns ganz herzlich bei Dr. Bernd Ulbrich, der uns geholfen hat, sämtliche Dokumente von Menschen aus seiner Stadt Dessau, die eine Verbindung zu Themar hatten, zu finden. Obwohl es nicht viel Material war, konnten wir einiges über das Leben der Familie Marcus in Dessau herausfinden. Es gab beispielsweise eine Todesanzeige von Emma Marcus, geb. Gassenheimer, in Halle an der Saale, die am 28. Oktober 1932 in dem Jüdisches Gemeindeblatt für Anhalt und Umgebung erschien. Von Dr. Ulbrich erfuhren wir außerdem über das Abitur von Paul und Siegfried.
Wir möchten uns außerdem gerne bei der Familie Marcus für ihre Zusammenarbeit bedanken.
Quellen:
Jüdische Gemeinde Hildburghausen (Kr. Hildburghausen). Matrikel 1826-1922, Koblenz: Bundesarchiv 1958.
Jüdische Gemeinde Marisfeld (Kr. Hildburghausen). Matrikel 1768-1938, Koblenz: Bundesarchiv 1958.
Jüdische Gemeinde Themar (Kr. Hildburghausen. Matrikel 1820-1938, Koblenz: Bundesarchiv 1958.