Rudolf A. Human (p. 13) tells us that the head of one of the eighteen (18) Jewish families in Bibra in 1739 was an "Jetzig". We believe this to be the first mention of the ancestor of all the later Gassenheimer families of Bibra, Themar, Hildburghausen, and Coburg. The Jewish Registers of Bibra/Jüdische Gemeinde Bibra Matrikel identifies Maila Gassenheimer as the wife of 'Isaak' Gassenheimer and the mother of four children whose names and dates of birth are listed below. Maila died in 1837, age 81.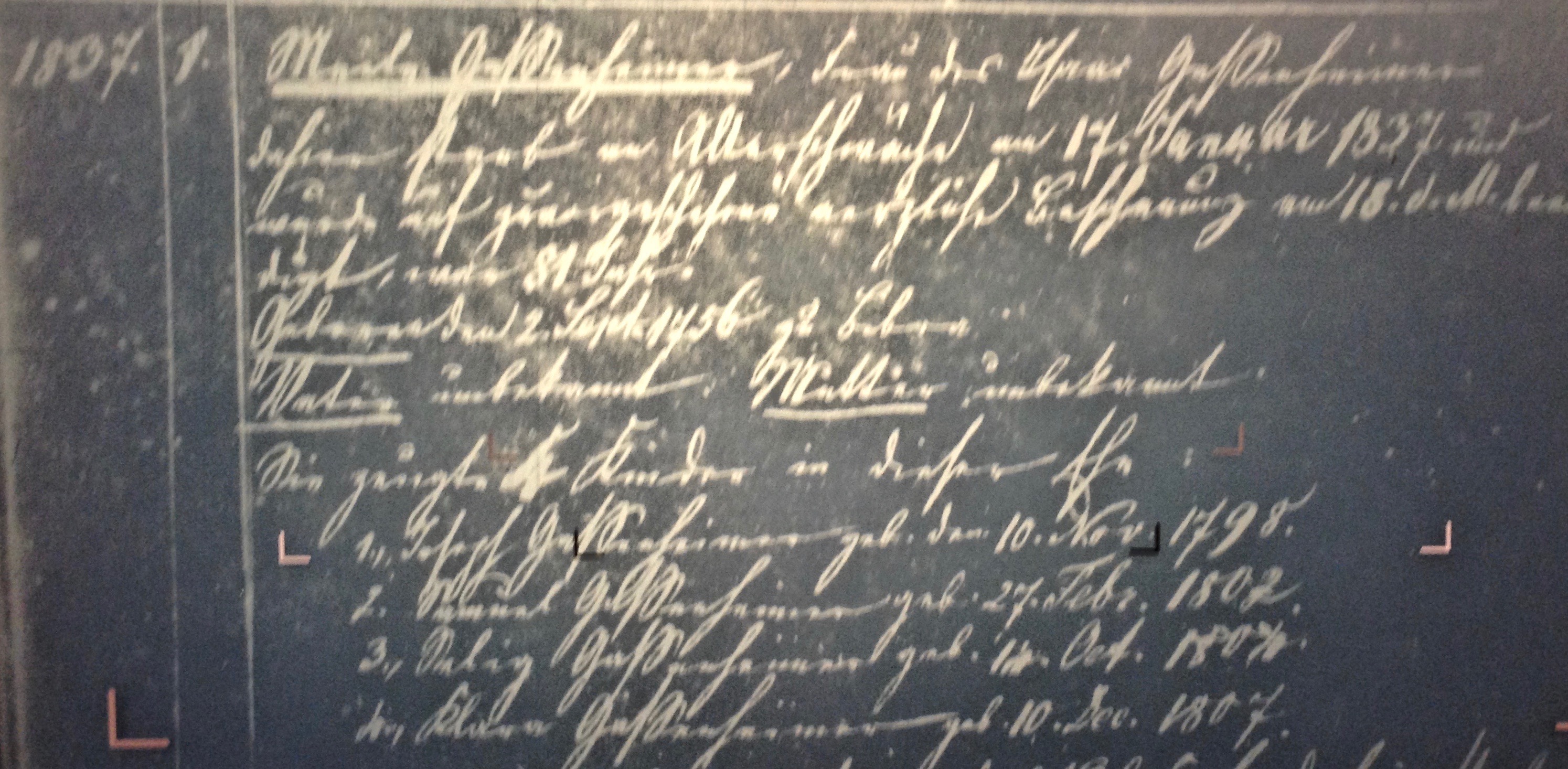 We believe that there was only one Gassenheimer family in Bibra, and that all the other families we have identified — the Themar, Hildburghausen, and Coburg families — all descend from Jetzig Gassenheimer. According to the entry in the Bibra, Maila, which we believe Matrikelis a shortened form for Amelia, bore four children, three sons and one daughter. Transcribed and rendered into a modern genealogical program, the information is summarized below.

The gravestone at left is that of Samuel Gassenheimer, to be found in the Jewish cemetery of Bauerbach. The Jews of Bibra did not have a cemetery in their own village and thus buried their dead in Bauerbach. The inscription says: "Here rests a perfect and righteous man: Samuel son of Jzchak of Bibra, dying on the holy Shabbath, 21. (?) Kislew (5) 615″ (Nov. / Dec 1854)"
The Bibra Matrikel include information about births, deaths, and marriages but only rarely are the parents identified. Thus identifying the links between this original generation of Gassenheimers and subsequent ones relies on finding evidence from other sources if available. Interestingly, it is often in the records of those who emigrated from Germany to the United States that we find the links back to Bibra. For example, Sophia Gassenheimer, born 1832 in Bibra, immigrated into the States in the 1850s, married Abram David in 1858, had six children and died in childbirth in 1869. It is her death certificates that identifies her father as Joseph Gassenheimer of Bibra.
Some aspects of presentation below of the descendants of Jetzig and Amelia are hypothetical. We are confident of the information about the families who lived in Themar, Hildburghausen, Coburg and the United States which we have published in these pages and provide source information. We do not, however, have hard evidence to prove conclusively the connection between those families and four Gassenheimers born between 1798 and 1807. We are making several key assumptions:
1. Joseph Gassenheimer, b. 10 November 1798, was the husband of  Betti, whom he married in 1829, and Jette, whom he married in 1834. This provides the link between Sophia, Leopold, Samuel, and Salomon, and Therese, for all of whom we have documentation that they were children of Joseph of Bibra. For Therese, b. 1844, we know that her mother was Jette.
2. Two sons came to be known as "Samuel" when they Based on Samuel's 1838 marriage to Blümchen, this is not Samuel, the father of Amelia, b. 1837. That birthdates coincide in some manner with marriage dates. Thus, Samuel the logic of marriage and birth dates born in 1804 is the son who went to Coburg Samuel Gassenheimer, b. 1802, is the same Samuel Gassenheimer who went to Hildburghausen
One may ask why we present a hypothetical outline at all. There are two answers: one is the commitment to ensuring that the history of, and research about, the Gassenheimer family — and other Jewish families who once thrived in this corner of Germany — are not lost forever. The second answer is based on experience: we have found that publishing information invites contributions from people visiting these pages and leads to more knowledge. We hope that this will do the same — should you have any further information about the Gassenheimers of Bibra, please let us know.